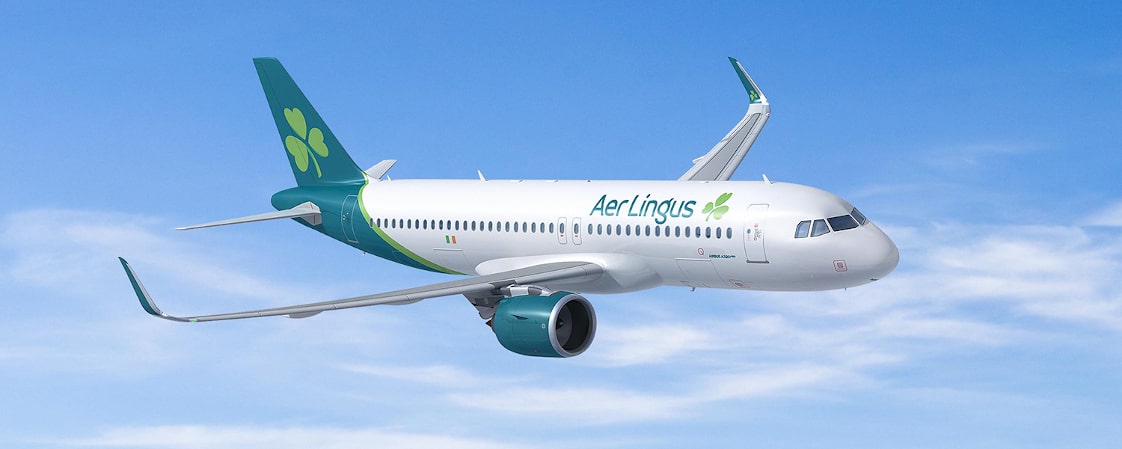 Overview of Aer Lingus Airlines Seat Map
Aer Lingus, the national airline of Ireland, provides a seat map that varies depending on the type of aircraft used for a specific flight. While the configuration may differ, I will describe some general features of the Aer Lingus seat map.
In Economy Class, you can typically expect a seat layout featuring several rows arranged in a 3-3 configuration on narrow-body aircraft such as the Airbus A320 family. On wide-body planes like the Airbus A330, the configuration may be 2-4-2 or 2-3-2, depending on the specific version. The seats in Aer Lingus Economy Class usually provide standard legroom and seat pitch, with a moderate recline. The seat width may vary slightly depending on the aircraft type.
On certain long-haul flights, the airline offers Aer Lingus Premium Economy cabin known as Aer Space. In this section, passengers enjoy increased legroom, improved amenities, and an elevated travel experience. The seat map for Aer Space typically follows a 2-3-2 configuration on the Airbus A330, offering passengers more room compared to Economy Class.
For long-haul flights, Aer Lingus provides a Business Class cabin. Aer Lingus Business Class seats often offer a lie-flat or fully-flat bed configuration for maximum comfort during extended journeys. The exact seat layout can vary depending on the aircraft model, but it typically ensures direct aisle access for each passenger.
Aer Lingus allows passengers to select their seats during the booking process, subject to availability and fare class. Seat preferences, such as aisle or window seats, proximity to exits, or seating together with travel companions, can be chosen based on personal preferences. The availability of seat selection may depend on the fare type and route and could be complimentary or may require an additional fee.
To assist passengers in choosing their preferred seats, Aer Lingus provides an online Aer Lingus seating chart on their official website. These seat maps allow passengers to visualize the seating layout and make informed decisions before finalizing their bookings. Additionally, the seat maps may highlight seats with extra legroom or other specific features that may be available for an additional fee.
Remember that specific seat maps can vary depending on the flight, so it's advisable to check the Aer Lingus website or contact their customer service for the most accurate and up-to-date information regarding seat selection and configurations for a particular flight.
Aer Lingus Seats Specifications
The seat pitch, which refers to the space between a point on one seat and the same point on the seat in front of it, varies in Aer Lingus' seating arrangements depending on the type of aircraft.
On Aer Lingus' transatlantic fleet, which includes Airbus A330 and A321neo LR aircraft, the Business Class seats are lie-flat and have a width of 22 inches.
In Economy Class, the seat pitch on all Airbus aircraft ranges from 31 to 32 inches, while the seat width is typically between 17 and 18 inches.
For Aer Lingus Regional routes operated by Emerald Airlines using ATR aircraft, the seat pitch ranges from 29 to 31 inches.
If a passenger requires a seatbelt extension, they can request one from a cabin crew member during boarding. However, passengers needing a seatbelt extension will not be able to sit in an exit row.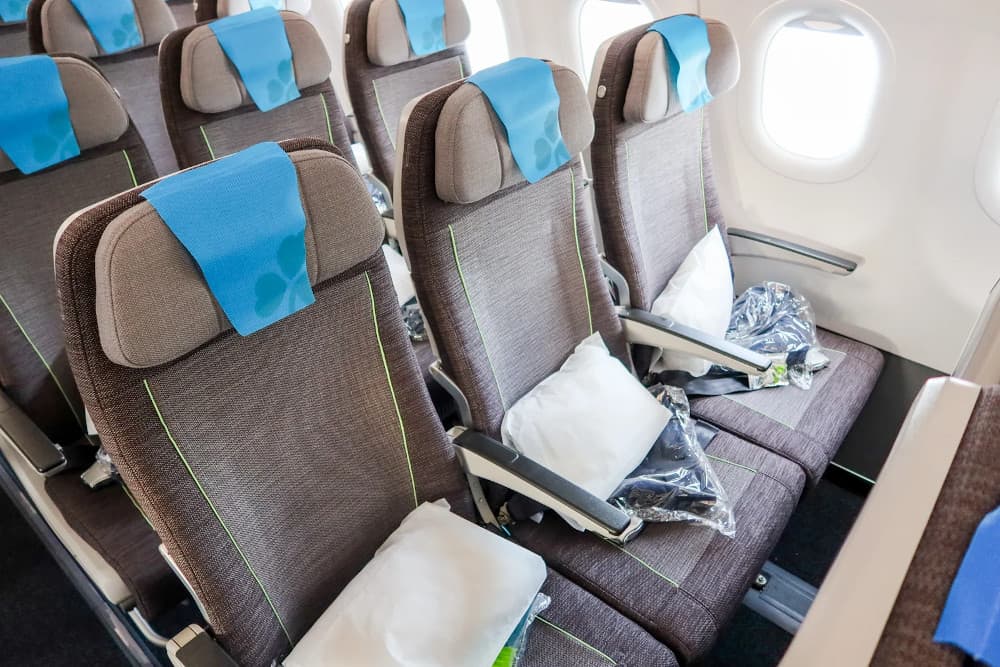 Passengers seeking additional comfort have the option to purchase an extra seat. This can be done online or by contacting the local reservations office. The charges for an extra seat include the relevant fare, applicable taxes, charges, and administration fees. It's important to note that additional seats purchased on flights within Europe do not come with an additional baggage allowance.
It's worth mentioning that on transatlantic flights, the armrests in Economy Class seats do not fully retract into the seat-back. Therefore, purchasing an extra seat in Economy Class may not allow a passenger to sit or lie across multiple seats. However, in Business Class Aer Lingus, the armrests are fully retractable.
Aer Lingus Airline Seat Options
Aer Lingus offers various seating options to enhance the travel experience of its passengers. These seating options include Extra Legroom Seats, Preferred Seats, Front Seats, Standard+ Seats, and Standard Seats. Let's explore each category:
Extra Legroom Seats:

The airline provides Aer Lingus Extra Legroom Seats, which offer additional space and comfort for passengers who prefer more legroom during their flight. These seats are strategically located throughout the aircraft and provide generous legroom to stretch out and relax.

Preferred Seats:

The Aer Lingus Preferred Seats are another seating option. These seats are located in prime locations within the cabin, such as aisle or window seats, providing passengers with added convenience and easy access to the aisle or a view outside the aircraft.

Front Seats:

Aer Lingus offers Front Seats, which are situated near the front of the cabin. These seats allow passengers to board and disembark the aircraft quickly and efficiently, as well as provide a sense of exclusivity and proximity to the front of the aircraft.

Standard+ Seats:

The Aer Lingus standard plus seat options are regular seats with some additional features or benefits, such as enhanced cushioning or improved ergonomic design, which contribute to a more comfortable journey for passengers. These seats offer a step above the Standard Seats in terms of comfort and amenities.

Standard Seats:

Standard Seats are the regular seats available throughout the aircraft. They provide a comfortable seating option for passengers with standard legroom and seat dimensions. These seats are designed to ensure a pleasant and comfortable flight experience.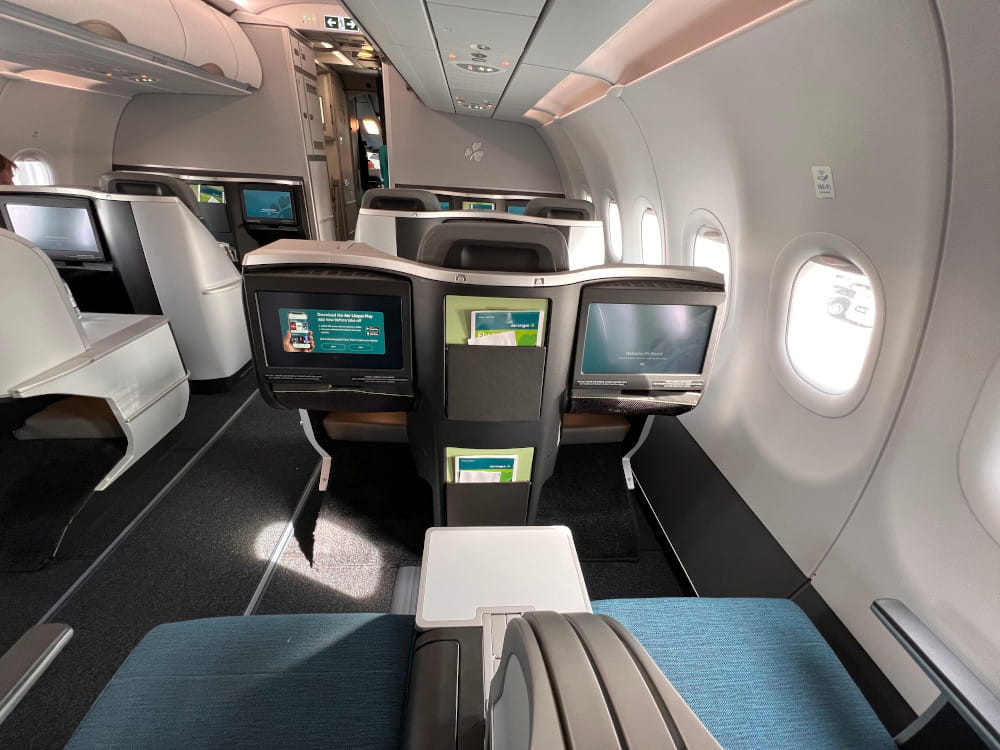 Moreover, the airline provides bassinet seats on select aircraft to accommodate passengers traveling with infants. The Aer Lingus bassinet seat is designed with a fold-down bassinet or cradle attached to the bulkhead wall in front of the seat. These seats offer a convenient and safe sleeping space for infants during the flight. Passengers can request bassinet seats when booking their tickets or by contacting Aer Lingus customer service. It's important to note that bassinet seats are subject to availability and may have specific eligibility criteria, such as the age and weight restrictions of the infant.
Passengers can choose their preferred seating option during the booking process, subject to availability and fare class. The availability and pricing of these seating options may vary depending on the flight route and aircraft type.
It's important to note that the specific features and benefits associated with each seating option may vary, and it's recommended to check the Aer Lingus website or contact their customer service for detailed information about the seating options available on a particular flight.
Aer Lingus Seat Selection Guide
To select seats on Aerlingus, you can follow these steps:
Visit the Aer Lingus official website: Go to www.aerlingus.com.
Navigate to the ″Experience″ section: On the top menu, hover over the ″Experience″ tab.
Click on ″Onboard Features″: From the dropdown menu, select ″Onboard Features.″
Select ″Seats and Cabin″: On the ″Onboard Features″ page, you will find various options. Look for the ″Seats and Cabin″ section and click on it.
Explore the seating options: You will be redirected to the ″Seats and Cabin″ page, which provides detailed information about different seat categories, such as Extra Legroom Seats, Preferred Seats, Front Seats, Standard+ Seats, and Standard Seats. Read through the descriptions to understand the features and benefits of each category.
Click on ″Choose your seat″: Once you have familiarized yourself with the Aer Lingus seating options, click on the ″Choose your seat″ button. This will take you to the seat selection page.
Enter your booking details: On the seat selection page, you will be prompted to enter your booking details. This typically includes your booking reference or reservation number and the passenger's last name.
View the seat map: After entering your booking details, you will be presented with an Aer Lingus plane layout specific to your flight. The seat map displays the available seats, marked by different colors or icons, indicating their availability and characteristics.
Select your desired seat: Review the seat map, taking note of available seats and their features. Choose your preferred seat by clicking on it. You may have the option to select multiple seats if you are traveling with companions.
Confirm your seat selection: Once you have made your seat selection, confirm your choice by clicking on the appropriate button, such as ″Continue″ or ″Confirm.″ Follow any additional instructions provided on the screen.
Complete your booking: After confirming your Aer Lingus seat assignment, you may need to proceed with any remaining steps to complete your booking. This may involve entering passenger details, selecting additional services, and making payment if necessary.
Please note that seat availability is subject to the fare class, flight route, and other factors. It's recommended to select your seats as early as possible to secure your preferred choices. In case of any issues or questions, you can contact Aer Lingus customer service for assistance.