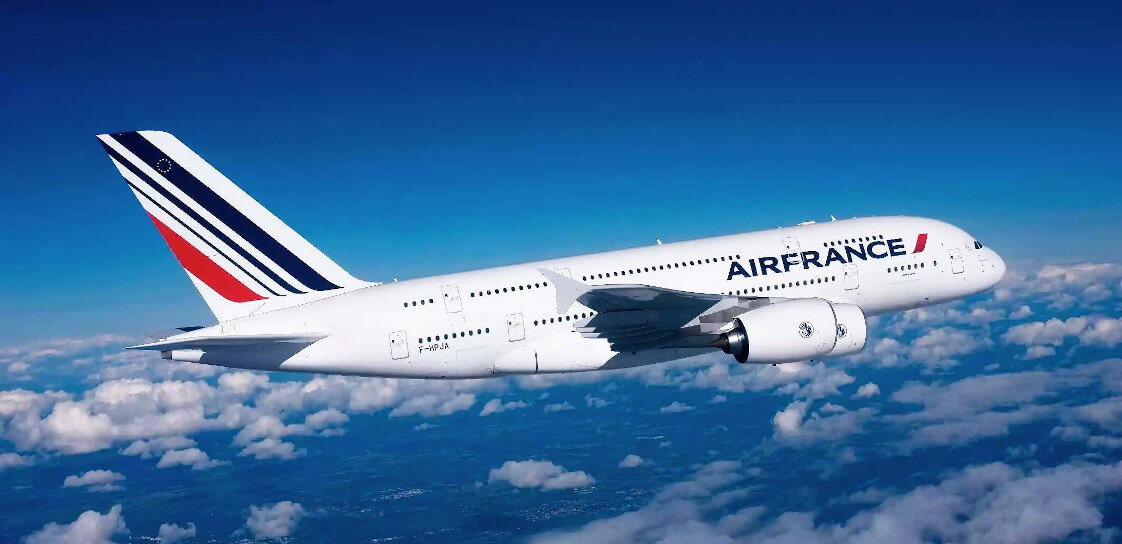 Air France Seat Selection Policy
Air France Airlines provides travelers with the chance to choose their desired seats at no extra cost. A range of seat options is available, encompassing standard seats in Economy class, premium seats in Premium Economy, and Air France Business Class seats in the dedicated Business cabin.
The seat selection process is flexible and can be completed at various stages of the journey. Passengers have the option to choose their seats during the initial booking phase. Alternatively, seat selection can be made after the booking is completed through the ''My Booking'' section on the Air France website. Additionally, seats can be selected during online check-in or at the airport itself.
For those who desire a wider range of seat choices and greater control over their seating arrangements, France Air provides an advance seat selection service. This service is available for purchase from the time of booking until 30 hours prior to the scheduled departure. Passengers may pre-book their chosen seats using this chargeable service, guaranteeing optimal comfort during their travel.
Air France also caters to its Flying Blue members by allowing them to utilize their accumulated Flying Blue miles or Blue credits for purchasing advance seat selection. This benefit offers added flexibility and rewards to loyal Air France customers.
With its customer-centric approach, Air France endeavors to offer a seamless and personalized travel experience. The airline's seat selection policy enables passengers to tailor their journey according to their preferences, ensuring a comfortable and enjoyable flight with Air France.
How to Choose Your Air France Seats Online
How to Choose Your Air France Seats Online
To ensure your desired seat on Air France flights, you can take advantage of their pre-seating option, which allows you to select your seat in advance. Choosing your preferred aisle or middle seat is a straightforward process that can be done by contacting Air France directly or through their official website.
If the convenience of Air France seat selection online appeals to you more, go as follows:
Open your web browser and visit ''www.airfrance.com''.
Once on the website, locate the ''My Bookings'' option in the header and click on it.
Enter the necessary details, including your ''Booking Reference'' and ''Last Name''. You can find the booking reference number in the confirmation email received after initially reserving your seats.
Review your bookings and follow the on-screen instructions to access the ''Air France Choose Seat'' option.
Choose your desired seat from the available options.
If you select an Economy or Premium Economy Air France seat, you will need to submit the required payment.
Confirm your new seat selection and, if available, print your boarding pass.
Note: It's important to select your seats at least 30 hours before your flight's departure time. Additionally, please be aware that the Air France seat selection fee may vary based on availability. To reduce costs, it is recommended to make an advance seat selection. You may also consider using the low fare calendar to secure your seats at a discounted rate.
How to Get Air France Seat Selection for Free
To get free seat selection on Air France airline, choose standard seats in economy, premium seats in premium economy, or business class seats in the business cabin. These seats can be selected during booking, in the ''my booking'' section, or during online check-in. Complimentary seat selection is also available on specific routes to/from the U.S. with a standard ticket. Additional comfort options can be purchased in advance, and Flying Blue members can use Miles or Credits for seat selection.
What is the Cost of a Seat Selection Fee?
To ensure a comfortable journey, it is recommended to select your Air France preferred seat and pay the applicable seat selection fee. Otherwise, you may be assigned a middle seat or a seat with less legroom. The seat selection fee varies depending on factors such as the chosen seat and destination, with an average cost of around $20.
Options for Seat Reservation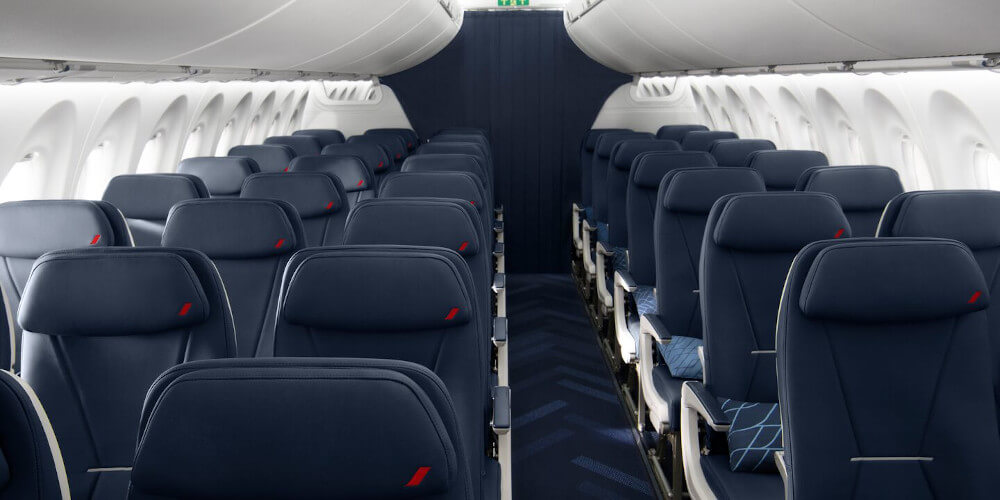 Air France Economy Class
Air France provides affordable international seating options that offer standard amenities and services. Passengers in this Air France Economy cabin are entitled to one complimentary checked baggage. They can enjoy French savory meals and child-friendly dining options. The Air France Economy seats are adjustable and equipped with reclining headrests. Working passengers can take advantage of electrical outlets and USB ports. For those seeking extra legroom, there is the option to reserve seats with additional space. Air France duo seat and Front Section Seats offer the convenience of easy and quick disembarkation. Economy seating options are a dependable choice for budget-conscious travelers.
Air France Premium Economy
By utilizing the Air France Book Seats option, customers can secure access to these seats. This cabin allows passengers to check in with 2 checked baggage items and carry 2 hand luggage bags. Priority boarding is offered, enabling passengers to bypass boarding queues. A notable feature of this cabin is the availability of lounge services, providing a comfortable resting space before boarding. Furthermore, passengers can enjoy spacious seating at affordable prices. Amenities such as personal touchscreen tablets, headsets, reading lamps, and USB ports are provided. In-flight services for Premium Economy include gourmet dining, snacks, and a selection of beverages. This seating option is ideal for leisure travelers on vacation or short trips.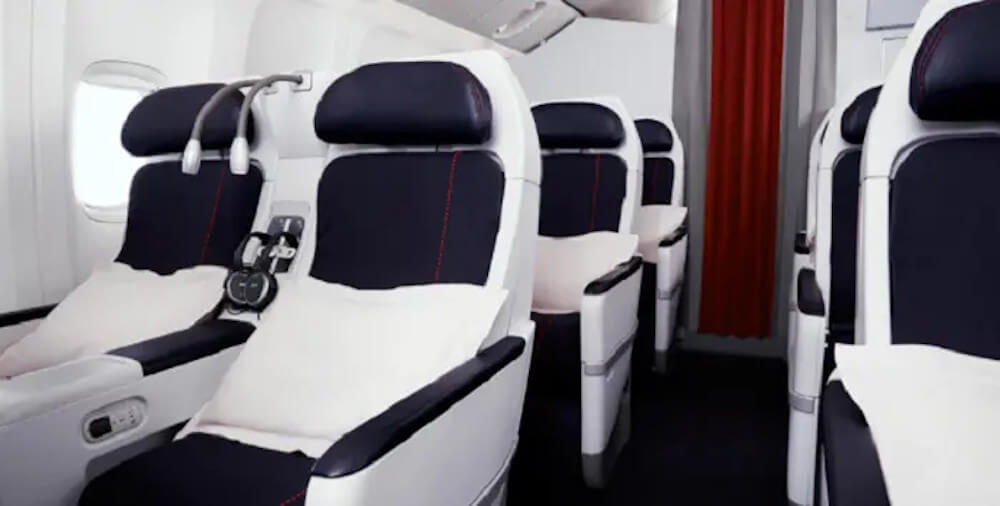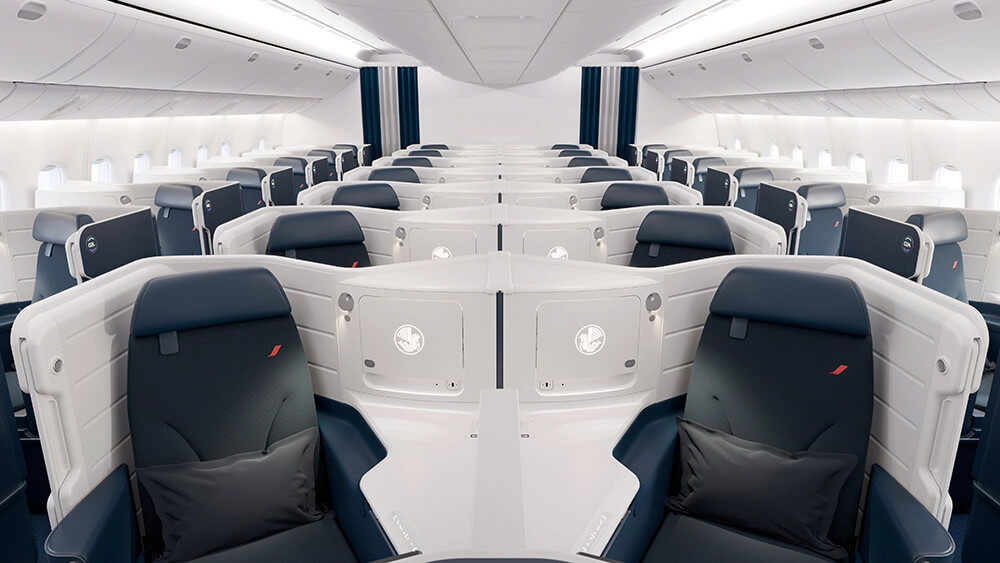 Air France Business Class
Experience the epitome of luxury with these premium seating options, boasting enhanced amenities. Business Class Air France passengers are treated to exquisite lounge services complete with snacks and refreshments. Enjoy the utmost privacy in your personal cabin, accompanied by tailored services. The seats in this class recline to a full 180 degrees, transforming into comfortable flatbeds. Ample personal space is provided, featuring desks, restaurant-style tables, and top-notch entertainment services. Indulge in a culinary journey with a wide selection of intercontinental cuisines and exotic recipes. Quench your thirst with a variety of beverages and drinks. Overall, choosing the Business Class cabin ensures an extraordinary and enjoyable flight experience, worth the investment.
Please note that Air France does not charge a seat selection fee for Business Class in the event of pre-selection.
La Premiere / Air France First Class
These seats are the highest-priced offerings on Air France. La Premiere passengers are treated to exclusive chauffeur services for airport transfers. Airline staff personally attend to the baggage needs of La Premiere travelers. As part of the Air France seat selection policy, these passengers have access to luxurious lounge facilities with spa amenities and beauty treatments. Once onboard, flyers can indulge in exceptional in-flight services, including spacious seating, a wide selection of TV shows, private beds, and globally inspired cuisine. Fine wines and a variety of beverage options are also available. The First Class Air France seating option is particularly well-suited for business travelers and professionals seeking a top-tier travel experience.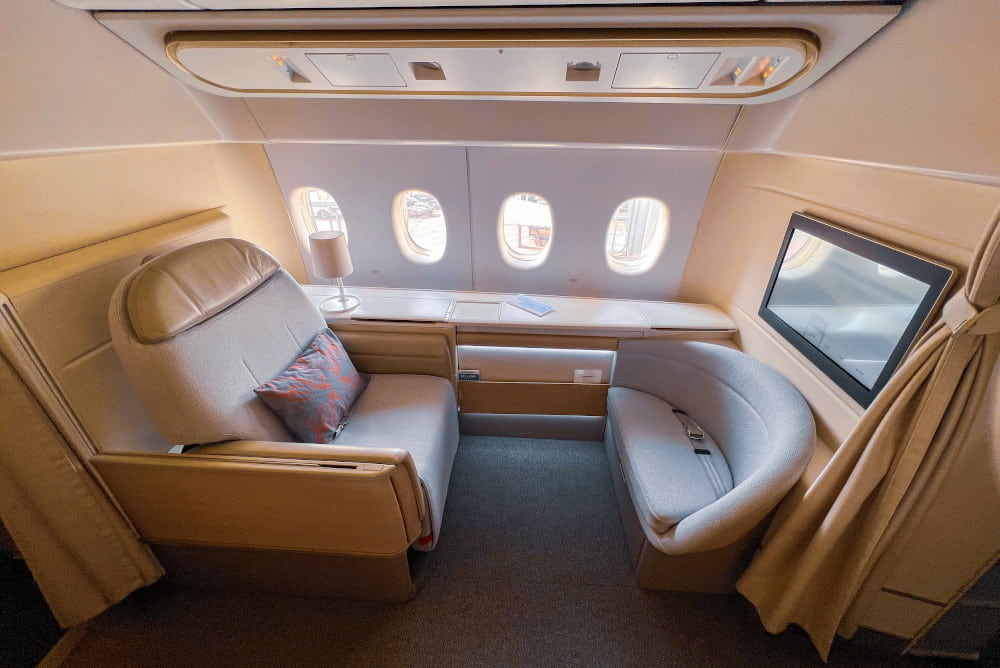 How to Select an Air France Seat After Booking
If you forget to select a seat during the initial booking process, don't worry. Follow these easy steps to choose your seat later:
Visit the official Air France website and navigate to the ''My Booking'' section.
Retrieve your booking by entering the booking reference and surname associated with the reservation.
Choose the ticket for which you want to select a seat and proceed to the seat selection option.
A seat map will be displayed on the screen. Select the seat that suits your preference.
Proceed with the payment to secure your selected seats.
Follow the on-screen instructions to complete the seat selection process.
Alternatively, you can seek assistance from Air France customer service to help you select the seats on your behalf. Please note that there may be additional administrative charges associated with this service.
How to Make Changes to Your Seat Selection
If you need to make changes to your flight or travel dates, you have the option to transfer your preselected Standard, Premium, or Business seat to your new flight through the My Bookings section.
In the event that the seat you originally selected is unavailable on your new flight, you can request a refund by visiting the ''Contact us'' section of the Air France website.
Please note that there may be instances where we have to change the seat you reserved due to security, safety, or operational reasons. If you are not satisfied with the new seat selection, you have the following options:
Change the seat through the My Bookings section.
Request a refund online by completing the provided request form on the ''Contact us'' page.
How to Check My Seat on Air France
The Air France seating chart allows passengers to explore and select their preferred seats. The seat map provides a visual representation of the aircraft's seating layout, enabling travelers to assess the available seating options and make informed decisions.
At our website, we provide comprehensive seat maps for various Air France planes. Whether you are flying on a short-haul flight or a long-haul journey, our seat maps cover a wide range of aircraft models operated by Air France. By accessing the seat map on our website, you can easily identify seat configurations, locate amenities such as lavatories and galleys, and choose seats that best suit your preferences.
To check your seats on Air France, follow these straightforward steps:
Visit the official Air France website and log in to your account.
Navigate to the My Booking section and enter your confirmation number and last name.
Choose the ticket for which you want to check the seats and click on ''view reservation.''
The system will then display your itinerary and provide seat details on the screen.