Overview of Allegiant Air

When you mention ultra-low-cost airlines offering charter and scheduled flights, Allegiant Air comes to the mind of many regular air travelers. This airline is recognized as the key player in the American aviation sector and the fourteenth biggest airline in North America. And the Allegiant seating chart shows what many travelers have confirmed, an airline that balances seating comfort with affordability.
Allegiant Air is recognized for obtaining aircraft at the lowest rates. This strategy enables the airline to charge relatively low fares to passengers. Since its inception, Allegiant has mostly bought second-hand aircraft with great interiors that it can convert to fit its Allegiant plane seats. However, it acquired several new planes in recent years, negotiating a good deal for them.
In collaboration with Bank of America, Allegiant Air offers a credit card to its passengers. The Allegiant World Mastercard cardholders get one complimentary beverage and priority boarding on every trip and points they may redeem for tickets on Allegiant Air. The sign-up charge is $59; upon sign-up, the cardholder gets a bonus of 15,000 points, worth $150.
Unfortunately, as shown by the Allegiant Airline seating chart, no in-flight Wi-Fi exists. There are no reading materials on board, nor are there any audiovisual or musical entertainment options.
Allegiant Airlines Best Seats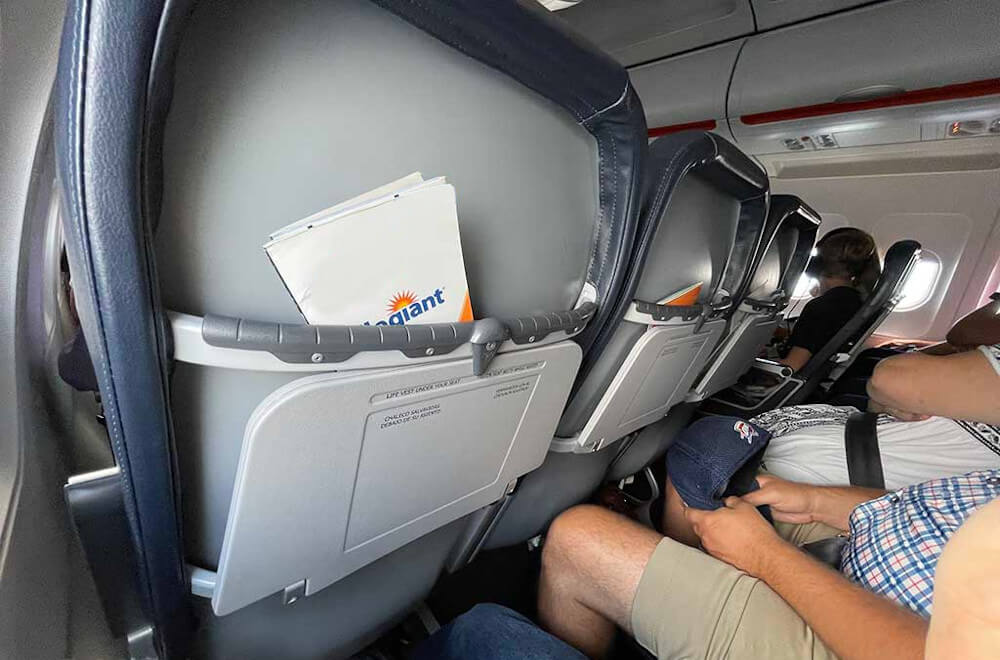 The existing arrangement of the Allegiant Extra Allegiant Airlines seating can carry 186 passengers. The layout comprises the removal and re-pitching of rows, and nothing structural, permitting a reasonably straightforward restoration to maximum seat capacity.
Starting in the fourth quarter of this year, every new A320 that Allegiant acquires will include the Allegiant Extra configuration with 180 seats. Additionally, the 737 MAX fleet will be pre-designed in this configuration, and the Allegiant Airlines seating chart will reflect the change.
If you're a frequent flier, you'll appreciate the additional legroom offered by the new Extra Legroom seats. According to the Allegiant seat map, the airline has more leg space than standard economy class seats by at least 6 inches. Passengers in the Extra Legroom cabin are offered a complimentary beverage once on board. Priority boarding, overhead bin space, and a seat assignment at the front of the plane are all provided for passengers in the compartment.
Aside from the extra leg space passengers get in the Extra Legroom Allegiant Air seats, they also come with priority boarding and a free drink. The cost of the Extra Legroom seats is relatively low compared to what is obtainable in its equivalent cabin in other airlines. The price falls between $43 and $45.
If you want to travel more comfortably with Allegiant Air, your best chance is to pay extra for the Allegiant Air Legroom Plus seats. Unfortunately, Allegiant does not have a first-class cabin or any premium seating options. You won't be able to recline your seat or get on an upgrade list with Allegiant.
As you can see from the Allegiant seating map, the airline has about 34 inches of pitch between your legs and the seat in front of you, giving you extra comfort. While an increase of only four inches in legroom may not seem like much, it places you in a sweet spot between the Economy standard pitch on Southwest and the Economy Plus pitch on United.
These Legroom+ Allegiant seats are located in the front and last rows of the Allegiant plane. If you board a seat in the Legroom+ cabin, you will be glad you did due to its comfort.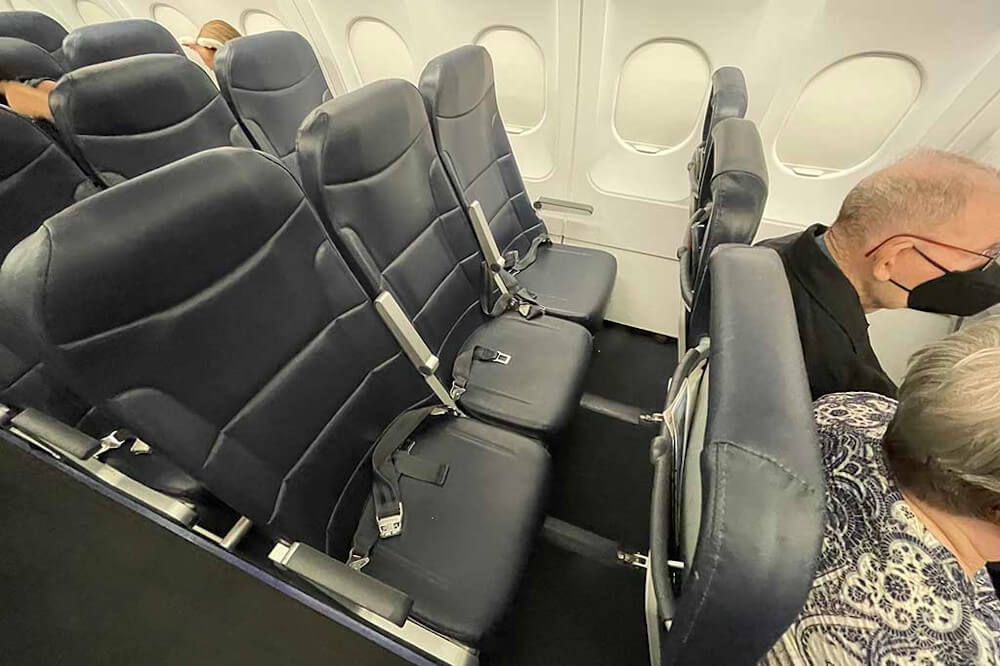 How to Select a Seat on the Allegiant Plane Seating Chart
Allegiant Airlines seats are comfortable, irrespective of the cabin, and you can choose your preferred seating position on the plane before you board. Make sure you choose seats next to each other. The airline may reserve a more spacious exit row seat if you satisfy specific criteria.
You may examine Allegiant airplane seating chart options and purchase an upgrade from your computer if you book online. Additionally, visit Manage Travel or the Allegiant app for iOS or Android to make changes or add more people to an existing reservation.
If a passenger does not pay for a specific seat while making a reservation, they will be assigned a seat based on availability. At no additional cost, the airline' system will give you a seat when you check in for your flight. But remember that once a boarding pass has been provided, there is no way to alter the passenger's Allegiant planes seating assignment at the airport.