How to Select the Seat on the Plane Seating Chart
The types and comfort levels of the seats vary depending on the cabins, aircraft, and airline you choose. Business Class seats offer more comfort than Economy class seats, while seats on certain airlines provide additional legroom and recline to make long flights enjoyable. So, picking a suitable seat on an airplane is better than having a seat assigned to you randomly.
In addition, the number of seats varies from plane to plane. As a result, before purchasing your plane ticket, examine the pricing and the airplane seats chart. Going for the cheapest seats isn't always the best move, as the price difference between them and better ones may not be wide enough to justify sacrificing your comfort while traveling.
Travel agencies have electronic versions of seating charts. Inputting your flight number and the aircraft type will bring up your trip's corresponding map. The airline's website should also display the plane's seating layout when purchasing a ticket online. The number of seats available, the plane's configuration, and the locations of the restrooms are often shown on an airplane seat map.
As long as you know the type of aircraft you will travel with and the airline, you can find information about the cabins and their seating arrangements. Aside from airline seats map, several websites provide helpful tips you can check before choosing a seat.
How to Reserve the Airplane Seat

Getting your airline seat reservation quickly, if not when booking your plane ticket, is strongly suggested. You may choose your seat simultaneously when you book a flight or vacation package on most airlines or travel sites.
Seats near the exits are usually considered the best seats on airlines. These seats are available for online reservation by specific carriers. It is essential to inquire if it is possible to switch to the seat in the emergency area.
Since airlines are under no obligation to offer you the airline best seats, you will need to check in online to secure the seat. Most airlines allow passengers to check in online 24 hours before departure.
As passengers grow more frustrated with the travel experience, airlines have begun offering various services to correct it. They try to rekindle passengers' interest in flying with perks like onboard entertainment on domestic routes.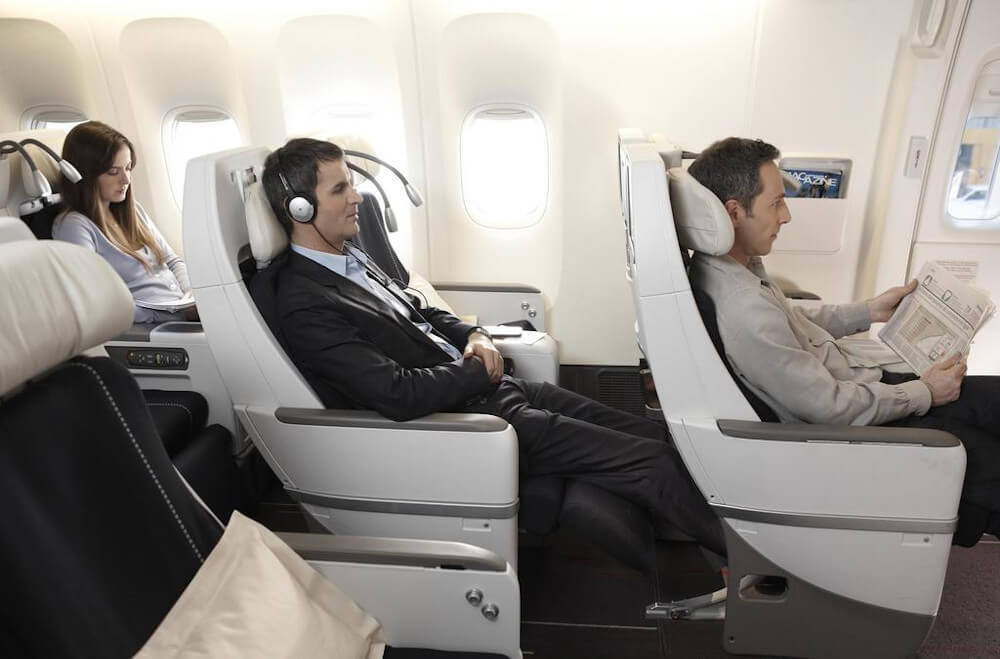 From the flight seat map of most airlines, one would observe that they now come with in-seat entertainment systems with TVs for passengers on long-haul flights. In first and business class, passengers may watch televisions mounted on seat-backs or concealed in their armrests.
Several modern airlines are conducting trials of their in-flight Wi-Fi networks. Passengers will enjoy internet access through satellite and air-to-ground networks. In some airlines, data connectivity through satellite technology enables passengers to use their own IFE devices or laptops to access the internet while on the flight.
Meals and drinks are provided on commercial flights and indicated on the web page showing the airplane seats map. Specialized airline catering services prepare these meals.
Depending on your ticket class, you may get anything from a modest snack or beverage in Economy to a seven-course gourmet dinner in First Class on transcontinental flights.
When you purchase tickets, some airlines randomly assign a seat to you, unless you pay the extra fee required for you to choose a preferred seat. When you choose your airplane seats, you pay for them online, either when you buy your ticket or check in online. This approach is the most reliable method for selecting your preferred position, but it is no guarantee that you will be assigned that seat.
The aircraft type may change before the departure day. The airline's "system" may even reassign your preferred seat to someone else and assign you a seat you don't like. This situation may leave you attempting to fix the problem at airport check-in, perhaps without success.
It would be best if you considered signing up for a frequent flier program with the airlines you use the most. You won't simply accumulate air miles; you'll also enjoy more perks like reserving the best airline seats, such as those in the bulkhead or exit rows.
If you're a regular flier, you can easily upgrade to first-class. Even if you are not a regular flier, you can take advantage of upgrading to seats frequent fliers often leave behind. As long as you belong to the airline's membership program, you will be given more priority than other passengers.
How to Secure the Best Plane Seats
You can use a plane seat map to locate the most comfortable seats on an aircraft, but note that a seat's breadth and pitch can significantly affect your flight comfort. While it may not seem much, having a few additional inches of seat pitch may be better for your back. It means you can recline more without inconveniencing the person behind you.
Depending on the airline, you may obtain details on the seat's width and pitch online. However, not all airlines provide this information. So, It is best to contact the airline if you need to know it.
If you want the aircraft area where you will have quick access to the galley and the overhead storage or can move freely, an aisle seat is among the best seats on a plane for you. If you're sitting in an aisle seat, you won't trouble any passenger anytime you need to move about.
Also, you can get off the plane more quickly if you sit in an aisle plane seat, but remember to give crew members space when they walk along the aisles.
Many passengers prefer a seat near the window for the view or to avoid being jostled. But If you have a connecting flight, it's best to sit at the front of the plane so you can exit it quickly. However, passengers may board certain flights from the rear depending on the carrier.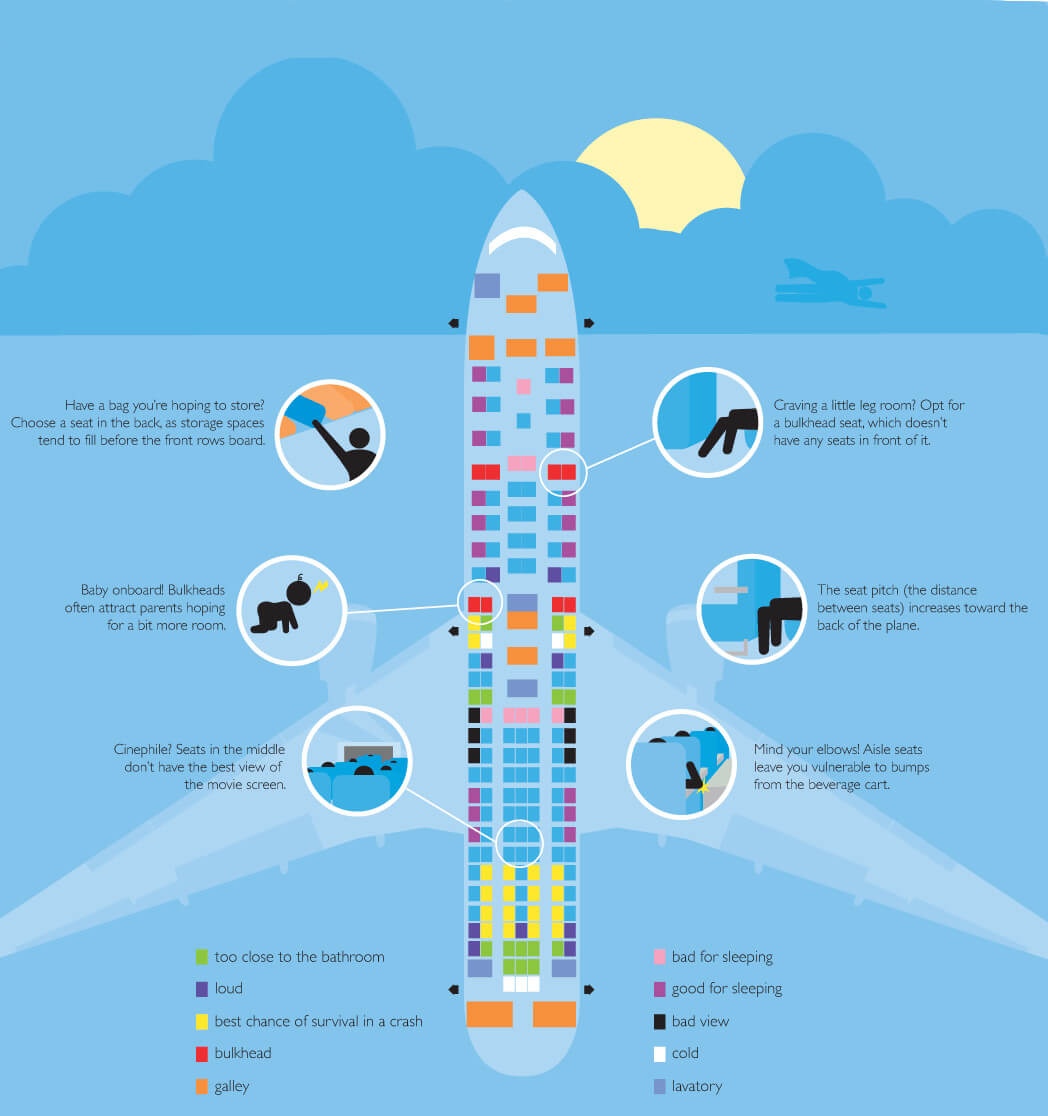 If you want a quiet flight, sitting in the front seats on a plane is best. At the back, it may get too noisy due to the engine noise. Also, there are usually limited spaces in the overhead storage of the plane. Therefore, you should board the aircraft quickly, especially if your seat is at the back. Boarding the plane quicker will ensure you have space to keep your belongings. Also, if the plane isn't completely booked, you can choose from the empty seats at the rear.
Sometimes, people even prefer bulkhead seats. A bulkhead is a block that separates passenger cabins in an airplane. If leg space is essential to you, you can check the airplane seating map since bulkhead seats usually have less legroom.
Instead, it would be best to avoid sitting on the rows directly in front of the emergency exits since it's hard to call it the best seat on a plane; these seats do not allow reclining and may be uncomfortable for long flights. Similarly, you must avoid seats in the plane's last row or the row closest to the restrooms or the crew's quarters, as they often do not recline.