Spirit Seating Chart
Spirit Airlines: General Information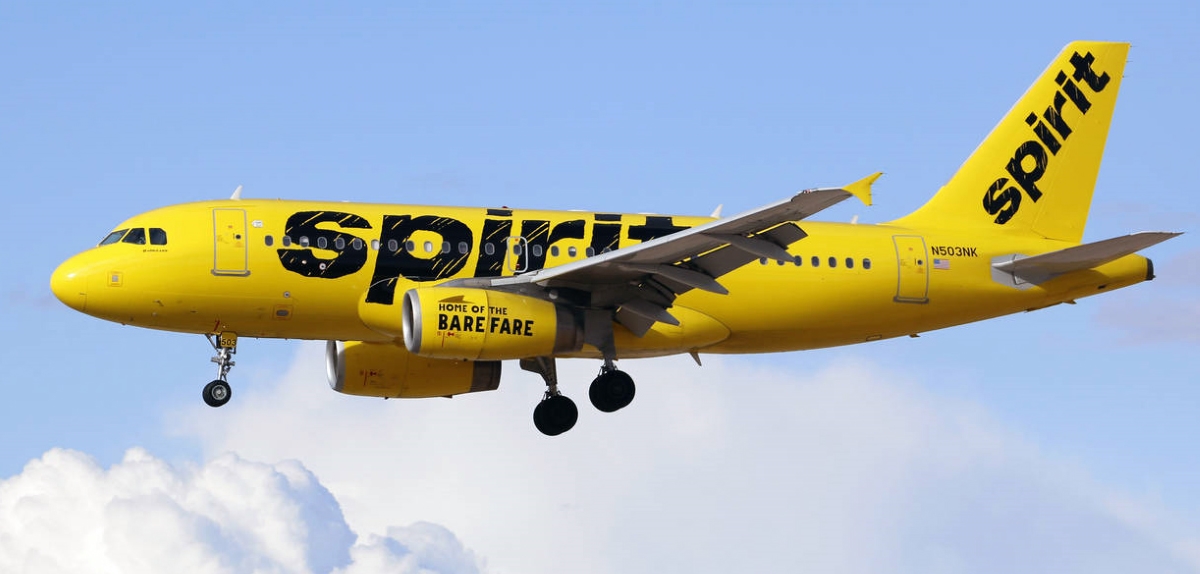 Spirit Airlines is a low-cost airline headquartered in Florida, US, and Miramar. Its rich fleet of yellow planes flies to North America, Europe, Asia, South America, and Oceania, covering over 90 cities. The airline has 164 airplanes operating in 67 destinations, an improvement from its humble beginnings in 1983 when it was still called Charter One Airlines.
Spirit Airlines, as it exists today, came to be in 1992. Since then, Spirit Airlines seat selection has been among the reasons why the airline is popular, as it improves passengers' pre-booking experience. The Spirit seating chart passengers see on one of the company's aircraft will differ from those on other planes because Spirit redesigns the plane interiors to use the space more effectively.
Passengers have a limit on the baggage they can carry. It has a weight limit of 23kg (50 pounds) and a bag size of 160cm (62 inches). Although most airlines fly infants a day or two days old, other airlines insist on infants being at least two weeks old.
While no rule states infants at least two days cannot fly, confirming before booking a flight is essential. Kids between 15 and 17 can travel with Spirit Airlines as standard passengers. However, they will be required to show their valid identification to authorities. Guardians or parents can let their 15 to 17-year-olds travel as unaccompanied minors.
The Spirit plane seats allow you to bring your dog, cat, or other pet on board when you travel. You can let them stay under the seat in front of you. If the pet does not fit, it will have to stay with the freight and baggage in the cargo.
Spirit Airlines Seats Chart: Overview
Big Front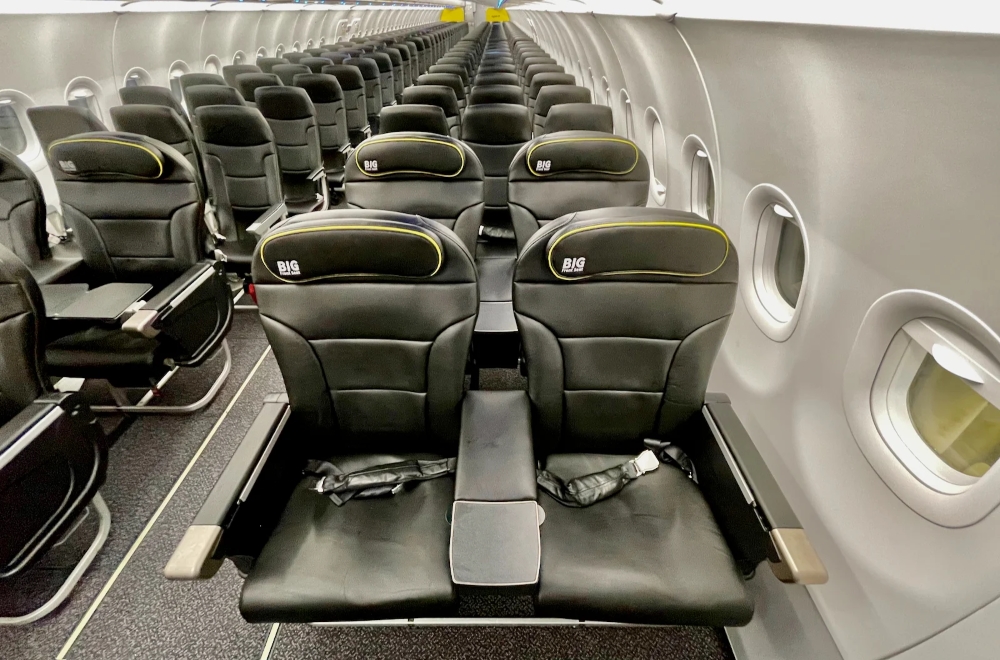 Big Front Spirit seats require extra pay because they offer passengers the airline's premium experience. These Spirit Airline seats offer convenience, at least more than you can get in the other cabins. The extra legroom and space are perks absent in other cabins, and the leather-covered seats are a refined touch.
Judging from the Spirit Airlines seating chart, this cabin does not offer as much as other premium class cabins on other airlines — it does not come with AC power or TV for passengers' pleasure. The airline is low-cost anyway, so such omissions aren't unheard of.
The price of the Big Front Spirit Airline seating chart differs depending on the plane you board and whether you have elite status. Those who have Gold elite status pay slightly less than other passengers.
The Deluxe Spirit Airlines seats are located behind the Big Front seats and are not as comfortable as the latter. The Deluxe Leather cabin seats are the same as the Economy seats; they do not recline and have a seat pitch of 28 inches. The only advantage is the quality of the seats and the comfortable leather material. If you wish to board a Deluxe Leather cabin, you will have to spend more than the standard Economy.
As the Spirit Airlines seat map suggests, the Deluxe Leather is a more comfortable cabin than the Economy cabin. On travels where dishes are served to passengers, people in the Economy cabin get less than what people in this cabin get in terms of quality and quantity; they also get less than what passengers in premium Big Front cabins get.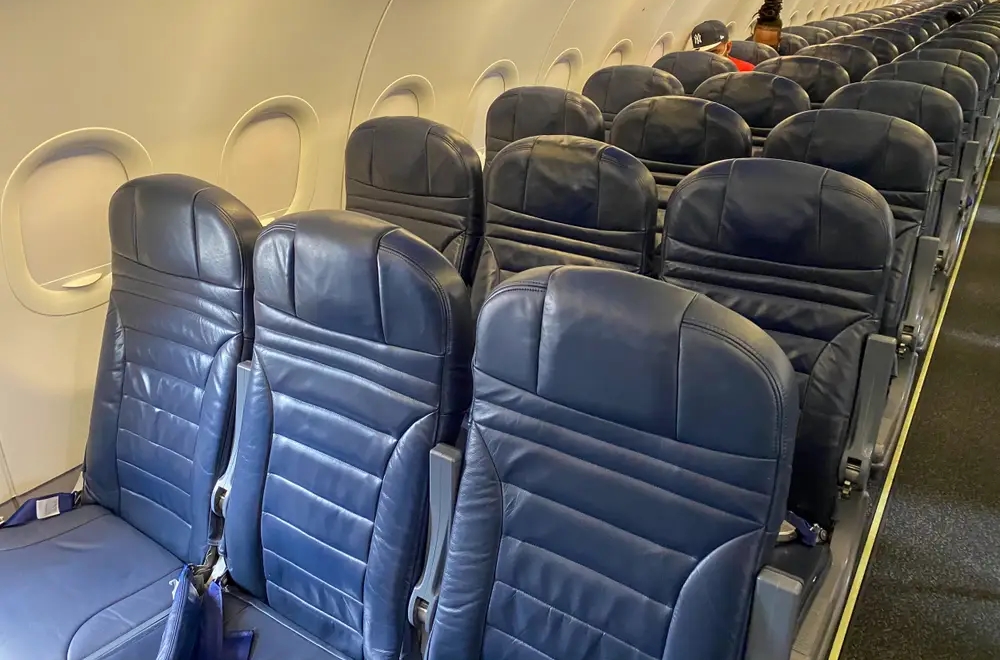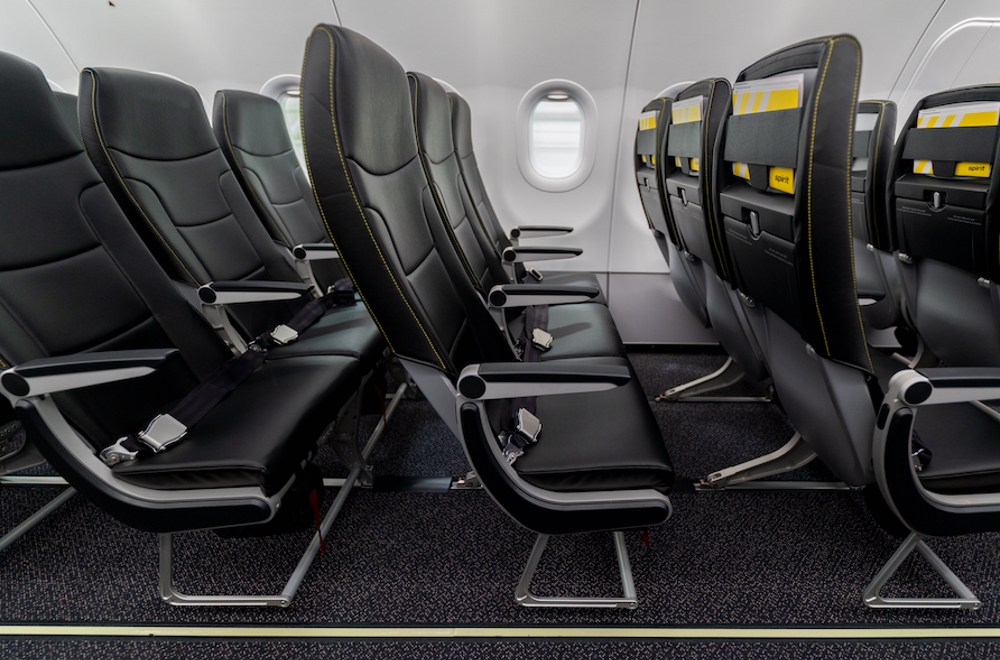 The Economy class is the cheapest cabin on Spirit Airlines, and passengers do not enjoy as many benefits and services in this cabin as in others. As the Spirit plane seating chart shows, the legroom experience in the Economy cabin differs depending on where you are sitting. For instance, passengers sitting in seats with an exit enjoy extra space to stretch their legs.
The Economy Spirit seat map shows that this cabin's seats have the same seat pitch as Deluxe Leather, but the position of the lavatory and galley is the main trouble its occupants face.