United Airlines Seat Map
United Airlines: General Information

United Airlines is among the world's most famous airlines, with 854 planes traveling to over 342 destinations. With the goal of "connecting people," this airline has provided reliable flying services since 1919. This company has many Airbus and Boeing planes in its fleet, and the models can be widebody or narrow, depending on the planes' routes.
The United Airlines seat selection consists of comfortable seats suited for long-haul trips. Passengers boarding this airline have a baggage limit of 23 kilograms (50 pounds) weight and a 157 cm (62 inches) bag size limit.
For United Airlines, passengers' satisfaction is essential; the company offers excellent in-flight services and reasonable flight fare. Irrespective of the airplane model you board for international trips, you are assured of complimentary drinks — you can also purchase alcoholic drinks, meals, and snacks on board.
Depending on the aircraft, passengers can access a United Airlines seat map for First, Business, Premium Economy, and Economy classes. They choose where to sit to guarantee the most pleasurable journey with in-flight entertainment services. They also enjoy DIRECTV with over 100 movies and television channels.
The airline also has personal device entertainment, though you will need a tablet or smartphone to enjoy this service. United Airlines seating offers everything to make the flight enjoyable regardless of the cabin.
United Seat Map: Overview
Business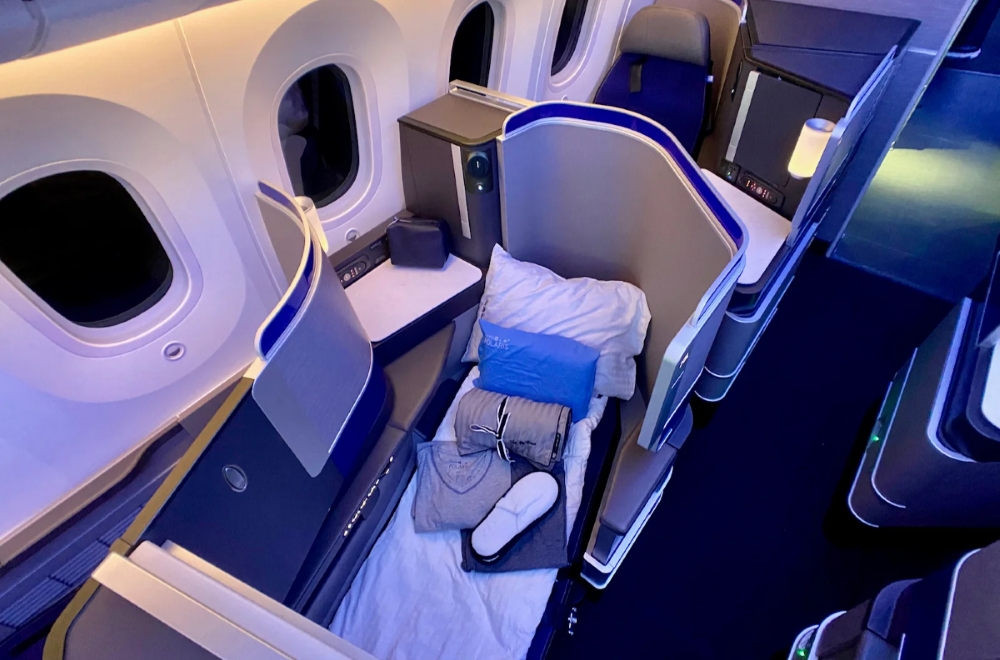 Business United Airlines seats are arranged in a 3-3 configuration. Some of them in this cabin are not ideal due to their immovable armrest and reduced seat widths. Furthermore, they do not have floor storage during landing and take-off. But since passengers can choose any of the seats in this cabin without paying extra, it makes up for those deficiencies.
The issue passengers may likely face when traveling with this airline is limited legroom and closeness to the lavatory and galley. Some seats in this cabin do not have floor storage during landing and take-off.
The Business United Airlines seating chart features more comfortable leather seats, storage space where you can place your books and laptops, and a smart holder. When passengers book this cabin, they get more space to see a movie. They also get a larger dining table and a room where they can be alone and do whatever they want.
United Polaris is United Airlines' Premium Business Class cabin, renowned for its comfort, privacy, and luxury. The seat map in United Polaris Business Class is thoughtfully designed to enhance the travel experience for passengers.
The seating configuration in Polaris United offers a reverse herringbone layout, ensuring direct aisle access for every passenger. The exact arrangement may vary depending on the aircraft, but generally follows a 1-2-1 or 1-1-1 pattern. This setup of the Polaris United seats allows passengers to have either direct aisle access or a seat by the window.
The United Polaris seats are fully lie-flat beds, perfect for long-haul flights. They provide ample legroom and width. The cabin design and dividers between seats offer a sense of privacy. Each seat features a personal seatback entertainment system with large, high-definition screens.
Polaris from United offers exceptional dining with gourmet dishes curated by renowned chefs, complemented by a selection of wines and spirits. Passengers can personalize their dining experience with a menu of snacks and refreshments available throughout the flight.
United Airlines Polaris passengers are provided with various amenities for added comfort, including plush bedding, premium pillows, and blankets. Access to United Club lounges and exclusive Polaris lounges is available. Additionally, most United Polaris flights offer Wi-Fi connectivity for passengers, with fees varying based on flight duration and ticket class.
The United First class seats are usually arranged in a 2-2 configuration; however, this may differ based on the plane version. The ones of this cabin are reclinable, and the passengers get other amenities to ensure a pleasurable flight.
The First cabin has on-demand TV and AC power. Since the seats are limited, passengers can choose where they want to sit beforehand for free.
The United Airlines First class seats are all standard with amenities like AC power and on-demand TV to ensure you have an incredible experience when you are on the flight. It offers comfort similar to what you get in the Business cabin.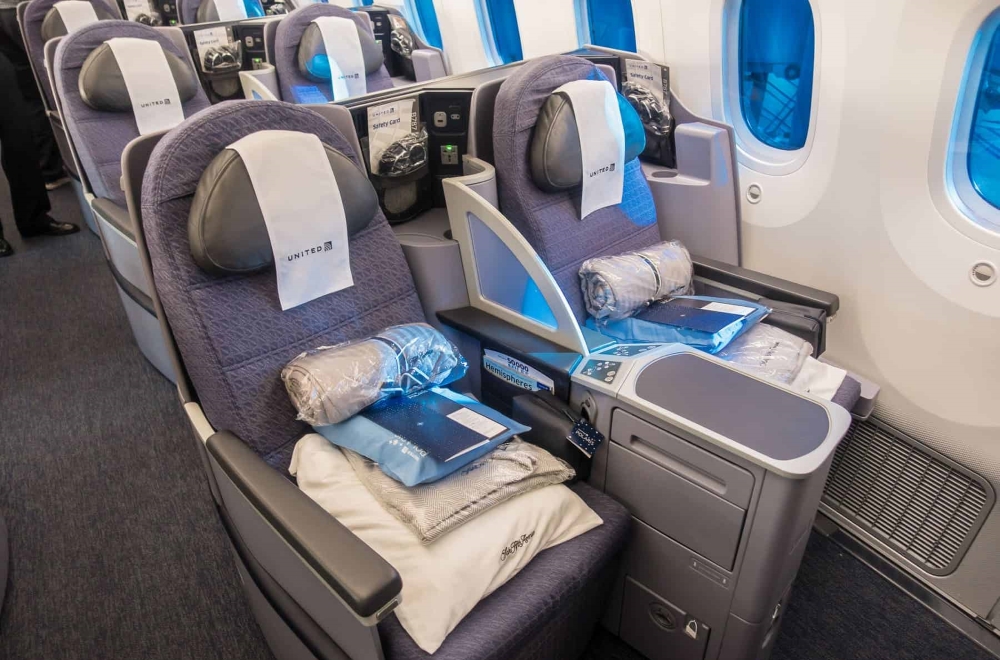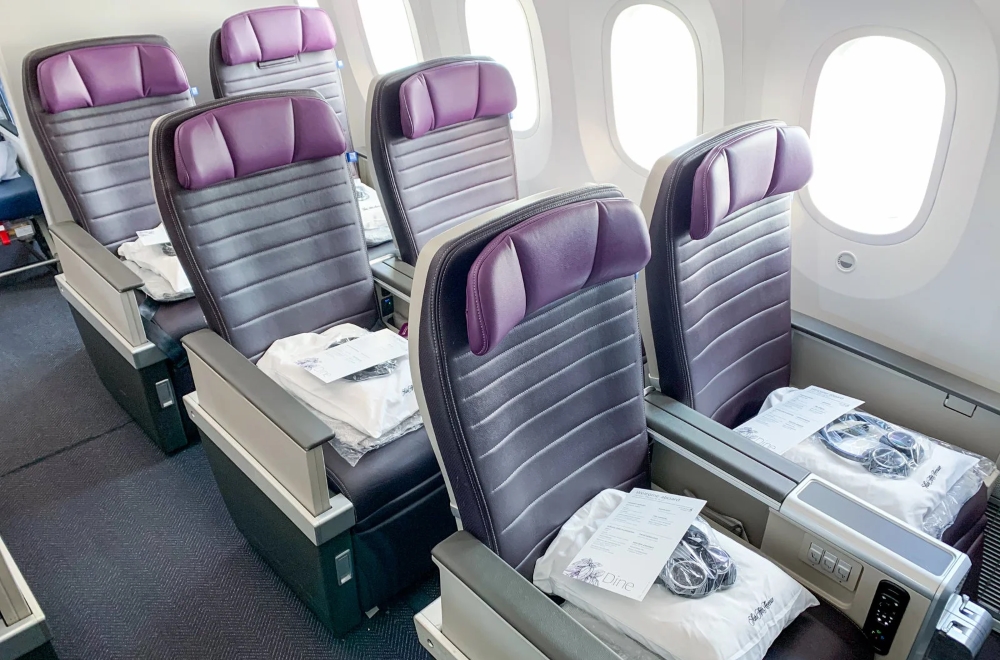 The Premium Plus United Airline seating chart shows that the seats are part of the Economy cabin but are limited to a few passengers sitting right behind the First cabin. Apart from the closeness to the front of the plane, passengers can expect other perks when paying extra for this cabin.
Gold elite members don't pay before picking United Premium Plus seats, and Silver members can pick from available seats in the cabin when they check in.
Other significant enhancements include more legroom and complementary alcoholic beverages on foreign flights for guests in this category.
There is not much difference between this cabin and the Premium Plus United Airlines seats map. When you book the Premium Plus or the Economy cabin, a charge is attached to choosing a preferred seat.
The disadvantage is their limited legroom and some seats being close to the lavatory and galley. They also don't have electrical power ports or on-demand TV. However, the Economy United Airlines plane seating cost is cheaper than other cabins.