Overview of British Airways

Using fleet size and volume of passengers as metrics, British Airways sits comfortably in second place among UK-based carriers after EasyJet. With many comfortable aircraft cabins and a British Airways seat selection that differs depending on the plane and destination, there's little to complain about when flying with British Airways.
In 1974, the British government established the British Airways Board to oversee the operations of the two nationalized airline corporations, British European Airways and British Overseas Airways Corporation. It also included regional airlines, Northeast Airlines and Cambrian Airways. The merging of these companies on 31st March 1974 brought about British Airways.
The creation of the International Airlines Group (IAG) — a holding company headquartered in Madrid, Spain — came through the merger between British Airways and Iberia in January 2011. Going by the group's revenue, it is the largest airline group worldwide.
Until 2008, British Airways carried the most passengers of any airline in the world. This achievement is because the airline has the largest fleet, the most international flights, and the most international destinations of any airline based in the United Kingdom. On the British Airways Premium Economy seat and other seat options, passengers are assured of a comfortable flight experience.
British Airways Seating Assignment Options
Short Haul
Below are the short-haul seat options at British Airways.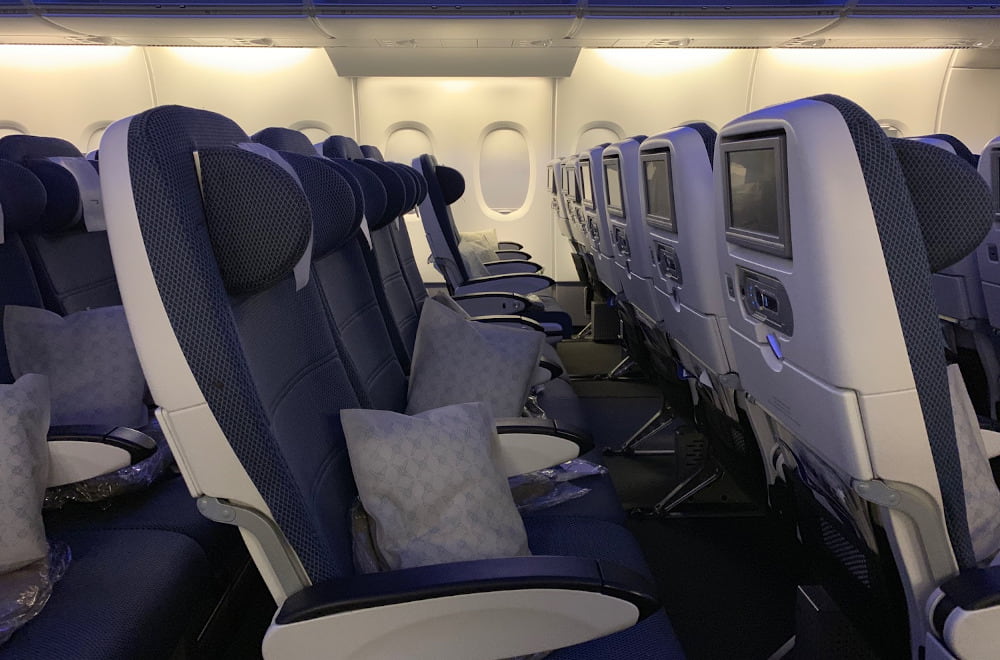 Economy class
The Economy Class of British Airways is known as Euro Traveller. This cabin is available for all short-haul flights within the UK and Europe.
Typically, Airbus A320s are used for flights departing from Heathrow and Gatwick airports. According to the British Airways seat map, the seat pitch of the Economy cabin depends on the type of plane and the location of the seat. The pitch angle can range anywhere from 29 inches to 34 inches.
You can purchase Tom Kerridge-made meals through the in-flight buy-on-board service available on all flights from Heathrow and Gatwick.
There is the Club Europe Business Class seating for people flying long distances. You can enjoy free meals and use of business lounges at most airports if you fly in the British Airways business class seating.
As is customary with Airbus aircraft, the middle seat is always empty. On remodeled airplanes, the middle seats in this cabin fold out to reveal a cocktail table. On flights that last a few hours or more, passengers on the British Airways Business Class seats are offered comfort items like pillows and blankets.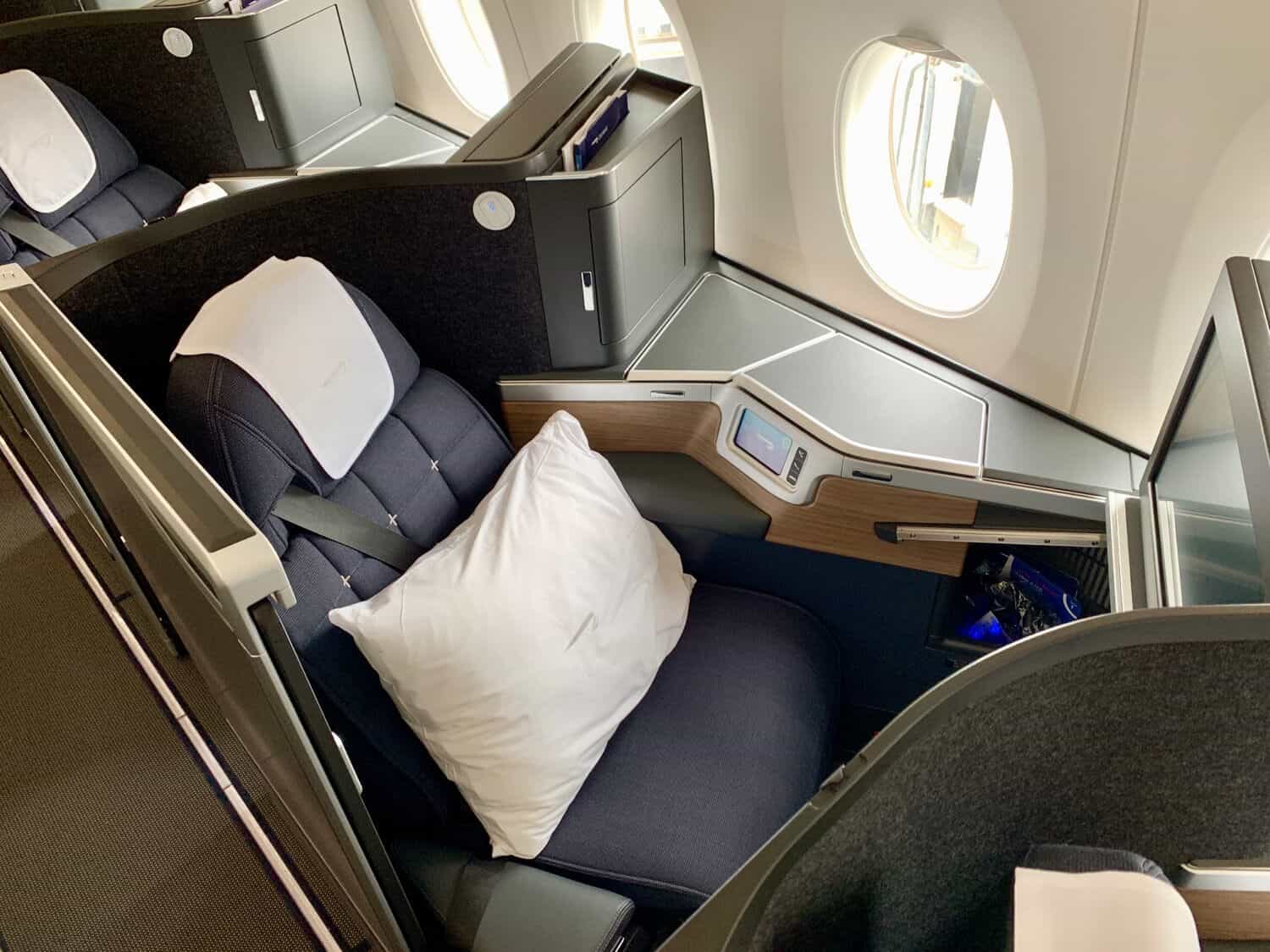 The following are the British Airways seats available for its mid-haul and long-haul flights.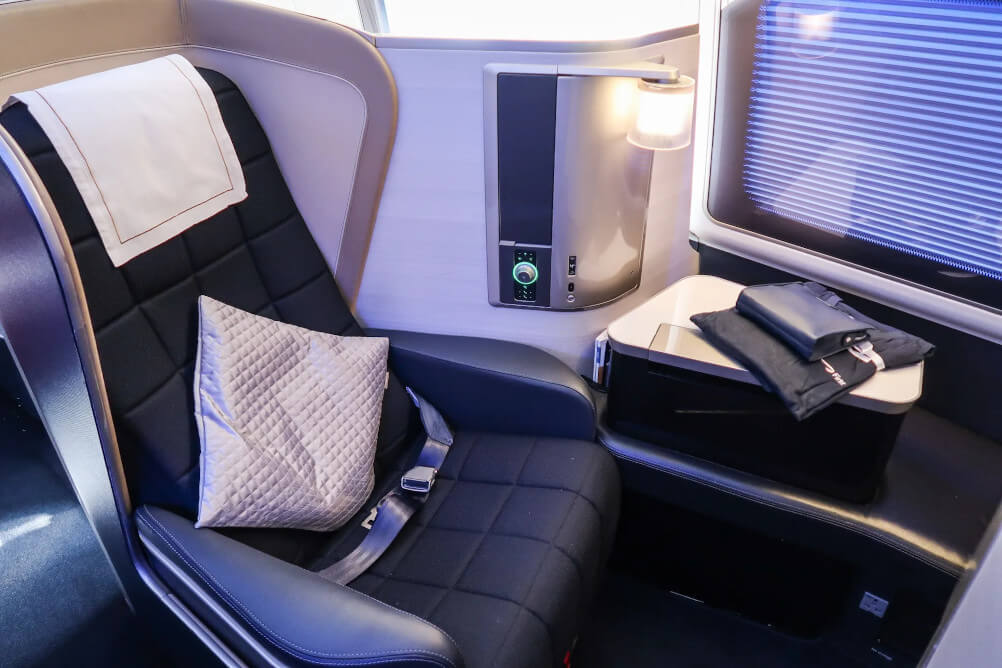 First Class British Airways seats are on some Boeing 777-200ERs and all Airbus A380s, Boeing 787-9/10s, and Boeing 777-300ERs. Depending on the plane model, there could be as many as fourteen separate bedrooms.
On board the cabin, there are beds of 6 feet by 6 feet and 15 inches television sets. The bed and television sets ensure that passengers are comfortable while enjoying their favorite program.
You can find the exclusive British Airways «Galleries First» lounges in some airports. Pre-flight meals with waiter service and more private space are available in the elite «Concorde Room» lounges at Heathrow Terminal 5 and New York JFK airports.
The Club World British Airways seating is available on all B777 and B787 Boeing aircraft, Airbus A380s, and some A321s Airbus. This cabin is the Business Class compartment of the mid-haul and long-haul of British Airways and has bigger seats with more legroom.
Seats in the center and by the windows in the Club World cabins of wide-body aircraft face backward, unlike the Business Class seats British Airways offers on short-distance flights. Along with Etihad Airlines, American Airlines, Qatar Airlines, and United United Airlines, British Airways is one of the five carriers facing backward; these seats are in the Club World cabin. The seats in this cabin can be folded completely flat, making for a comfortable bed.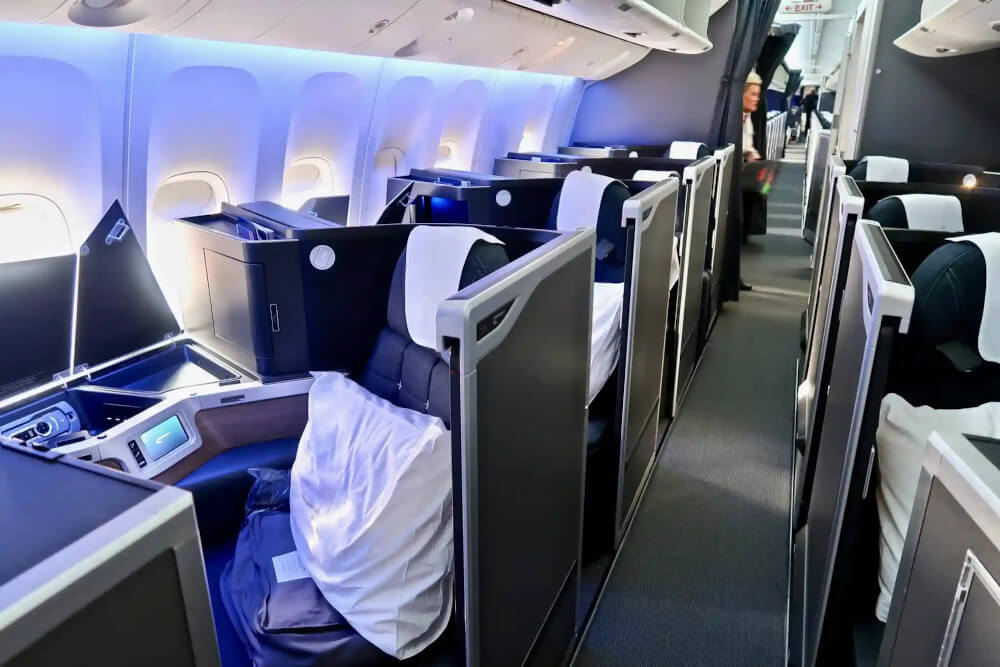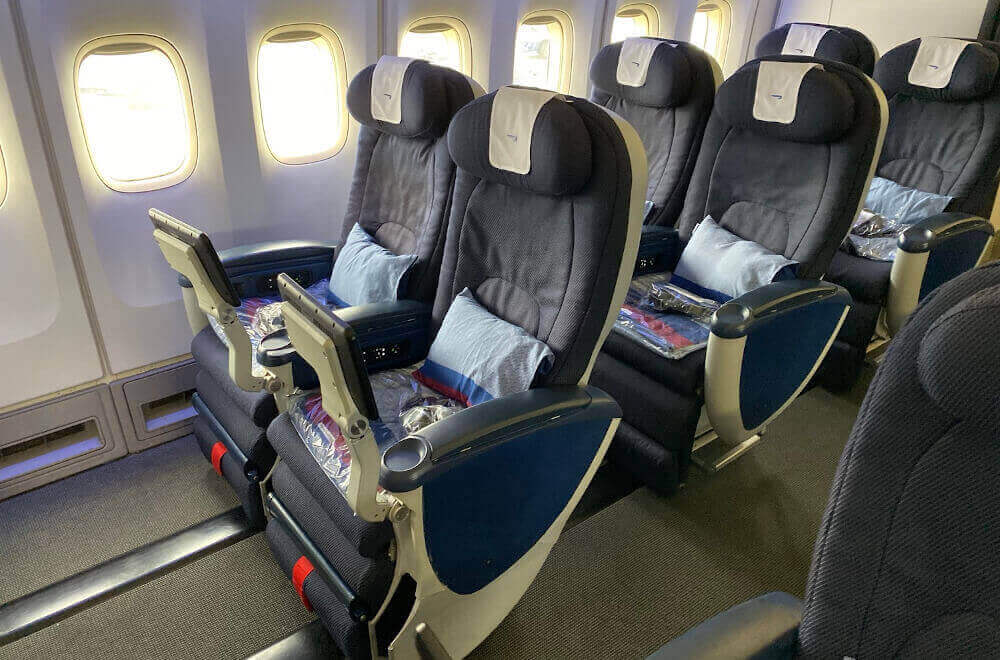 All British Airways long-haul planes feature the premium economy class section, World Traveller Plus. This long-haul and mid-haul Premium Economy seats British Airways has more spacious and comfortable seats due to its more spacious legroom, larger in-flight entertainment screens on most aircraft, a footrest, and power outlets. In addition to the improved main dish in the British Airways premium Economy seats, guests can enjoy a free «World Traveller» bar.
Economy class on long- and medium-haul flights is known as World Traveller. Entertainment systems and free snacks, beverages, bedding, and pillows are available for each passenger. All A321, A350, A380, B777, and B787 planes feature in-seat video-on-demand systems.
Every row of the Airbus A350, A380, Boeing 787-9, B777-300ER, and remodeled B777-200ER, features AC and USB power outlets. The power outlets on the cabin are compatible with US and UK plugs.
How to Select a Seat on the Seat Map British Airways
You can choose the most suitable Economy Class, Business Class, or Premium Economy British Airways seat when you book your flight or afterward through the Airways' Manage My Booking portal. Depending on the situation, you may have to pay to select your seats or do so for free. The steps are outlined below:
Go to "Manage My Booking" and sign in.
Locate and click on your flight number in the "Your booking details" option.
To view or change your seats for the flight, select "Seating" from the menu and then "View or change seats for this flight."
The Airline offers assistance to ensure your seat with your family if you don't reserve seats on time, but at that point, nothing is guaranteed. It is best to ensure that your entire family sits together and gets the best seat selection. However, picking the most suitable seats in advance increases your chances of that happening.
When traveling with fragile or expensive items like paintings, artifacts, or musical instruments, you can purchase an additional ticket to guarantee that the seat next to you is unoccupied. Also, you can buy the seat next to you if you want extra comfort.