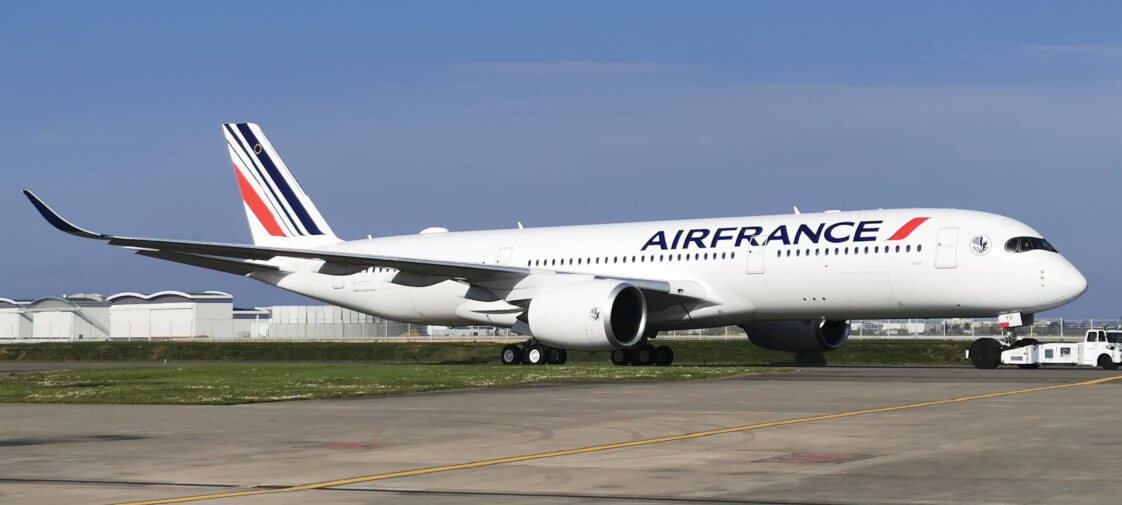 In the year 2019, Air France made a significant addition to its fleet by welcoming the Airbus A350-900, a modern and versatile aircraft designed to elevate the passenger experience. This Airbus A350-900 AirFrance is configured into three distinct classes, providing passengers with a range of choices to suit their preferences. These classes include 34 luxurious lie-flat Business Class seats, offering unparalleled comfort and convenience. Alongside them are 24 spacious Premium Economy seats designed to provide a heightened level of comfort and amenities. Additionally, there are 266 standard Economy Class seats, ensuring a comfortable and efficient journey for a wide range of travelers.
One of the standout features of Airbus A350-900 Air France is the new and improved Business Class product, which includes 34 Zodiac Optima seats thoughtfully arranged in a spacious 1-2-1 configuration. This layout provides passengers with direct aisle access, enhancing privacy and convenience.
Every seat on this state-of-the-art aircraft is equipped with a personal entertainment system, offering an extensive selection of entertainment options. Passengers can enjoy access to 16 radio programs, as well as a diverse array of video and audio content to cater to their preferences. Whether it's catching up on the latest movies, TV shows, or music, passengers will find a wealth of entertainment choices at their fingertips.
For added convenience and connectivity, all seats on board feature a 110V power port and a USB power port, ensuring that passengers can stay connected, charge their devices, and work or relax comfortably throughout their journey.
In a nod to the modern traveler's needs, Air France offers WiFi access on the Air France A350-900, allowing passengers to remain connected and entertained while in the air. Travelers can easily download the Air France Play app, enabling them to stream entertainment during their flight, further enhancing the in-flight experience.
To ensure that passengers are well taken care of during their journey, the Airbus A350 Air France offers a meal service tailored to the specifics of each flight. Depending on factors like the flight's departure time, duration, and class of service, passengers can expect to be treated to an appropriate meal, whether it's a satisfying breakfast, a delightful snack, or a delectable dinner, adding a touch of culinary delight to the overall travel experience.
Air France Airbus A350-900 Seating

Seating details
| | | | |
| --- | --- | --- | --- |
| Class | Pitch | Width | Seats |
| Business | 74/78 | 21 | 34 |
| Premium Economy | 37 | 18.8 | 24 |
| Economy | 31 | 17 | 266 |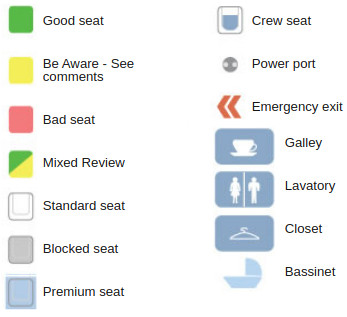 Business
In the Air France A350 Business Class, passengers are treated to a luxurious travel experience characterized by spaciousness and exceptional amenities. With an impressive pitch and bed length of 74/78 inches and a comfortable 21-inch width, this class offers the utmost in comfort. Featuring 34 flat-bed seats thoughtfully arranged in a spacious 1-2-1 pattern, every seat in this cabin has the remarkable ability to transform into fully lie-flat beds, ensuring passengers enjoy a restful journey.
For travelers who prefer a front-of-the-plane location and proximity to the galley, seats 1CJ stand out as an excellent choice. These seats are strategically positioned at a bulkhead, providing passengers with convenient access to in-flight services.
Seats 2EF also enjoy a bulkhead position, making them a potential preference for passengers traveling with infants, as bassinets may be attached to the bulkhead in this area.
Passengers selecting seats 9CDHJ in Air France A350-900 Business Class should be aware that these seats are situated near a galley and closet. While this proximity offers quick access to refreshments and personal items during the flight, it's important to consider any associated noise or activity in this area.
Premium Economy
In Air France A350 Premium Economy, passengers are treated to a distinctive travel experience marked by thoughtful features and comfort. The pitch spans 37 inches, accompanied by a comfortable width of 18.8 inches. Within this class, 24 recliner seats are thoughtfully arranged in a 2-4-2 pattern.
The initial row of this cabin on the Air France A350 seat map, comprising seats 10ACDEGHJL, is strategically positioned adjacent to a comprehensive area housing the exit row, galley, lavatories, closet, and buffet bar. Travelers considering these seats should take note of their proximity to these facilities. The tray tables in these seats are ingeniously integrated into the armrests, rendering them immovable and slightly reducing seat width. Additionally, the inflight entertainment monitor is affixed to the bulkhead, meaning there is no floor storage available for these seats during taxi, takeoff, and landing.
Of particular interest, seat 10L features a bassinet located in front, making it an ideal choice for passengers traveling with infants. However, it's important for other passengers in the same row to consider this feature and its potential impact on their seating experience in the A350-900 Air France.
Economy
In A350 Air France Economy Class, passengers will find a comfortable and practical seating arrangement. The pitch measures 31 inches, with a seat width of 17 inches. This cabin is designed to accommodate 266 standard seats, thoughtfully arranged in a 3-3-3 layout. The cabin itself is divided into two sections, with a partition separating them and featuring toilets and an exit row.
Seats 16ABCDEHJKL in the first section come with integrated tray tables, though they have certain limitations. The inflight entertainment monitor is mounted on the bulkhead, resulting in no floor storage for these seats during taxi, takeoff, and landing. While seats 16ABCJKL offer limited legroom, Seats 16DEH provide more space for passengers.
The last row of the first section on the Air France A350 900 seat map, the 29th row, may have limited recline and is situated in close proximity to the lavatories and the exit row behind.
Moving into the second section, which begins with the 30th row, seats 30ACDEHJL benefit from increased legroom due to the exit row in front. However, they are positioned near the lavatories, and similar to the previous section, there is no floor storage during taxi, takeoff, and landing. The tray tables and monitors in these seats are integrated into the armrests, making the armrest immovable and slightly reducing seat width.
Seats 31AL offer even more space, as there are no seats directly in front of them, making them a preferable choice in this cabin.
Conversely, the last two rows on the Airbus A350-900 seat map Air France, rows 44 and 45, are less desirable. These seats are in close proximity to the tail of the aircraft, where galleys and lavatories are located. Seats 45ACDEHJL in particular, do not recline due to the wall directly behind them. Additionally, if the seat in front is reclined, personal space in these seats is further reduced.