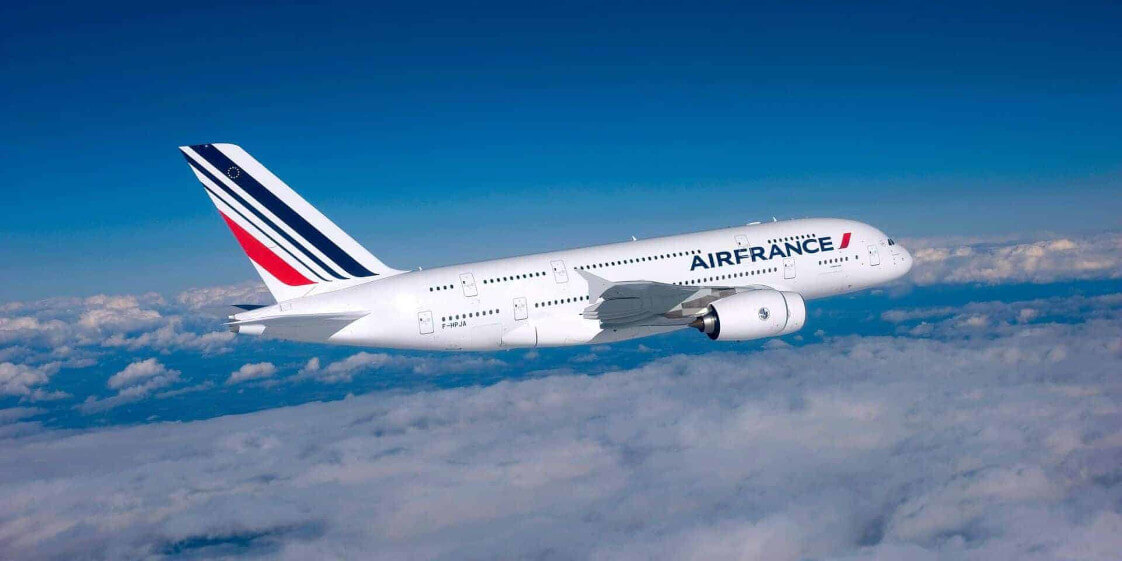 The extraordinary two-deck Airbus A380-800, used by Air France, has plenty of space and can carry many passengers. The Air France A380 offers passengers in its four various cabin classes a relaxing and delightful flight experience thanks to its practical design.
Based on the Air France A380 seating map, La Première (First Class) and the first portion of Economy Class are accommodated in the lower deck of the Air France A380. Three classes are located on the A380-800's upper deck: Business Class, Premium Economy, and the rest of Economy Class.
A large selection of movies, TV shows, music, games, and other entertainment options are available on the Air France A380's advanced entertainment system. On their high-definition touchscreens, passengers can access a variety of entertainment selections, offering a customized entertainment experience during the journey.
WiFi is available onboard the airplane, enabling users to stay connected, access the internet, and contact loved ones during the flight. All classes have access to this tool, which offers productivity and ease.
The excellent in-flight meal experience is something Air France is proud of. Delectable meals created by renowned chefs are offered to passengers, along with an extensive range of premium wines, champagnes, and other drinks. Dietary restrictions can be catered for with special meals ordered in advance.
The A380 Air France passengers can use adjustable headrests, roomy legroom, and mood lighting to experience greater comfort. Additionally, the aircraft provides amenities like blankets, pillows, and amenity packs to ensure everyone has a comfortable and relaxing flight.
Air France A380 Seating Map (A380-800)


Seating details
| | | | |
| --- | --- | --- | --- |
| Class | Pitch | Width | Seats |
| La Première | 81/79 | 35 | 9 |
| Economy | 32 | 17.5 | 389 |
| Business | 55/78 | 24 | 80 |
| Premium Economy | 38 | 19 | 38 |
The Air France First Class A380 La Première has individual, enclosed suites rather than open suites, and they are in a 1-2-1 configuration. This arrangement means passengers have privacy and personal space in each apartment. The Air France A380 Business Class suites were created to provide a premium and unique experience for discerning tourists. Seat 1A is the best seat in this cabin because it has extra legroom situated behind the exit row. On the other hand, seat 2L is directly behind the cabin's food preparation area and toilets, which means their occupants may have to deal with extra noise from those areas.
Depending on how the Air France A380 First Class is configured, there are varying numbers of La Première suites. Nevertheless, the A380 La Première cabin typically contained a few suites at most, often 9, depending on the design of the aircraft.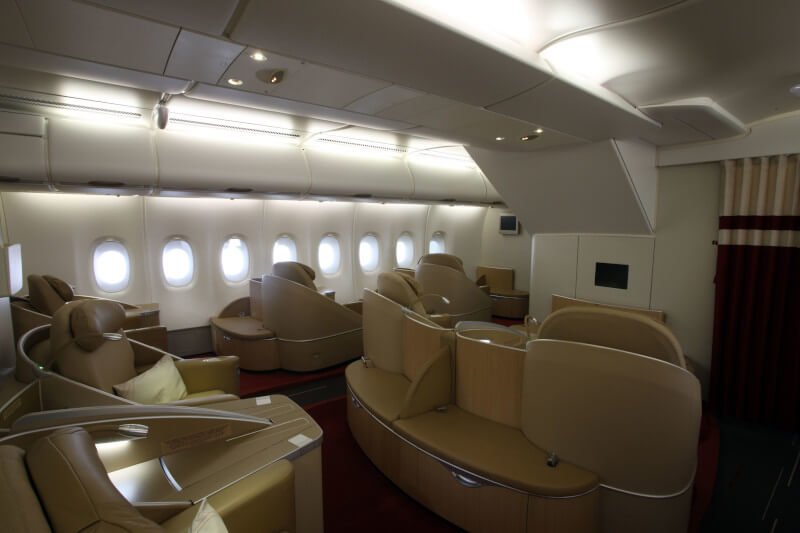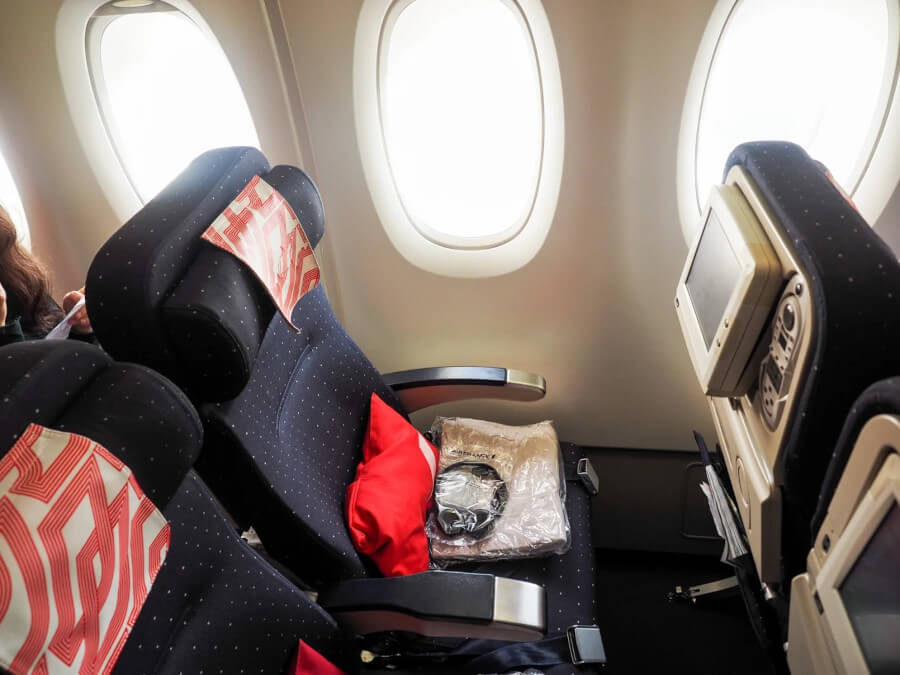 Lower deck
The Economy Class lower deck of the Air France A380 has some good seats arranged in a 3-4-3 pattern. However, the four middle seats are absent from the 10th row to the 14th. This is because the space is used for the cabin's lavatories and galley.
10B and 10K are Preferred Seats because they are beside the exit door and have extra legroom. However, they lack windows and cost extra to reserve. On the other hand, 10C and 10J are good seats, with extra legroom owing to being behind the exit row. Their only drawback is the galley beside them. Even though they lack floor storage, seats 11A and 11L are also great for customers looking for more legroom and window seating at the same time.
Based on the seat map, seats 30ABC and 30JKL are strongly recommended. Extra legroom will assist passengers seated in these positions, making the flight more comfortable, especially on lengthy flights.
Seat 34D is the best option in the cabin, even though it includes a booking fee. This seat provides more room for stretching out and taking in the journey. It is recommended by Air France, meaning that travelers looking for a more comfortable flight should give it some thought.
Seat 15DEFG is frequently chosen by parents traveling with young children. They are convenient for parents who want to keep their infants close by during the journey because they are situated where bassinets can be easily installed. Please be aware that these seats might not have much room for legs.
Some passengers may also like seats on the final rows of each section, such as the 27th and 52nd rows. These seats often have easy access to restrooms and are convenient, especially on prolonged flights.
Upper deck
The Economy Class has numerous seating possibilities on the Air France A380's upper deck. Most of the seats in this row, including rows 88–94 and the 90th row, are designated desirable seats by Air France.
Legroom is restricted in the 88th row of seats, and the armrests incorporated into seats 88AB and 88KL marginally reduce their width. Additionally, travelers on seat 88DEFG may find the placement of the bassinet uncomfortable.
The 90th-row seats in this area, which provide more legroom, are highly recommended. However, there can be a lot of traffic in the neighborhood, which might be uncomfortable. Seats 91AB and 91KL offer more legroom, improving passenger comfort despite a narrower seat.
Most of the upper deck is taken up by Air France Airbus A380 800 Business Class on the seating chart. There are two sections here. The seats other than those in the 60th row in the first section, which has 26 seats organized in a 2-2-2 layout, are highly recommended. Passengers may unwind and enjoy their travel in these seats because they are roomy and pleasant.
Nine seats are in the second section, also in a 2-2-2 layout. As these seats are suited for holding bassinets or offering more space, it is essential to note that seats 65EF are frequently assigned to customers traveling with infants.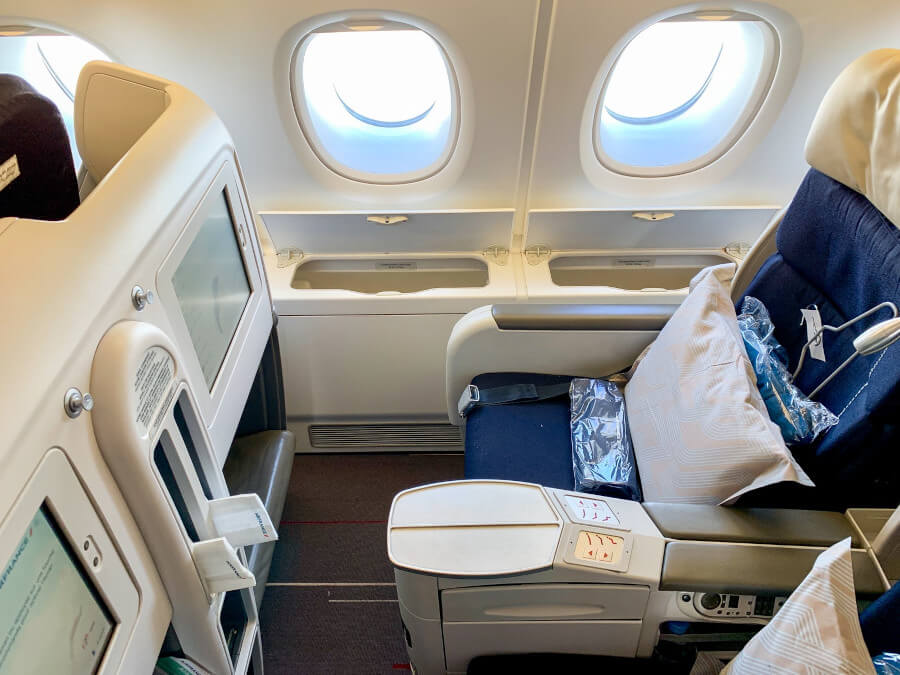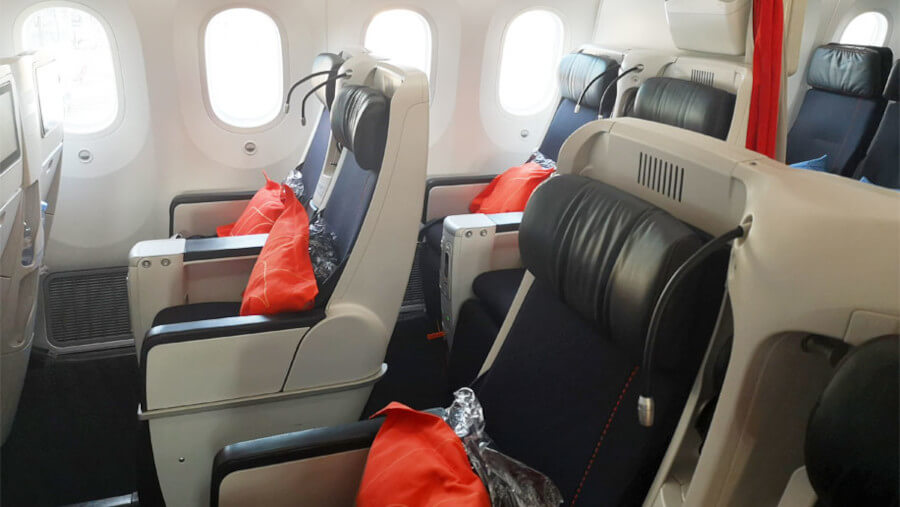 The Air France Airbus A380 800 Premium Economy class has 38 seats behind the exit row arranged in a 2-3-2 configuration. The legroom for passengers on seats 80EFG may be slightly reduced. Passengers traveling with infants frequently have seats in this section assigned to them.
Within Premium Economy, seats 81AB and 81KL are frequently considered excellent options. These seats have more legroom, which improves passenger comfort.