Overview of the Alaska 737-900
In 2001, Alaska Airlines became the first customer to receive the Boeing 737-900 Alaska, which was unveiled at a rollout celebration in Renton, WA. The plane is equipped with numerous amenities, including 178 Recaro seats upholstered in leather, power outlets for charging electronic devices, Premium Class seating, Boeing's acclaimed Sky Interior, inflight internet connectivity, and Inflight Entertainment. Additionally, the aircraft will feature Boeing's Space Bins, which offer 48% more space for overhead baggage storage, making it easier for passengers to stow their belongings.
Passengers flying on Alaska Airlines 737-900 can look forward to a comfortable and stylish cabin experience. The leather Recaro seats provide both durability and elegance, while the larger overhead bins make stowing carry-on luggage easier than ever. In addition, the planes feature Boeing's Sky Interior, which is designed to create a more open and spacious feel with cove lighting and sculpted sidewalls. The cabin is also equipped with advanced ventilation technology that helps to filter and purify the air, ensuring that passengers breathe clean and fresh air throughout the flight.

Alaska Airlines provides its passengers with various entertainment options while flying, including the use of portable media players called digEPlayers. These media players can be rented online at a fee, and the Alaska Airlines Boeing 737-900 First Class passengers can use them for free. Economy Class passengers may also rent them in advance before boarding. Alternatively, passengers can access Alaska Beyond Entertainment, a streaming service that can be accessed through the Gogo Entertainment app on their personal mobile devices. This service provides a wide range of movies, TV shows, and music, allowing passengers to enjoy their favorite entertainment during their flight.
All seats on the Alaska Airlines Boeing 737-900 include both 110V AC power outlets and USB ports for travelers to charge their gadgets. Alaska Airlines provides internet service on certain domestic US flights, which can be accessed using laptops or mobile devices. However, the service is only available once the aircraft has reached a cruising altitude of 10,000 feet.
Passengers on Alaska Airlines flights can enjoy a range of food and beverage options, with the availability depending on the cabin class, time of day, and duration of the flight. The airline offers snacks and refreshments on shorter flights, while meals are provided on longer flights, particularly for those in First Class. Overall, Alaska Airlines aims to provide a comfortable and enjoyable dining experience for all passengers during their flight.
Best Seats on the 737-900 Alaska (739) Plane

The Alaska 737-900 First Class features four rows in a 2×2 configuration. The seats are 21 inches wide with a generous 41 inches of pitch, offering ample legroom for domestic First Class.
Seats 1A, 1C, 1D, and 1F are located in the first row of the First cabin on the Alaska Airlines 737-900 First Class. These seats are bulkhead ones, meaning they are located at the front of the cabin and have a wall in front of them.
Seat 1A is located on the left side of the aircraft, while seat 1F is on the right. Both seats have extra legroom due to being bulkhead seats, but 1F has the added bonus of having a window.
Seats 1C and 1D are located in the middle of the first row and offer the same amount of legroom as the other bulkhead seats. However, they do not have a window like seats 1A and 1F.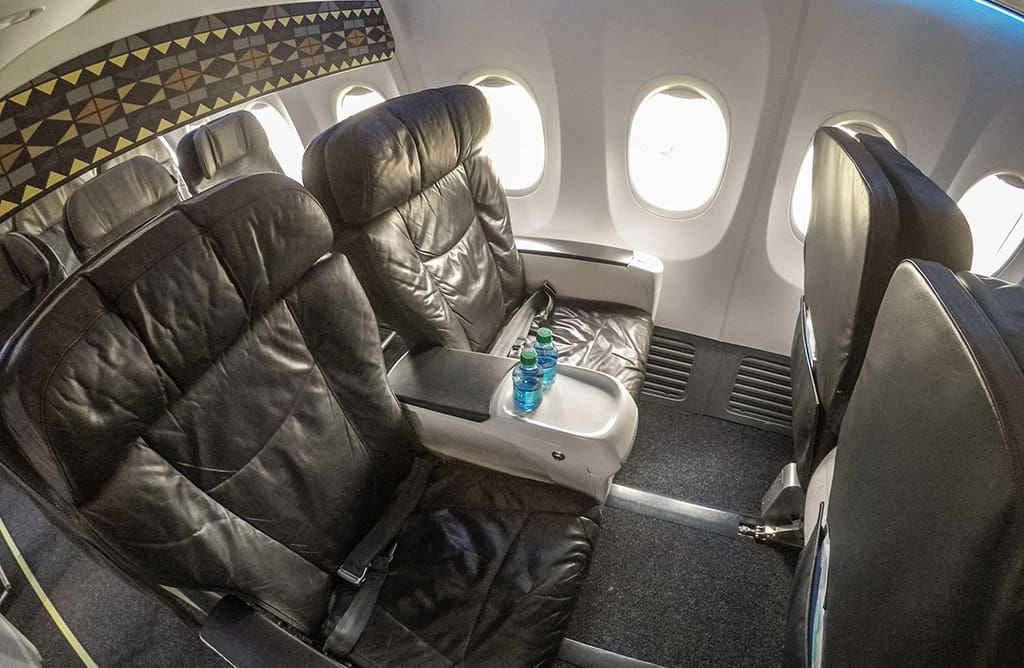 While being in the front row can be a great perk, there are also some drawbacks to consider. For example, the tray table is located in the armrest, which may be narrower than other seats. Additionally, there may be less storage space due to the bulkhead wall.
The 2ACDF, 3ACDF, and 4ACDF seats on the Alaska Airlines First Class 737-900 are standard. They are located behind the first row of seats and provide a good view of the cabin.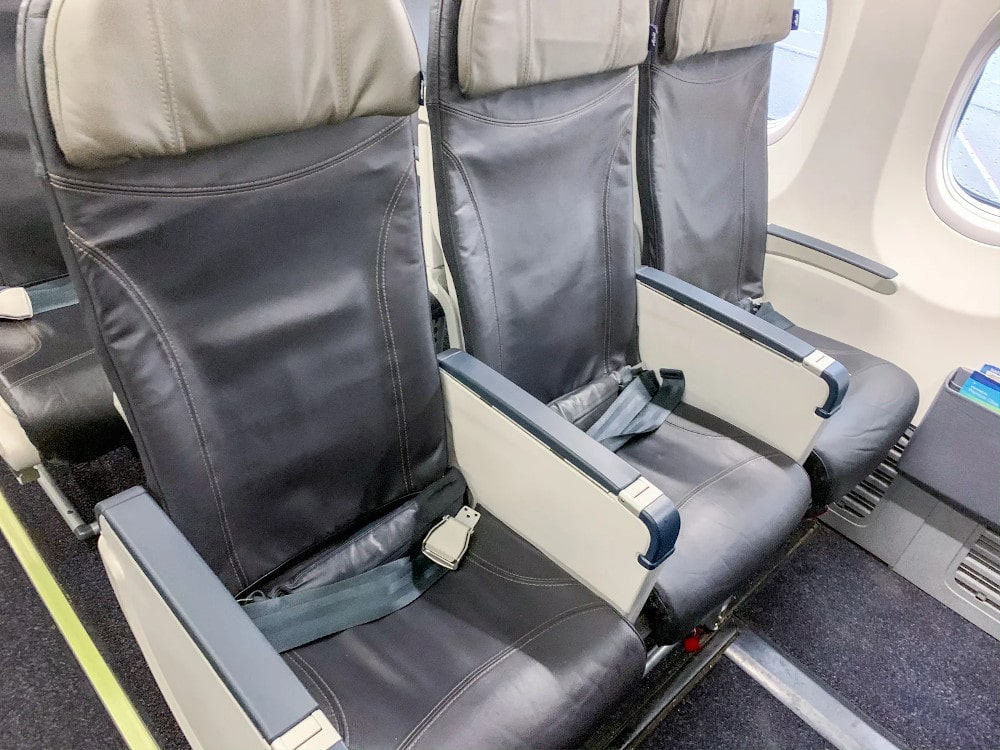 On the Boeing 737-900 Alaska seat map, there are four rows of Premium Class seats with a 3-3 configuration.
Seats 6A, 6B, 6C, 6D, 6E, and 6F are located in the Premium cabin of the Alaska Airlines Boeing 737-900. These seats are in a 3-3 configuration, and each seat has a pitch of 35 inches and a width of 17.2 inches.
These seats are located in the forward section of the aircraft, which means that passengers seated here will be among the first to board and disembark. Additionally, these seats come with several amenities, such as priority boarding, extra legroom, and a complimentary alcoholic beverage for passengers over the age of 21.
Seat 6A is a window seat, while 6C is an aisle seat. The middle seats are 6B and 6E. Seat 6F is a window seat and 6D is an aisle seat.
Passengers seated in row 6 may experience some noise from the engines, but noise-canceling headphones are available upon request. The remaining seats on the Alaska 739 are standard Premium seats.
Seat 11A on the Alaska Airlines seating chart 737-900 is located in the Economy cabin and has a missing window. The lack of a window can be disappointing for some passengers who enjoy the view during the flight. However, it may not be a concern for others who prefer to sleep or use the time for other activities.
These seats, 15ABCDEF, are classified as standard economy class seats on the Alaska Airlines Boeing 737-900. Nonetheless, passengers should be aware that the seat back recline feature is restricted as these seats are positioned in front of the exit row.
Seats in row 16 are located in the standard section on the 737-900 Alaska Airlines. Passengers should note that the seat back recline may be limited due to the exit row situated behind them, and floor storage may not be available during takeoff and landing. Additionally, overhead storage space for these seats is limited.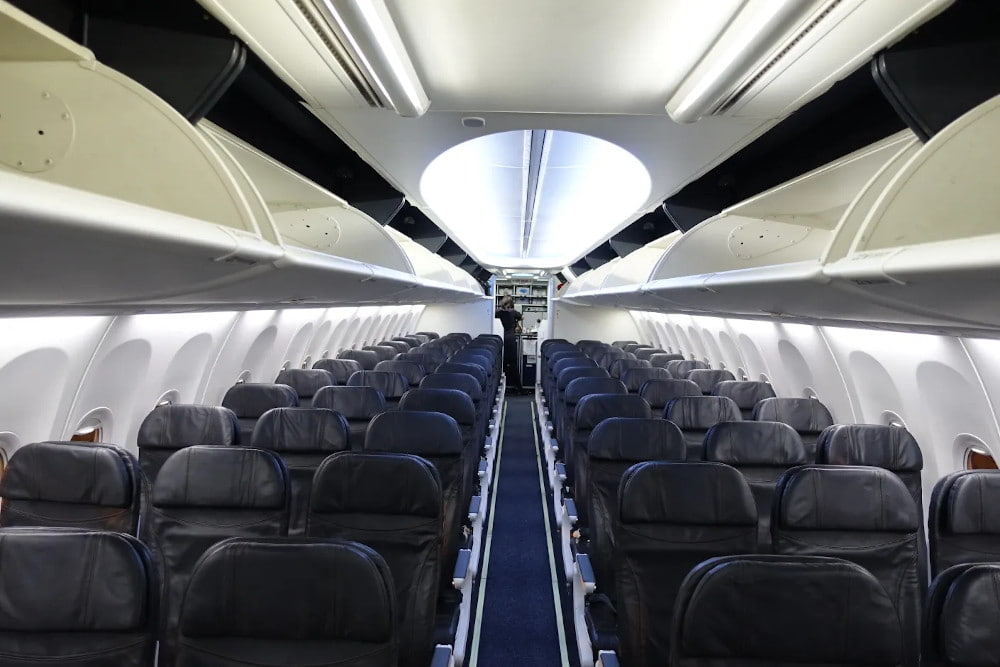 The seats located in the exit row, specifically 17A, 17B, 17C, 17D, 17E, and 17F, are the most desirable on the Alaska Airlines Boeing 737-900. These seats offer additional legroom, making them ideal for tall passengers or those who simply value extra space. However, passengers seated in these seats should be aware that floor storage may be unavailable during takeoff and landing, and overhead storage is limited.
Seats 32D, 33E, and 33F on the Boeing 737-900 Alaska Airlines are not ideal due to their proximity to the galley and lavatory. Passengers seated in these seats may experience increased noise levels and foot traffic from other passengers and crew members. Additionally, the proximity to the lavatory may be bothersome due to potential odors or increased activity in the area. It's best to avoid these seats if possible, especially for long flights.
Seats 32A, 32B, 32C, 33D, 34D, 34E, and 34F are considered the worst ones. They are located in the last rows of the aircraft, which can result in higher engine noise and a bumpier ride. Additionally, these seats may not recline fully, causing discomfort during longer flights.
Furthermore, passengers in seats 32A, 32B, and 32C on the Alaska air 737-900 may experience additional disturbances due to their proximity to the lavatory and galley, with potential foot traffic and noise disrupting their in-flight experience. Passengers in seats 33D, 34D, 34E, and 34F may face similar disruptions due to their proximity to the lavatory. It's worth noting that these seats have limited overhead storage as well.