The Embraer ERJ 175 Alaska is best suited for mid-range flights and seats 76 passengers in a First, Premium, and Economy-class configuration. However, General Electric CF34-8E engines power the aircraft, each offering 14,200 pounds of thrust. Currently, the ERJ175 is still in production because of its high demand for regional airlines in the United States. The Alaska E175 has improved fuel efficiency thanks to its new wingtips that equally reduce carbon dioxide emissions by 6.4%. It has a cost-effective design with an overall length of 98 feet, a height of 32 feet, and a high payload capacity.
The Alaska Embraer 175 sports 76 recliners and standard comfortable seats, with a pitch ranging from 30 to 37 inches and a width ranging from 18.25 to 21 inches. The Alaska Embraer aircraft has no middle seats; hence as a passenger, you can choose your preferred aisle or window seats depending on when you board. Wi-Fi, inflight, audio, and video entertainment are available to every passenger onboard the Alaska ERJ 175 at a fee other than First-Class passengers. However, only First-Class passengers in the Alaska ERJ 175 have access to power outlets on the aircraft.
Embraer 175 Alaska: Best Seats

Seating details
| | | | |
| --- | --- | --- | --- |
| Class | Pitch | Width | Seats |
| First | 37 | 21 | 12 |
| Premium | 34 | 18.25 | 12 |
| Economy | 30-31 | 18.25 | 52 |
The Embraer 175 First Class Alaska seat chart shows the cabin sports 12 recliner seats with 37-inch pitch and a width of 21 inches. The First-Class cabin has three seats in each row, offering enough legroom for passengers. Seats 1A through 1D are standard recliner seats but are at a bulkhead. These seats also have proximity to the lavatory and galley area, which might be bothersome for passengers. Seats 2A through 2D, 3A through 3D, and 4A through 4D in the Embraer ERJ-175 Alaska are standard recliner seats with no tray table or proximity to the galley or toilet.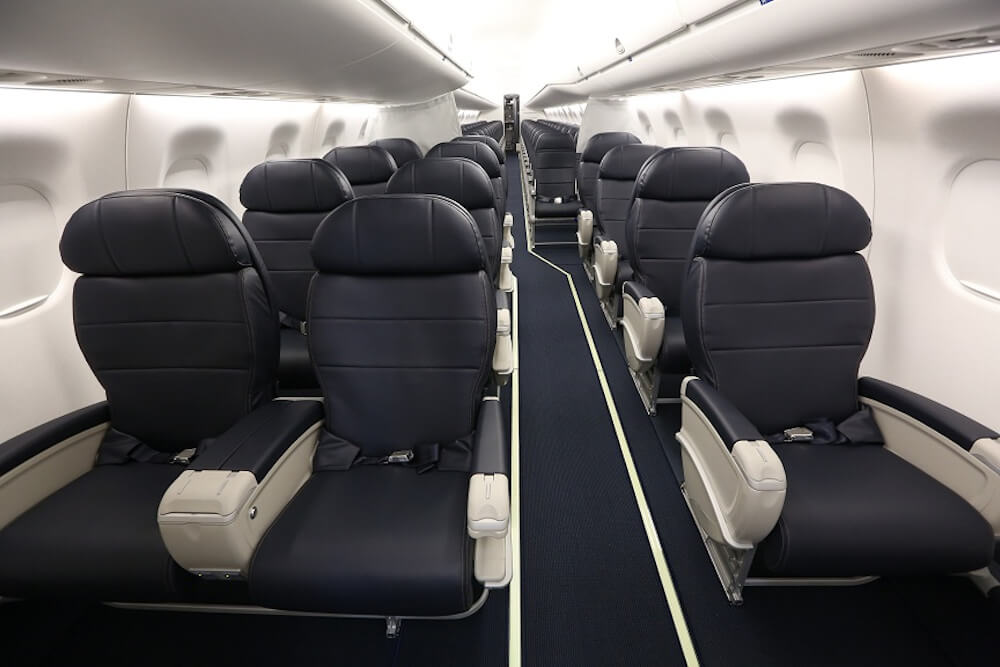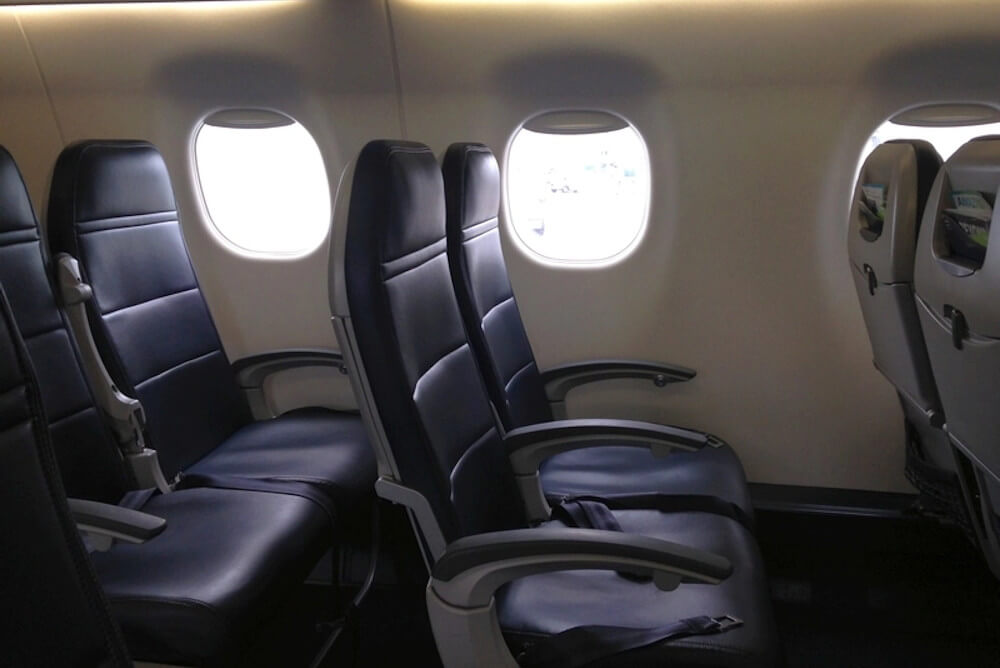 The Alaska Airlines Embraer 175 Premium cabin seat map reveals that the cabin has 12 standard seats with an 18.25-inch width and 34-inch pitch. It is important to note that selecting any seat in this cabin incurs an additional fee. Unless reserved online, audio and TV are not available in these seats.
The Premium cabin has three rows from row 6 to row 8. Seats 6A through 6D are standard ones with extra legroom because of their proximity to the bulkhead. Yet, the armrest holds the tray table, hence making the armrest immovable and slightly reducing the width of these seats. Furthermore, seats 7A through 7D and 8A through 8D in Alaska Airlines E175 are standard with no tray table or proximity to the galley or toilet.
The Embraer 175 Alaska Airlines Economy seat chart reveals that the cabin features 52 standard seats with a width of 18.25 inches and a pitch of 30 to 31 inches. If you reserve online, audio and TV are only available in these seats. The Economy cabin of the Alaska Embraer has thirteen rows from row 9 to row 21 of the aircraft. The seats between rows 9 and 14 are standard seats with no tray table or proximity to the galley or toilet.
Additionally, unlike other seats in this cabin, seats 15A and 15D lack windows, which might make them not comfortable to sit in. However, seats 15B and 15C are regular ones. The seats between rows 16 and 20 are regular seats with standard legroom, according to the seating diagram for the Economy class. On the other hand, the last row's seats 21 through 21D, which have a limited back recline and are close to the restroom and galley, are unpleasant.