American Airlines has a rich fleet of aircraft, with the Boeing 777 300ER being one of its latest. It carries 304 passengers thanks to its four cabins. Each cabin in the Boeing 777-300ER American Airlines features amenities like Audio Video On Demand (AVOD) systems and 110-volt power outlets.
On each seat in the Flagship First and Business cabins of AA 777-300ER, there is a 15.4-inch high-definition (HD) touchscreen with up to 75 movies, over 150 TV shows, over 350 audio options, 15 games, and five live-streaming TV channels — BBC News, CNN, CNBC, Sport 2, Sport 2 Extra.
There is a slightly smaller 8.9-inch high-definition (HD) touchscreen monitor built into the back of every seat in the Premium Economy and Main Cabin of the Boeing 777 300ER American, on which passengers may watch movies, play video games, and listen to music.
The route, flight duration, and time of day determine the food service in the American Airlines 777-300ER. Flagship First, Business, and Premium Economy passengers get premium dining, while Main Cabin passengers on long-haul flights get multicourse meals at no cost.

American Airlines 777 300ER Best Seats
The Flagship First cabin of the American Airlines Boeing 777-300ER comprises eight seats shared in two rows. The seats are in a 1-2-1 configuration. You can rest assured of getting premium comfort when you travel in this cabin.
The impressive amenities of this AA Boeing 777 300ER First cabin include flatbed seats, on-demand TV, and AC power to ensure you travel without bothering about your devices running out of juice. Also, you can see your favorite movie and show live on AVOD TV.
Though all the seats in the Flagship First cabin of the American 777-300ER are comfortable, passengers may find some slightly undesirable. For instance, seats 1G and 1J are close to the galley, and the light from the galley may disturb passengers trying to nap.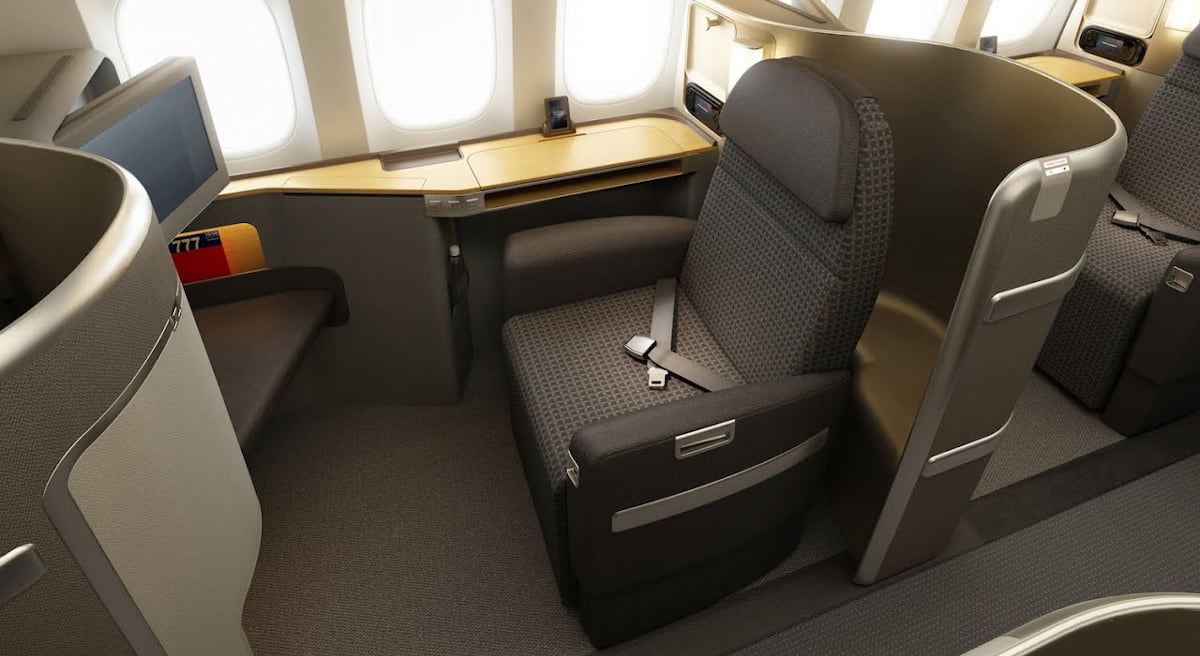 Seat Specifications
| Class | Pitch | Width | Row | Seats |
| --- | --- | --- | --- | --- |
| Flagship First | 64″/78″ | 21.5 | 1-2 | 8 |
| Flagship Business | 43″/75″ | 20.5 | 3-15 | 52 |
| Premium Economy | 38″ | 18.5 | 16-19 | 28 |
| Main Cabin | 31″-32″ | 16.2 — 17.1 | 20-44 | 188 |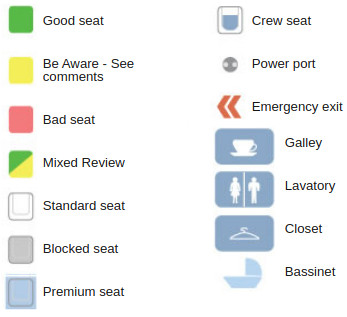 All American Airlines 777 300ER Business Class passengers have direct aisle access because of the 1-2-1 reverse herringbone layout of the seats. In addition, the combination of the wood panel accents and gray tones brings a soothing ambiance.
Thanks to American Airlines' cooperation with Casper, you will sleep well on an extra-long bed with luxurious linens. In addition, each seat in the Flagship Business of the American 777 300ER has a mattress pad, pillow, and duvet.
Pick a seat along the bulkhead in row 3 if you want privacy — you can find this area just behind Flagship First. Row 4 of this cabin is slightly undesirable due to the proximity to the lavatory. However, like row 3, it offers privacy hence, is ideal for people traveling alone.
In the AA 777 300ER Business class, avoid the 4th, 5th, and 15th rows since they are pretty noisy due to their proximity to the lavatory; other passengers congregate in the area. Row 11 is also not good because it does not have windows.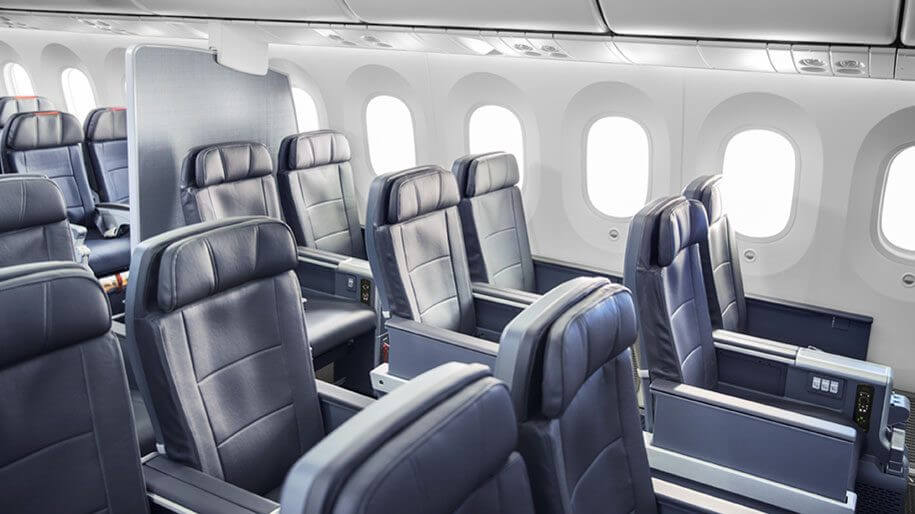 The American Airlines 777 300ER seat map shows that the premium Economy cabin has similar seat widths, pitches, and configurations. The cabin comprises 28 seats in a 2-4-2 layout, starting from rows 16 to 19. It is behind the Flagship Business Boeing 777 300ER American Airlines.
This cabin features recliner seats, on-demand TV, and AC power ports. The first row seats of the Premium Economy, comprising 16AC, 16DEGH, and 16JL, are the seats to avoid. Though they have extra legroom due to the exit in front of them, they have their downsides. For starters, these seas are close to the lavatories. Secondly, the exit row in front of these seats makes the area too cold. Additionally, the seats do not have storage space for passengers to keep their belongings during takeoff and landing.
The Main Cabin of the 777-300ER American Airlines plane has a 3-4-3 and 2-4-2 configuration. The seats in the cabin feature on-demand TV and AC power ports. If you can, avoid row 20; the seats have limited legroom, no floor storage during takeoff and landing, and narrow seat width due to the position of tray tables on their armrests.
Seats 22C, 22J, 29C, 29J, 33C, and 33J are also bad because other passengers may bump into people in them. Then, the proximity to the lavatories makes 29DEGH, 30C, 30J, 43AC, and 43JL unsuitable.
The seats 44DEGH in the last row are the worst in the cabin. They have limited recline and are too close to the lavatory and galley.