About Embraer 175 American
The E175 is a medium-haul jet airliner produced by Brazilian aerospace manufacturer Embraer. The Embraer 175 is a small regional jet operated by Compass Airways and American Eagle on behalf of American Airlines. It is a twin-turbofan jet airliner and is part of the Embraer E-Jets family of regional airliners. Designed for short to mid-range flights, the E175 American Airlines jet is a quiet plane capable of flying routes that take it outside the country.
American Airlines Embraer 175 seating chart is a useful tool that passengers can use to book and change seats prior to their flight. The flight experience varies depending on the flight cabin and seats selected. It can seat up to 78 passengers in a single-class configuration, 76 in a dual-class format, and up to 88 in a high-density design.
The American airlines Embraer 175 interior is sleek and comfortable with leather seats. The jet also offers its passengers wifi service to all personal portable devices at a fee. The internet passes can be purchased on your flight for either a day or month's access. You are also able to stream content directly to your portable devices on this flight.

Seating details
| Class | Pitch | Width | Row | Seats |
| --- | --- | --- | --- | --- |
| First | 37″ | 19.9″ | 1-4 | 12 |
| Main Cabin Extra | 34″ | 18.2 — 19.3″ | 8-12 | 20 |
| Main Cabin | 30″ | 18.2 — 19.3″ | 13-23 | 44 |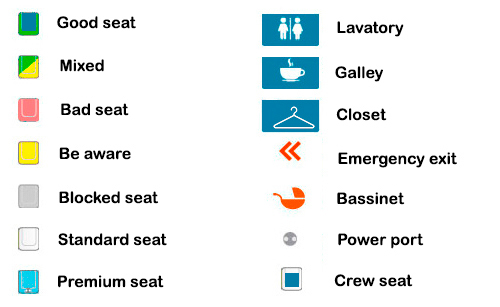 Inside Embraer 175 American Airlines, there are three cabins: First, Main Cabin Extra, and Main Cabin. In this American Airlines Embraer 175 seating plan, 76 passengers can be accommodated; 12 in First class, 20 in Main Cabin Extra, and 44 in Main Cabin. The plane is arranged in a 2-2 configuration except in the first cabin where there is a 1-2 configuration with one column separated by the aisle that runs all along the length of the plane. Thus, American Airlines Embraer 175 seats have no middle seats. Passengers can either pick the aisle or window seats.
In the First cabin, passengers are offered fine dining and complimentary beer, wine and a variety of premium spirits served in individual bottles. Complimentary light snacks like pretzels and cookies are available in the Main Cabin Extra class. Like the American Airlines Embraer 175 First class cabin, they receive complimentary beer, wine, and a variety of premium spirits. Lastly, in the Main Cabin, food service is available depending on the duration of the flight.
Embraer 175 First Class American Airlines
The Embraer 175 American Airlines First class has 12 seats, including an extra seat at the front of the cabin. This added space offers passengers more legroom and privacy. This plane has a large percentage of First class seating, with 16% of the plane accounting for premium seating. In addition, the single row of seats gives passengers the best of both worlds as they can look out the window and have the convenience of the aisle row.
The Embraer 175 American Airlines jet has 20 seats with a seat pitch of 34 inches in the Main Cabin Extra. The good seats in this cabin are located in row 8, at the front of the cabin. American Airlines E175 offers power ports where you can charge your devices during your flight. However, they are not available in the 8th row.
At the rear of the AA E175 jet is the main cabin where there is seating for 44 passengers. Passengers may not have the same legroom as in the other two cabins with a seat pitch of 30 inches. For the average person this is sufficient, but if you are over 5"10 then you might feel uncomfortable.

Seating details
| Class | Pitch | Width | Row | Seats |
| --- | --- | --- | --- | --- |
| First | 37″ | 19″ | 1-3 | 8 |
| Main Cabin Extra | 34″ | 18.25″ | 4-4 | 4 |
| Main Cabin | 31-32″ | 18.25″ | 5-21 | 68 |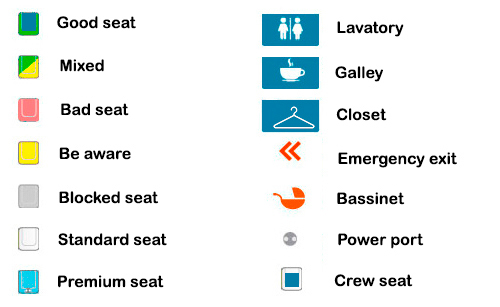 There are two configurations of the American Airlines E 175 and in the second layout, the fuselage is distributed as 8, 4, and 68 in the First class, Main Cabin Extra, and Main Cabin respectively. The seats are not perfectly aligned with the windows, but you can still enjoy the views from the window seats. This plane has ample onboard storage and large windows to make any trip comfortable. However, there is no inflight entertainment aboard this aircraft. You are able to stream digital content on your personal portable devices courtesy of American Airlines. Wifi is available to use the internet on your personal devices. You will need to purchase either a daily or monthly pass to access the internet onboard the plane.
The seating in First class is fitted with recliners that have a seat pitch of 37 inches. This means there is ample legroom for even tall passengers to stretch their legs and not have to get out of their seats. This configuration of the ERJ 175 American Airlines jet only has 8 seats, so you are advised to book early to secure your seat if you need the legroom. The First cabin is offered premium dining and complimentary drinks whether it be alcoholic or non-alcoholic.
This plane configuration only has 4 Main Cabin Extra seats which make up the whole 4th row of the plane. They are standard seats with a seat pitch of 34 inches, so while you get extra legroom, the seats do not recline. Free light refreshments like pretzels and cookies as well as alcoholic beverages like beer, wine, and other spirits are provided to passengers in this cabin.
In American Embraer 175, the bulk of the seating is in the Main Cabin. This means that with a seat pitch of 31 – 32 inches, passengers have limited legroom in the plane. In addition, this section is fitted with standard seats that do not recline. Non-alcoholic beverages are provided without charge, but meals and snacks must be purchased. If the flight is over 2 hours long then, you can buy snacks, but if the flight is over 3 hours, then light meals become available.