Introduction to Boeing 787 British Airways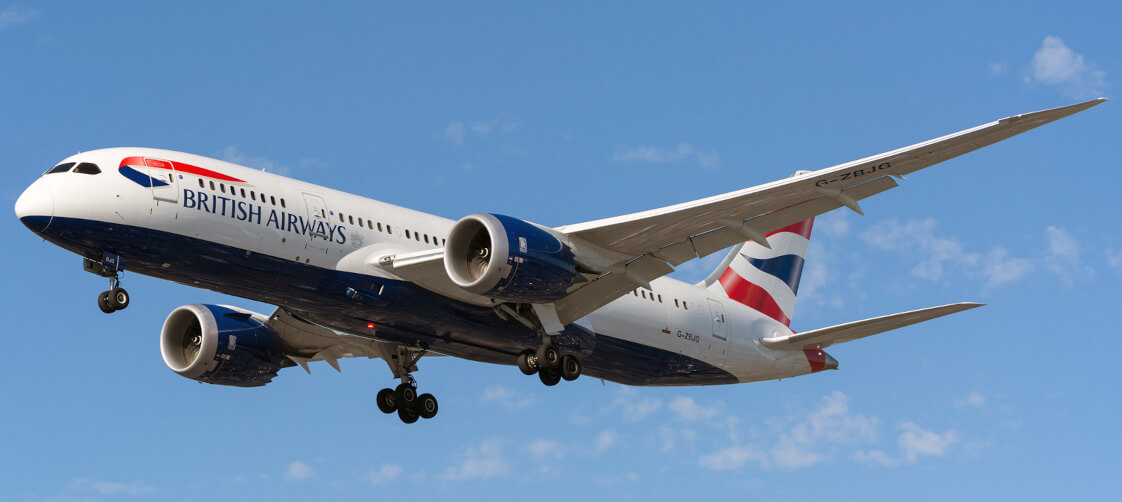 The British Airways 787 is a modern engineering wonder. Its revolutionary design features enhanced aerodynamics, such as streamlined wings and a smoothly curved fuselage. This design improves fuel efficiency and adds to the aircraft's eye-catching aesthetic.
The Dreamliner's excellent fuel efficiency is marvelous. The aircraft is outfitted with sophisticated engines, such as the Rolls-Royce Trent 1000 or the General Electric GEnx, designed to consume less fuel. As a result, British Airways can handle long-haul flights to various destinations while maintaining profitability and environmental stewardship.
British Airways has methodically crafted an unparalleled in-flight experience for its BA 787 passengers. The more expansive windows on the Dreamliner allow stunning views of the sky and the land below, providing a sense of spaciousness within the cabin. Furthermore, the lower cabin altitude and higher humidity levels assist in counteracting jet lag, allowing passengers to feel refreshed upon entry.
The Boeing 787's design is in line with British Airways' commitment to sustainability. Using composite materials in the aircraft cuts weight and improves durability, extending its operational lifespan. The quieter engines of the Dreamliner are preferred by people living near airports.
The Boeing 787's range and agility allow British Airways to connect cities and continents easily. This adaptability enables the airline to offer various route options, covering famous destinations and underserved markets.
British Airways 787-8 Overview
The British Airways Boeing 787, as part of British Airways' current fleet, establishes a new benchmark for air travel. Because of its ideal size and technological capabilities, it is a versatile choice capable of serving long-haul and medium-haul routes while providing passengers with an unsurpassed flying experience.
The British Airways Boeing 787 seat map shows three unique cabins: Club World (Business Class), World Traveler Plus (Premium Economy), and World Traveler (Economy). This arrangement ensures that passengers receive services and amenities suited to their tastes and needs.
The Boeing 787 seat map British Airways also features an advanced In-Flight Entertainment (IFE) system. Individual seat screens provide a wide range of entertainment options, including the newest movies, TV series, music, and interactive games, ensuring that every passenger's tastes are met.
Power outlets are easily located at each seat, allowing passengers to charge their electrical gadgets. This function is invaluable for business travelers or people who want to keep connected and entertained while on the road.
Passengers also enjoy WiFi access onboard the Boeing 787 Jet British Airways in response to the needs of the digital age. They can connect to the internet, read websites, send emails, and stay in touch with loved ones or work throughout the flight, assuring a continuous connection.
Based on the seat map, the lighting throughout the cabin has been meticulously arranged to mimic the natural flow of sunshine. This progressive change in lighting assists travelers in adjusting their internal clocks, lessening the symptoms of jet lag and facilitating a more seamless transfer between time zones.
British Airways 787 Seat Map (787-8)

British Airways Boeing 787-8 Seating Details
| Class | Pitch | Width | Row | Seats |
| --- | --- | --- | --- | --- |
| Club World | 72″ | 20″ | 1-7 | 35 |
| World Traveller Plus | 38″ | 18.5″ | 10-13 | 25 |
| World Traveller | 31″ | 17.5″ | 21-41 | 154 |
Seat Map Key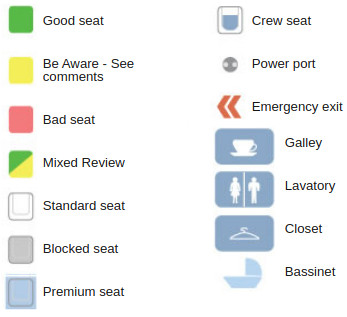 Club World
The Club World is the most luxurious option, also known as British Airways 787 Business Class. It has 35 seats in a 2-3-2 configuration, aligned to face the front of the plane or the rear, depending on which direction you prefer. All 35 seats fit between the first and seventh rows. Seats 1FJ, like the other seats in the cabin, offer guests a distinctive experience of freedom to walk through the aisle while providing privacy and convenience. However, on this closest offering to what you would call a British Airways 787 First Class cabin, these seats suffer from being close to the galley.
Similarly, seats 3BDFJ and 6BDFJ are near the galley and toilets. This is why that is an issue — while the galley on British Airways 787-8 Business Class is a central hub of activity, it can introduce some noise and commotion, potentially affecting the overall serene atmosphere of your flight. So, when choosing your preferred seats on the BA 787 Business Class, consider that factor.
World Traveller Plus
Starting with the 10th-row seats and in a 2-3-2 configuration, this cabin is right behind the Club World. It provides passengers with an upgraded level of comfort compared to the standard Economy Class. For most of the seats in the 10th row, the TV and tray in the armrest restrict their movement, which also somewhat narrows the seat. In front of the row, there are bassinets.
For seats 12DEF in this British Airways 787 Premium Economy cabin, you get a comfortable seating experience. However, they have limited recline. So, although the World Traveller Plus section generally offers more generous legroom and better amenities, the reduced recline could impact your ability to find that ideal position for resting.
Moving to seats 13ABJK, you get an enhanced travel experience with extra space and improved services. However, like seats 12DEF, there's a potential concern regarding limited recline. While you'll enjoy the additional legroom and overall upgraded features, the restriction on how far back you can recline is a trade-off to consider.
World Traveller
This cabin, also known as the Economy cabin, starts at the 20th row and ends at the 41st. The seats take on a 3-3-3 configuration. Most seats are standard Economy seats, but some of them lack floor storage and moveable armrests.
Seats 26DEFHJK and 27ABC may have limited recline, influencing your comfort during the flight, especially if you're trying to relax or sleep. Furthermore, based on the Boeing 787 British Airways seat map, being close to the lavatories may cause inconvenience due to increased foot traffic and noise.
Seats 30ABCDEFHJK have the added benefit of extra legroom, which would undoubtedly improve your comfort during the trip. However, the presence of the exit door may cause a protrusion that may affect your seat comfort slightly.
Seats 37AK come with a unique feature — a slightly misaligned window. While this might not be a significant concern for all passengers, it's essential to note if you value enjoying a perfectly aligned window view during your flight. In contrast, seats 38AK does not have windows at all, which could impact your visual experience during the journey.
Based on the seating chart, seats 39BCHJ are strategically located in the plane's last row and are designed for a duo arrangement. This setup is particularly advantageous for travelers journeying with a companion, as it offers an intimate and secluded environment, fostering a more personal travel experience.
For those considering seats 40DF and 41DEF, it's essential to know that they are close to the lavatories and galleys behind them. Similar to the previously mentioned seats, this location could lead to occasional disruptions throughout the flight, so it's advisable to consider your comfort preferences before selecting your seat.