Delta Airbus A330 300 Overview
The A330 is a wide-body twinjet aircraft built and produced by Airbus. The Delta Airbus A330 is primarily used for international flights. There are 293 passengers on this aircraft with the next-generation version featuring 34 flat-bed Delta One seats, 40 Delta Comfort+ seats, and 219 Economy seats. The Airbus A330 300 Delta plane features Audio and Video OnDemand (AVOD) throughout all classes. The service features 4100 MP3 and radio stations, several HBO movies, more than 18 satellite networks, and dozens of games. If you don't have your own single-prong headphones, then you can purchase a set onboard for $2.

The A330 300 Delta flights offer access to the internet powered by Gogo service. Connectivity is available once the aircraft reaches 10 000 feet cruising altitude, allowing passengers to connect their personal portable devices to the web. This service, however, comes at a fee. Delta A330 300 Delta One, Delta Comfort+, and a few selected seats in Economy Class have USB connection ports in the in-seat entertainment system that allows you to charge your devices inflight. AC power ports are also available in Delta One, as well as in rows 10-19. Food service depends on the length of the flight and the time of day. Light snacks are complimentary in all the different classes and so are non-alcoholic drinks.
Seating details
| Class | Pitch | Width | Row | Seats |
| --- | --- | --- | --- | --- |
| Delta One | 80″ | 21″ | 1-9 | 34 |
| Delta Comfort+ | 35″ | 18″ | 10-26 | 40 |
| Economy | 31-32″ | 18″ | 27-42 | 219 |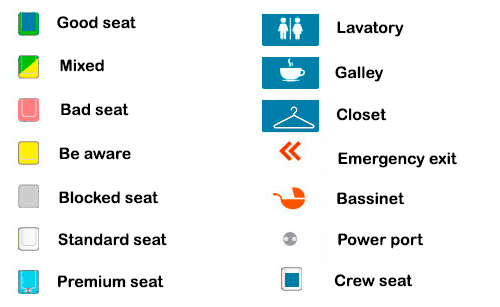 Delta Airbus A330 300 seating chart is a useful tool that can be used prior to a flight that helps passengers see which seat they want to book. The comfort and service of the flight depend on the class selected. During non-domestic U.S. flights, economy passengers can have complimentary meals. On select routes within the U.S., light meals such as sandwiches, wraps, and snack boxes are available for purchase on flights greater than 900 miles. For domestic flights, economy passengers may purchase alcoholic beverages but on non-domestic flights these drinks are complimentary. Delta One and Delta Comfort Plus passengers can enjoy premium dining and complimentary alcoholic drinks. However, no matter which cabin you find yourself in, you can enjoy the Delta A330 300 interior which is built for the customer's comfort.
Delta A330 First class is called Delta One and is fitted with 34 seats that have lots of legroom. The seats are nice and wide and have an impressive 80 inches of seat pitch. The seats lie flat Delta One A330 and give its passengers a luxurious feel with leather seat cushions. Seats 1C, 1G, and the entire row 9 are the best choice. However, if you are tall and have big feet try to avoid 3C as you may be cramped and your feet won't fit the cubbyhole.
Right behind the Airbus A330 300 Delta One class is the Delta A330 300 Business Class or the Delta Comfort Plus class has 40 standard seats arranged in a 2-4-2 configuration. There is an impressive 3 more inches in seat pitch than in Economy class. An added bonus to the cabin is that passengers can get complimentary alcoholic beverages. The best seats according to previous passengers in this section are in row 10. If you are looking for a view avoid the window seats in row 13.
At the rear of the plane, behind the Delta Comfort Plus A330 cabin is the bulk of the seats, with 219 standard seats in Economy class. They have the industry standard pitch of 31 inches, which can either be fine or cramped depending on your height. If you are tall then consider booking a seat in row 27. According to tall passengers, the seats in this row have ample legroom for you.