About A350 Delta (A350 900)
This plane is mainly used for international flights. The Delta Airbus A350 seats 306 passengers split between three cabins: the Delta One Suites, Delta Premium Select, and Economy class. During the flight, passengers can enjoy Audio and Video OnDemand (AVOD) entertainment in all three classes. The service features 4100 MP3 and radio stations, several HBO movies, more than 18 satellite networks, and dozens of games. You are free to use your own single-prong headphones or purchase a pair onboard. Internet connectivity is also available thanks to the Gogo service onboard the Delta Airbus A350 900 aircraft. Once the aircraft reaches 10 000 feet cruising altitude, passengers can access the internet on their mobile phones and laptops. Every seat onboard the flight has a regular AC power port to charge your personal portable devices. In addition, there is a USB connection port in each in-seat entertainment system on the plane, if you choose to use that instead.

The Delta A350 First class passengers receive premium meal service on most flights greater than 900 miles. Complimentary meals are available for passengers traveling in Economy on non-domestic U.S. flights. On select U.S. domestic flights greater than 900 miles, passengers in Economy are able to purchase sandwiches, wraps, snack boxes, and other items. The Airbus A350-900 Delta flights have a variety of complimentary light snacks for all passengers no matter your chosen class.
The Delta A350 seat map shows the layout to help you book your preferred available seat. The aircraft interior is lined with high-quality leather for enhanced comfort.
Seating details
| Class | Pitch | Width | Row | Seats |
| --- | --- | --- | --- | --- |
| Delta One | 76-81″ | 22-24″ | 1-9 | 32 |
| Delta Premium Select | 38″ | 18.5″ | 20-25 | 48 |
| Economy | 31-32″ | 18″ | 30-55 | 226 |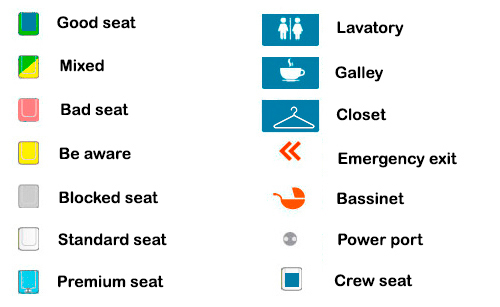 Delta Flagship A350: Best Seats
The Delta A350 Business Class or Delta One is at the front of the plane with 32 open suites. They have a seat pitch of 78 inches and wide seats touting 24 inches. Seats in the 1st row may be uncomfortable as they are close to the lavatories. Seats 9B and 9C have the added issue of being located by the gallery and should be avoided if you want a peaceful trip.
Behind the Delta One A350 section, there are 48 seats in the Delta Premium Select cabin. They have a 2-4-2 layout where the seats on the extreme left and right have no middle seats. They have ample legroom with a pitch of 38 inches. If you want the best seats in the Delta A350 Premium Select class, then choose a seat in row 20. You will enjoy extra legroom but will be asked to not store any luggage on the floor during takeoff or landing. The other downside is that these seats are narrower than the rest on the plane to accommodate the entertainment displays built into the armrests.
At the back of the Delta Airlines A350 aircraft is the Economy class. It is split into two sections: the first made with 10 rows and the second with 16 rows. In section 1, the seats are laid out in a 3-3-3 configuration. In section 2, the seats are divided into 14 rows with a 3-3-3 layout, 1 row in a 2-3-2 configuration, and the last row has only 3 seats. Row 39 seats are located in front of the lavatories and so are seat 55DEF, making them undesirable choices for long-haul flights in the Airbus A350 Delta aircraft. With a limited seat pitch of 31 inches, any extra legroom is welcome.
That is why seats in rows 30, row 40 and 41A, and 41J are considered the best. They all have extra legroom but only the mentioned seats in row 41 allow you to have floor storage in front of them. There are also some bad seats on the Delta A350. Seats 54ABC, 54D, and 54GHJ are all located near the gallery, have limited reclining capabilities, and have reduced personal area because of the passengers in front of them.