Boeing 737 900ER Delta Overview
The Boeing 737 900ER Delta has three cabins — First, Economy Plus, and Economy Class. Passengers will have a pleasant flight thanks to this aircraft's extensive amenities.
Every Delta Boeing 737-900ER plane has WiFi for domestic flights, after the aircraft reaches its cruising altitude of 10,000 feet, internet connectivity becomes accessible.
The United 737-900 is an excellent option for air travel because it offers a variety of in-flight amenities to passengers. Each seat in the First Class cabin has a 110V power port and recliner seats. However, the Economy Plus and Economy cabins share power ports.
Audio Video on Demand (AVOD) with DIRECTV is installed on all Boeing 737-900 planes operated by United Airlines, even though not all aircraft are equipped with the feature.
In each cabin of the Delta Airlines Boeing 737 900ER, passengers can listen to various audio entertainment. In the Economy Cabin, people can purchase alcoholic beverages, but non-alcoholic beverages are provided free of charge. Additionally, during the flight, passengers can get premium alcoholic beverages for free in First Class.
For flights shorter than 2.5 hours, passengers in Delta Airlines 737-900ER Premium Cabin receive snacks, while for longer flights, they receive a full meal. Economy Class passengers can purchase snacks, but meals and snacks are free on flights to South America, the intra-Pacific, the trans-Pacific, and the Caribbean.
Delta 737 900ER: Best Seats

| Class | Pitch | Width | Seats |
| --- | --- | --- | --- |
| First | 37″ | 21″ | 20 |
| Delta Comfort+ | 34″ | 17.2″ | 21 |
| Economy | 30-31″ | 17.2″ | 139 |
Delta 737 900ER First Class
The Delta 737-900ER First Class cabin is designed to provide maximum comfort for passengers. There are 20 recliner seats in the cabin, arranged in a 2-2 configuration, giving each passenger plenty of space and privacy.
However, passengers should be aware that 1ABEF, the seats in the first row, may not be the best option for those who value legroom and easy access to their luggage during takeoff and landing. The bulkhead constrains legroom in front of these seats, and no floor storage is accessible.
Seats 2AB to 4EF in the Boeing 737-900ER Delta First Class, which offer standard legroom and are less problematic than seats 5ABEF and 1ABEF, are better for a more enjoyable experience.
Due to their proximity to the restroom, passengers in seats 5ABEF may experience some inconvenience. The fact that these seats do not fully recline could make them more uncomfortable.
With 21 seats, the Boeing 737-900ER Delta Comfort is an excellent choice for passengers who want to travel comfortably. The fact that three seats in the 10th row of this class — 10A, 10B, and 10C — provide additional legroom makes it particularly noteworthy.
Passengers can choose 11D in the 737-900ER Delta, which, like the 10th row, has more legroom but a smaller width than the 10th row. Avoid seats 11E and 11F, which have less legroom and width, if you're a passenger who values width more than legroom.
The Boeing 737-900ER Delta Comfort passengers should choose their seats carefully because some have significant drawbacks. For instance, seats 11A, 12A, and 12F lack windows, which may cause passengers who value a view to feel let down. Seats 8ABC have limited legroom and are close to the restroom, which can be noisy and uncomfortable.
The cabin's best seats are 21BC and 21DE because they provide additional legroom without drawbacks. According to the seating map, the position of seats 20ABC and 20DEF in front of the exit give them more legroom but reduces reclining. Finally, most seats have windows, but passengers who appreciate the view of the outside world midflight may be disappointed by the absence of windows in seats 20A and 20F.
The Delta 737-900ER seat arrangement shows only a few bad seats in Economy Class, which can hold up to 139 people. A preferred seat is 15A, but it lacks windows. Delta Air Lines has designated the 20th row as Preferred, even though they do not have additional recline or legroom. Delta Medallion members can select the 21A and 21F seats, which offer more legroom and are the best seats on the aircraft.
The emergency exit behind the seats in the 18th row may limit seat recline. Next, there is more legroom for passengers in the 19th row, but another exit is behind them, so the seats may not recline as much.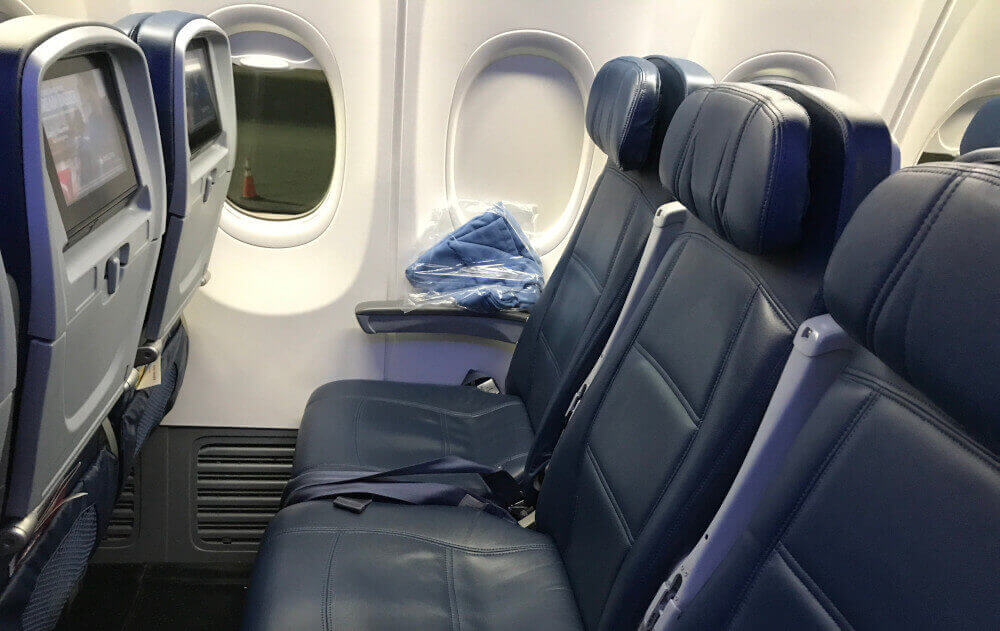 The windows of seats 29A and 29F are misaligned, despite being standard according to the seat plan. Near the restrooms are seats 36A, 36B, 36C, and 36D, as well as the final row of 37 seats. All of these seats, except seat 36D, may have limited recline.
The worst seats on the aircraft are the 38ABCDEF ones, which are narrower due to their location along the plane's curve and don't completely recline.