Seat Specifications
| Class | Pitch | Width | Seats |
| --- | --- | --- | --- |
| First | 37-38″ | 21″ | 24 |
| Economy | 31-33″ | 17.2″ | 136 |
| Economy Comfort | 34-35″ | 17.2″ | 20 |
Amenities Key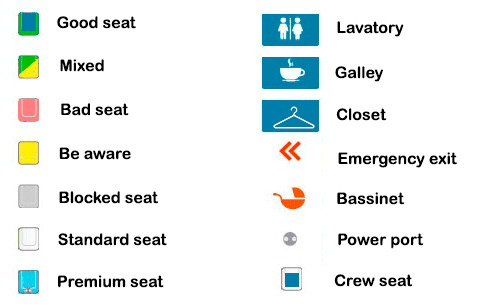 Delta 757 Seat Configuration
Our Delta 757 seat map will help you get anywhere in the world as comfortable as possible. You will have such extras using Boeing 757-200:
The seats are also equipped with a folding table, which is located on the back of the seat in front of you. For business and first-class passengers, there are charging ports for smartphones, Bluetooth headsets, and other devices. There are monitors on board to watch a movie. To choose the best viewing spots, you'll also need our Delta 757 seat map.
Delta Boeing 757 First Class Seats
Referring to the Delta Boeing 757 seat chart, the first class can accommodate up to 24 passengers per flight (2-2 within 6 rows).
When choosing the first class, keep in mind that the first rows are not really comfortable for tall passengers due to their proximity to the bulkheads. There also will be flight attendants constantly walking around because of the position near the galley. By the way, there is no luggage storage during takeoff and landing.
The last (6th) row is the worst. You may have difficulty reclining in your seat, and the proximity to the restroom and galley may bother you throughout the flight.
Delta Boeing 757 Economy Comfort Seats
The Delta 757 seating map will also assist in determining which premium economy seats to choose or forego. Up to 20 seats are available for purchase. The 19D and 19E seats have more legroom, so they're great for tall people. But there is also a drawback: the proximity to the exit makes these areas colder. Also, the 19F seat has limited legroom because of the exit door.
The 20th row is quite convenient and has no special restrictions except for the galley location. Don't want to be bothered by flight attendants? Seat 20A is not for you. 21ABC seats are not a good choice. The narrower seat width, proximity to the galley, and insufficient legroom are all vexing. Keep in mind that the 22nd row has no windows (seats A and F).
Delta 757 Economy Seats
The Boeing 757 delta seating in economy class can accommodate up to 136 passengers. Seats 25 DF are not the comfiest because of the impossibility of reclining the back of the seat.
The next 26th row, based on the Boeing 757 Delta seating, is relaxing for tall people. If you usually don't have enough legroom, this row is for you. You should be ready for a reduced ability to lean the backrest. The 27th row is an outstanding choice. You will get everything you need for a pleasant flight.
Tickets for seats 44C and 44D, as well as row 45, should be avoided if you do not want to sit next to the restroom. Another drawback of the last (45th) row is the inability to recline the back because of the wall behind.