The Boeing Delta 767-400 launched in 2019 is an impressive Business-Class aircraft. Although the Boeing 767-400 is an upgrade of the old 767, it features lie-flat seats. Initially, Boeing intended to fly these planes to London, where they believed they would perform well. In the present day, the Boeing 767-400R flies domestically as well as internationally.
The Boeing 767 400 Delta Cabin One is a fantastic upgrade of the older planes to meet new standards and offer more amenities and privacy to passengers. The seats have a forward-facing configuration like the Boeing 767. Unlike other widebody aircraft, the Boeing 767-400 is narrower and sports flatbed seating instead of the Delta One Suite for lack of space.
Moreover, Delta Flight Products designed the inflight entertainment system for the Delta 767-400 with an 18-inch touchscreen monitor. The seats feature on-demand video and audio content provided by Delta. On board the plane, you can buy a $2 single-prong headphone for $2 or bring your own.
Additionally, 767 400 Delta One passengers have access to AC power ports on every seat. But only passengers in the first ten rows of the Economy cabin can access power, but this differs from aircraft to aircraft. Because of the inconsistency of power ports on different planes, you should travel with an EmPower adapter and reserve a seat between rows 15 to 22 of the Delta One.
All seats on the plane include USB charging connections for passengers. Once the Delta 767-400 Delta One reaches 10,000 feet in altitude, internet access for computers and mobile devices is available.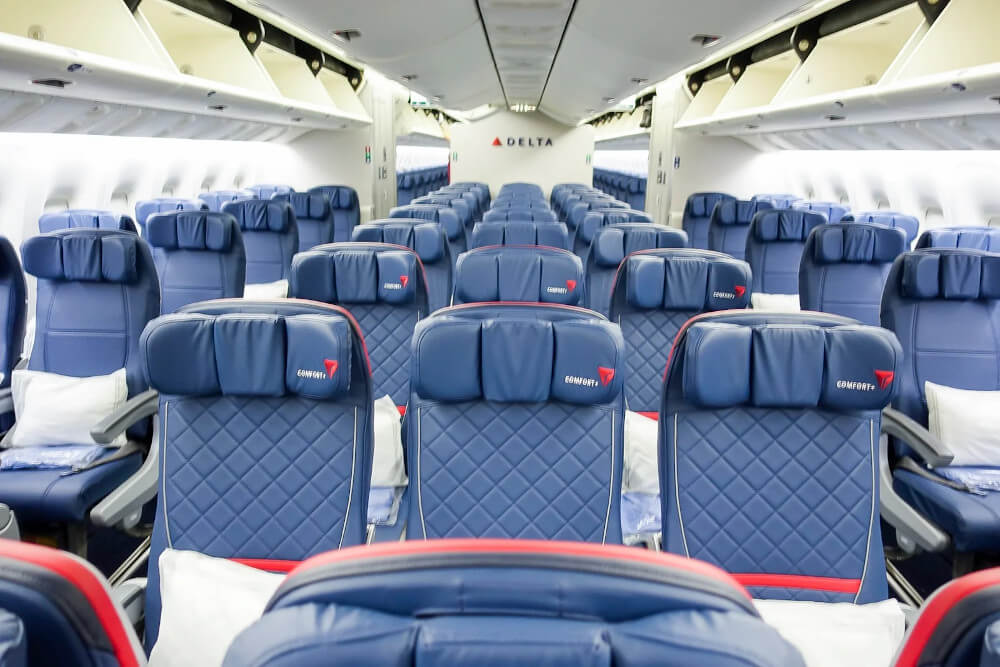 Delta Boeing 767 400: Layout 1

| Class | Pitch | Width | Seats |
| --- | --- | --- | --- |
| Delta One | 77-81″ | 21″ | 40 |
| Delta Comfort+ | 35″ | 17.9″ | 28 |
| Economy | 31-32″ | 17.9″ | 178 |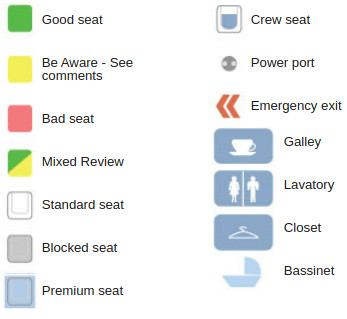 The Delta 767 400 seating chart shows 40 flatbed seats with a pitch of 77 to 81 inches and a width of 21 inches in the Delta One cabin. The first row of the Delta 767 First-Class cabin sports flatbed seats 1A through 1D, with bulkheads, but these seats are near the galleys, reducing the legroom.
The 10th row of the Delta One cabin sports seats 10A, 10B, 10C, and 10D, which are flatbed seats with proximity to the toilets and galley, making them uncomfortable.
The Delta Boeing 767 400 seat map shows that the Delta Comfort Plus cabin has 28 standard seats with 35 inches pitch and a width of 17.9 inches. The Delta Comfort Plus features 28 premium seats with more legroom at an extra cost. Seats 15A through 15G are premium seats with restricted legroom thanks to the position of the bulkhead. Besides, the armrests are rooted because of the tray table in the armrests, reducing the seats' width. Also, they have closeness to the toilets and the galley.
But, seats 15A and 15G in the Delta 767 400 Economy Comfort have misaligned windows. Furthermore, seats 16A and 16G have limited legroom and a misaligned window.
The Delta 767 400 seats reveals that the economy cabin of the aircraft sports 178 standard seats with 31 to 31 inches pitch and 17.9 inches wide. Rows 19 to 22, except for seat D in each row, are preferred seats for Delta Medallion members. These seats only become available to passengers during check-in.
However, seats 27A through 27G on the last row are bad seats with limited reclining and proximity to the galley and toilets. Seats 30A, 30B, 30F, and 30G by the exit offer extra legroom and are part of Delta's preferred seats. However, they are close to the toilets and galley and sport immovable armrests, slightly reducing the seats' width.
Conversely, seats 30C to 30E offer limited legroom owing to the bulkhead and the rooted armrests. Again, the galley, bassinet, and toilets are adjacent to these seats, and passengers with infants often sit there. But seats 45A, 45B, 45F, 45G and 46C, 46D, and 46E on the plane's last row have bad reviews as they offer limited reclining with proximity to the toilets and galley. At the same time, seats 45C and 45D are standard seats near the galley and lavatories.

| Class | Pitch | Width | Seats |
| --- | --- | --- | --- |
| Delta One | 77/77″ | 21″ | 34 |
| Delta Premium Select | 38″ | 19″ | 20 |
| Delta Comfort+ | 34″ | 18″ | 28 |
| Economy | 31″ | 18″ | 156 |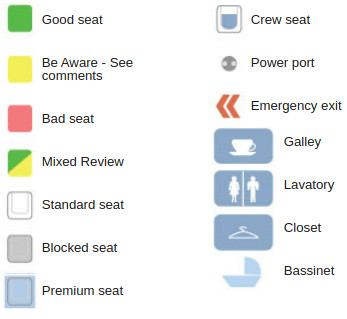 The Boeing 767 400 Delta One seating shows that the cabin sports 34 open suites (no doors) with 77 and 21 inches pitch and width, respectively. Seats 1A to 1D are open suite seats with bulkheads next to the window. The good seats in this cabin include seats 2A and 2D, 4A and 4D, 6A and 6D, and seats 8A and 8D, as they are next to the window.
Seats 2B, 2C, 3A through 3D, 4B and 4C, 5A through 5D, 6B and 6C, and 7A through 7D are standard Delta One open suite. But seats 8B and 8C, and 9A and 9D in the Delta 767 400 First Class are open suite seats close to the galley and toilet.
The Delta Premium cabin sports 20 recliner seats with a 38-inch pitch and 19 inches wide. Seats 21A, 21G, 22A, and 22G have misaligned windows. Nevertheless, other seats in this cabin are standard recliner seats with regular legroom and comfort.
The Boeing 767 400 Delta Business Class seat map shows that this cabin features 28 standard seats with a 34 inches pitch and 18.1 inches width. Seats 30A through 30G offer restricted legroom thanks to the bulkhead position and the rooted armrests.
As shown in the Delta One 767-400 seat map, the Delta 767 have 156 standard seats with 31 inches width and 18.1 inches pitch. The Economy cabin has 24 Delta Medallion preferred seats, located between rows 34 to 38 and rows 41 and 43, which are only available at check-in to passengers.
Due to the toilet behind seats 38A, 38B, 38F, and 38G, they offer limited reclining. You may feel uncomfortable in seats 38C, 38D, and 38E because they are near the toilets. Because of the exit row behind, seats 39C to 39E have bad reviews because they offer little reclining. These seats are also adjacent to the toilets, which may make them uncomfortable.
According to the Delta 767 400 seating, on the exit row of seats 40C to 40E and 41A, 41B, 41F, and 41G offer more legroom, but they are closer to the toilets. The wall behind the last row of the aircraft limits reclining in seats 56A, 56B, 56F, 56G, and 57C to 57E; however, their proximity to the galley and toilets may be uncomfortable. In addition, seats 56C and 56E are standard seats, but they are uncomfortable because they are so close to the toilets and galley.