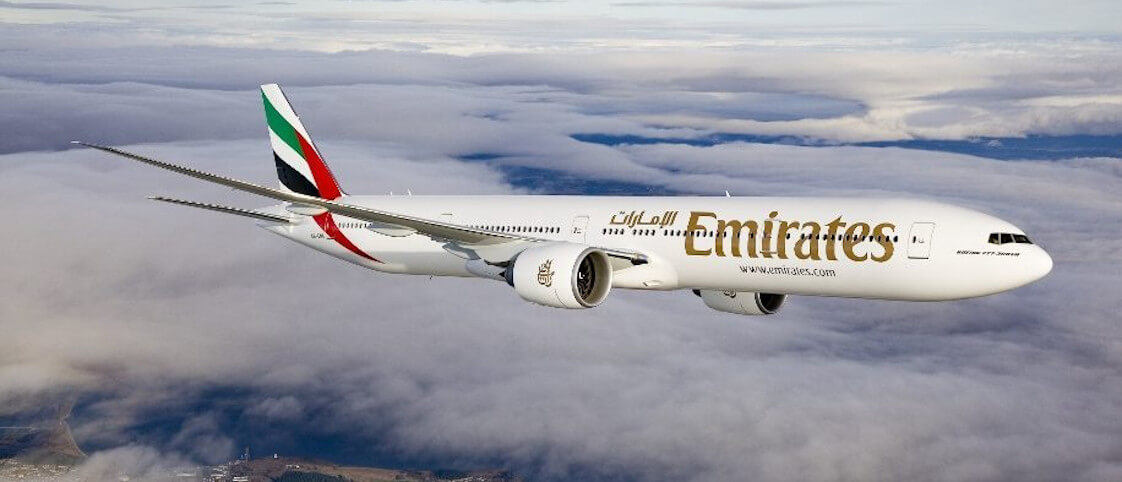 Introduction to Emirates 777
Emirates 777 refers to the Boeing 777 aircraft, one of the world's leading airlines. Emirates has a large fleet of Boeing 777s and is noted for its broad long-haul network that connects passengers to locations all over the world.
The Boeing 777 is a wide-body, twin-engine jetliner that has become a popular choice for many airlines due to its efficiency, range, and passenger comfort. Emirates has been a long-time customer of the Boeing 777, and it has played a pivotal role in the airline's growth and success.
The Boeing 777 Emirates is also recognized for its advanced technology and efficient performance. The aircraft is equipped with modern avionics and systems that ensure safe and reliable operations. The twin-engine design contributes to fuel efficiency, reducing emissions and operating costs. This makes the Emirates 777 an environmentally friendly choice for long-haul flights.
With its long range, Emirates Boeing 777 aircraft are well-suited for the airline's extensive network, which spans six continents. Passengers can fly on Emirates 777s to popular destinations such as Dubai, New York, London, Tokyo, Sydney, and many others. The aircraft's range allows for non-stop flights on many of these routes, providing passengers with seamless travel experiences.
The airline offers a range of seating classes, including First Class, Business Class, and Economy Class on the Emirates 777 seat map. Each class provides passengers with a unique level of comfort, amenities, and services to cater to their specific travel needs and preferences.
Emirates 777 First Class cabin is renowned for its luxurious and opulent experience. Each suite features sliding doors, fully flat beds, a personal mini-bar, and a large personal screen with an extensive selection of entertainment options. Passengers also have access to an onboard shower spa, allowing them to freshen up during long flights. The gourmet dining experience in Emirates First Class 777 includes a la carte menus and a selection of fine wines.
Emirates Business Class 777 offers comfortable lie-flat seats that can be transformed into fully flat beds for restful sleep on long flights. Each seat has a personal entertainment screen and a privacy divider. Passengers of the Emirates Boeing 777 Business Class enjoy a personal mini-bar, ample storage space, and access to an onboard lounge for socializing. The dining experience offers a variety of culinary delights served on fine china, accompanied by a selection of wines and beverages.
Emirates 777 Economy cabin offers comfortable seats with adjustable headrests, ample legroom, and personal entertainment screens. Passengers can enjoy a wide selection of entertainment options, complimentary meals, and beverages. Wi-Fi services are available for purchase, and attentive cabin crew members are ready to assist throughout the journey.
The Emirates Boeing 777-300ER stands out as the most popular aircraft within the Emirates 777 family. Let's go over it in greater depth.
Emirates Boeing 777-300er Seat Specifications
| Class | Pitch | Width | Row | Seats |
| --- | --- | --- | --- | --- |
| First | 69″ | 20.5″ | 1-2 | 8 |
| Business | 60″ | 20.5″ | 6-11 | 42 |
| Economy | 32″ | 17″ | 17-49 | 304 |
Amenities Key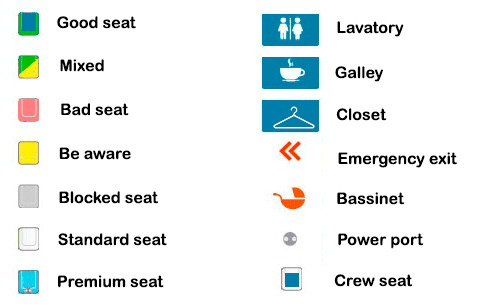 Emirates Boeing 777 300er Seat Map: Overview
This Boeing 777-300er Emirates seat map shows the three-cabin layout, a reflection of the modern retrofit and configuration of the Emirate airline.
The Emirates Boeing 777-300er features the Emirate ICE entertainment system. The First Class cabin has private suites fitted with electrical sliding doors, a private bar, and adjustable ambient lighting. Also, all the First Class Boeing 777 300er seats have a vanity table, wardrobe, and mirror. Additionally, the seats in this cabin are convertible to a fully flat bed.
The Emirates Boeing 777 300er seats are equipped with personal AVOD (Audio Video on Demand), powered by the Emirate ICE entertainment system. It has an array of music tracks and a menu for passengers' listening pleasure.
Every seat in the First Class and Business Class of the Boeing 777 300er Emirates is equipped with a 110V AC port. However, some versions of the plane do not come with a power port on each seat. Passengers enjoy free complimentary meals and bar service irrespective of the cabin.
Boeing 777 300er Emirates Seat Map: Best Seats
First Class
As the Emirates Boeing 777-300er seat map shows, the First Class cabin seats have no noticeable disadvantage. The First Class cabin comprises two rows with four seats each. All the seats are private suites with electrically operated sliding doors. The seats 2EF are the most suitable for passengers with kids due to their bassinets.
Business
The Emirates 777 300er Business Class comprises two sections. The first section has two rows in a 2-3-2 configuration.
The Boeing 777 300er Emirates Business Class has 42 seats, with the seats 6DEF being ideal for passengers with babies due to their bassinet. The seats 7AB, 7DEF, and 7JK are not ideal because of their closeness to the galleys and lavatories. The misaligned windows in the seats 7A and 7K make them even worse than the others.
The Emirates 777 300er seat map shows that the second section comprises 28 seats. For the seats in the first row — 8AB, 8DEF, and 8JK — the proximity to the galleys and lavatories may be a problem. The seats 8DEF, due to their bassinets, are great for passengers with babies.
Economy
The Boeing 777 300er seat map Emirates portrays seats 24ABC, 24HJK, and 38DEFG as the most suitable. The seats 24ABC and 24HJK have extra legroom due to the exit row in front. However, disadvantages of these seats are their immovable armrest, reduced seat width, and lack of floor storage during landing and take-off.
Like 24ABC and 24HJK above, the 37ABC and 37HJK have an immovable armrest and reduced seat width. The seats 37A and 37K have extra legroom but do not have a window, which affects the passenger's comfort levels
The last row seats, comprising seats 49AB, 49DEFG, and 50JK, are not comfortable due to their restricted recline. Also, the proximity of these seats to the galleys and lavatories is another disadvantage of these seats. The seats 44C, 44H, 45C, and 45H are not ideal due to their position, as people will regularly walk by.