Hawaiian Airlines 787 Overview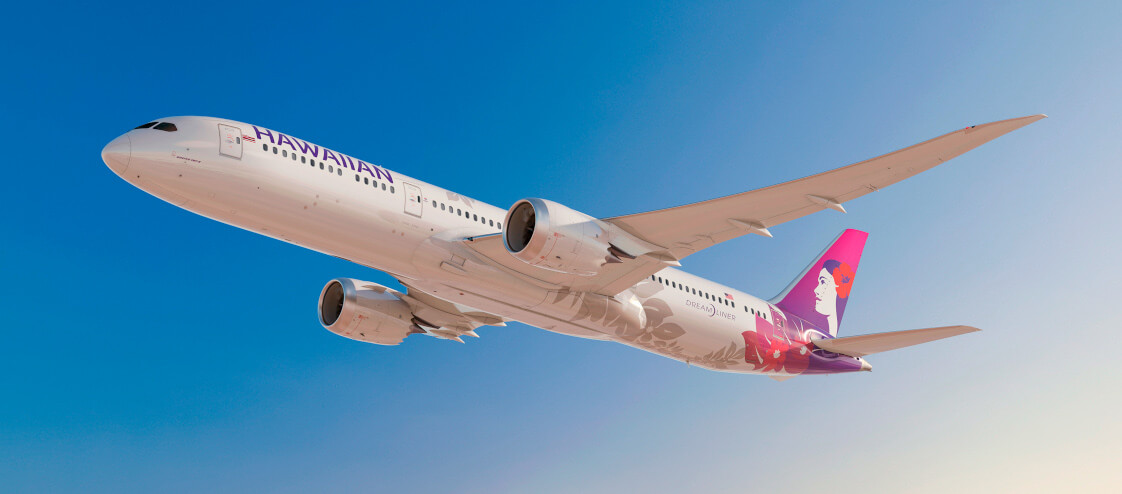 Hawaiian Airlines' decision to fly the Boeing 787 Dreamliner underscores the airline's dedication to providing passengers with a modern and delightful travel experience. The Hawaiian 787-9 is a cutting-edge aircraft designed to improve passenger comfort while increasing operating efficiency. Its sleek and aerodynamic look is complemented by a well-thought-out interior that promotes passenger comfort.
The Hawaiian Airlines 787-9 cabin is meticulously constructed to provide a sense of spaciousness and comfort. The revolutionary architecture of the airplane allows for more expansive windows, which passengers can electronically dim to adjust the amount of natural light. This innovation provides impressive panoramic views of the skies and allows passengers to personalize their cabin surroundings.
The Hawaiian Airlines 787 superior technology is one of its most notable aspects. The airplane is outfitted with cutting-edge technology that makes the flight more comfortable and helps alleviate the effects of jet lag. The upgraded air filtering technology offers cleaner air, allowing passengers to feel more refreshed when they arrive at their destination. Furthermore, the pressurization and humidity levels in the cabin are tuned to reduce the physical strain of long flights.
On their touchscreens, Hawaiian 787 passengers can access various entertainment options. There's something for everyone, from the latest movies and TV shows to various music and games. For those who want to stay connected, there is onboard WiFi (availability may vary) to ensure you can browse the internet, check emails, or keep in touch with friends and family during the flight.
Hawaiian 787 Seating (787-9)

Seat Specifications
| Class | Pitch | Row | Seats |
| --- | --- | --- | --- |
| Business Class | Fully lie-flat bed | 11-26 | 30 |
| Premium Economy Class | 41-42″ | 32-36 | 36 |
| Economy Class | 31-33″ | 36-61 | 226 |
Seatmap Key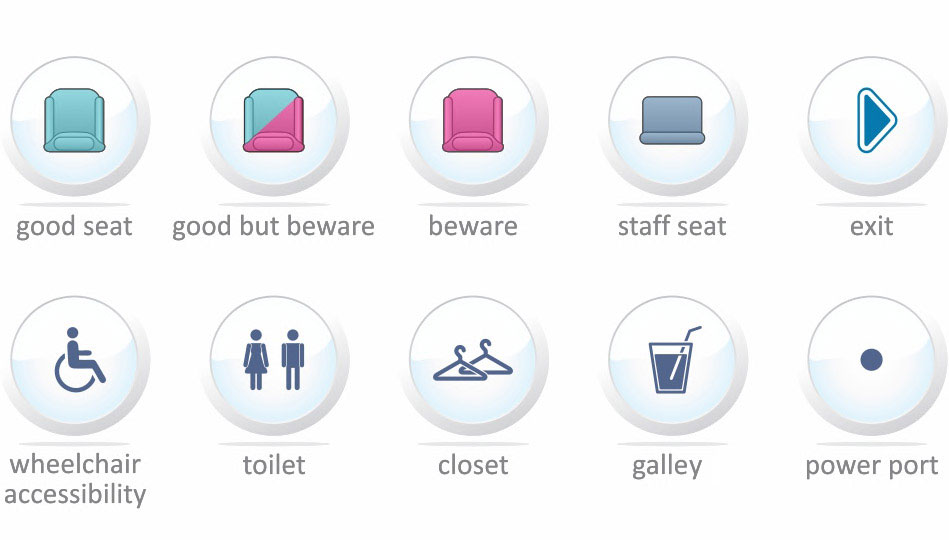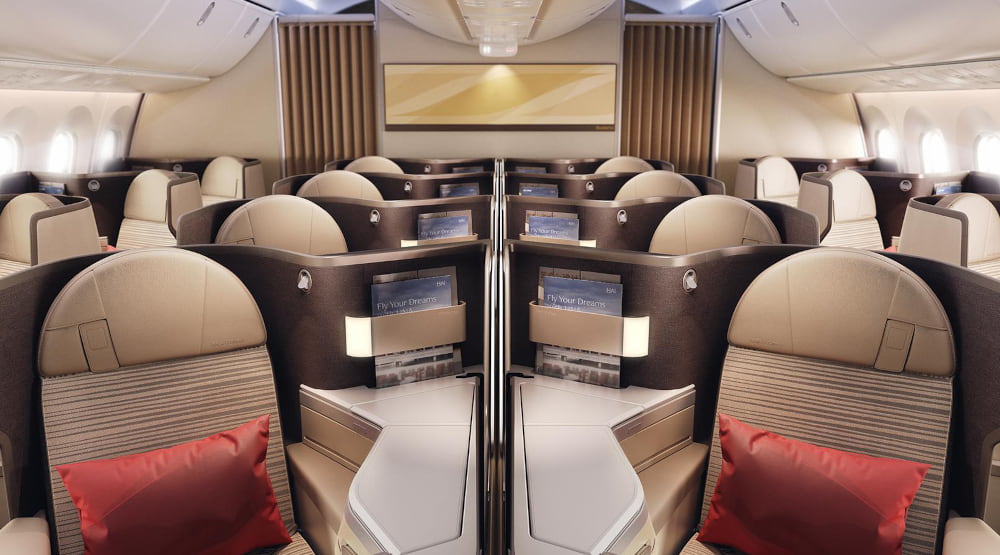 Step inside Hawaiian Airlines' Boeing 787's premium world, where grandeur meets innovation in the Business Class cabin. Immerse yourself in a world of refinement as 30 exquisitely constructed seats greet discerning passengers. Based on the seating chart, the clever 1-2-1 design makes each seat a paradise while allowing passengers traveling together to enjoy being within each other's personal space without sacrificing comfort.
But the introduction of separate doors at each seat truly distinguishes this experience, ushering in a new era of luxury. The seat design will help you relax and create your cocoon of serenity, hidden from the rush and bustle of the cabin. This exceptional solitude provides a setting suited to leisure and productivity, ensuring your travel is as smooth as possible.
The airline chose the Adient Aerospace Ascent seat as the epitome of comfort and design. Its ergonomic design wraps around you, cocooning you in luxurious fabrics and offering a choice of configurable settings to suit your needs. The Ascent seat adapts to your requirements, whether you want to recline and relax or stay upright to catch up on work. Although seats 25AK and 26DG are close to the galley and restroom, their Business Class design will help you ignore the experience.
Premium Economy
Indulge in the heightened comfort of Hawaiian Airlines Boeing 787 Premium Economy row 32ABCHJK, where a genuinely remarkable flying experience awaits. These seats have been deliberately constructed to give passengers plenty of extra legroom, ensuring that every moment of your journey is comfortable and spacious. They're also arranged in threes per cluster with two rows between them. Sink into the luxurious couch and stretch out, appreciating the pleasure of more leg space that allows you to relax and relish your time in the air.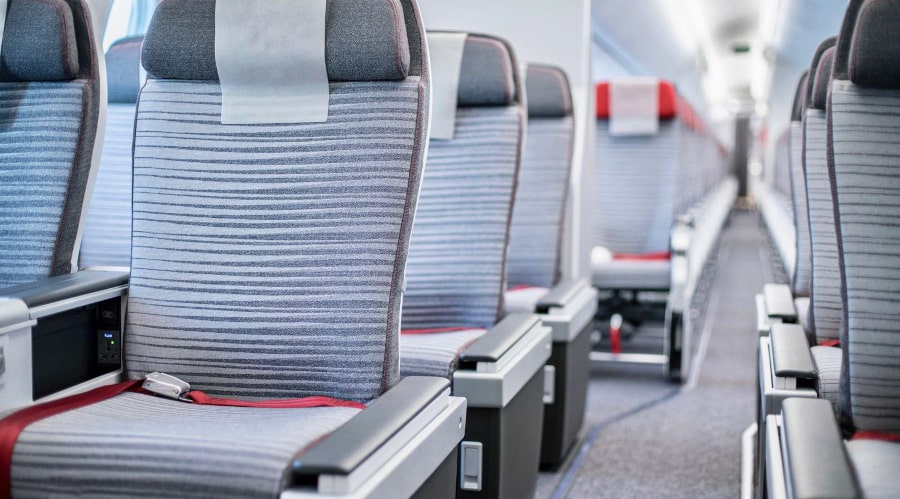 Meanwhile, seats 32DEG strike a delicate balance between convenience and thoughtfulness. These seats near the lavatories and galley provide convenient access to essential amenities and services during your journey. However, remember the proximity to these high-traffic locations since there may be a little uptick in activity around these seats. Despite this, the Hawaiian Airlines 787 Dreamliner's intelligent design ensures that your comfort is prioritized, ensuring a smooth and enjoyable flight.
Hawaiian Airlines arranges the seats in a 3-3 configuration to ensure that your journey is comfortable and enjoyable. Right up to the 35th row, this cabin guarantees that.
Economy
This section starts from the 36th row and ends at the 61st. There is no distinct demarcation between this cabin and the Premium Economy cabin before it. The seats are standard Economy seats in a 3-3 pattern. However, seats 46DEG in the Economy Class seating are not comfortable options because they do not recline. While this may not be an issue for shorter trips, people looking for extra relaxation on longer flights may want to consider this.
According to the Hawaiian Airlines 787 seat map, seats 47ABCHJK, on the other hand, are the best choices in this cabin. They are located in a more calm area of the cabin and provide a relatively undisturbed travel experience, allowing you to enjoy your flight more comfortably.
As you approach seats in rows 59AK, 60BCHJ, and 61DEG, you should take note. These seats are close to the lavatories and the galley, exposing you to more activity. Furthermore, being near the exit row behind may result in more significant movement and noise on the Hawaiian Air 787. While these seats provide easy access to amenities, it is critical to consider these criteria while selecting a seat.