Airbus A330 Iberia Overview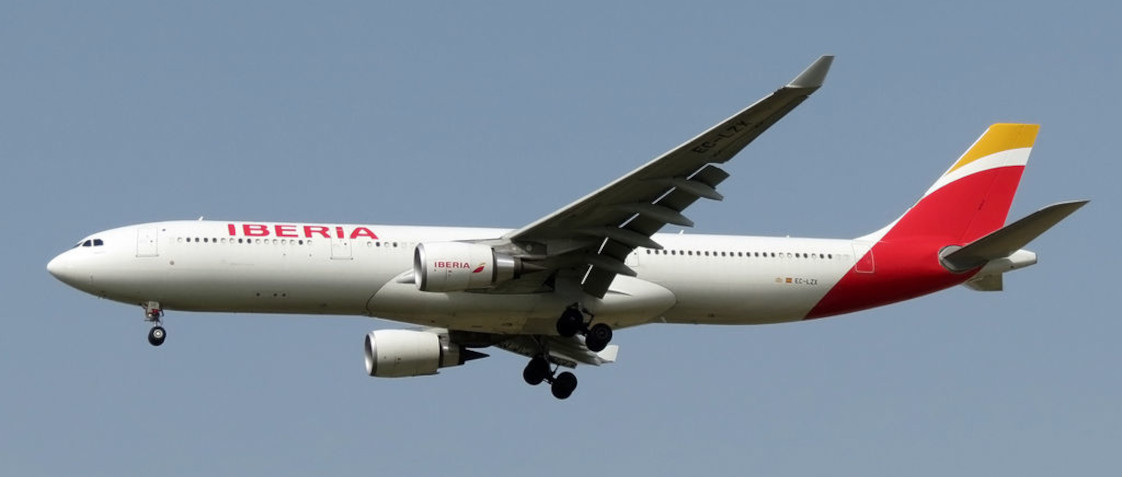 The Iberia A330 is a widebody jet newly acquired by Iberia, the Spanish airline, for long-haul travel. Since comfort is paramount in long-distance travel, this plane is equipped to meet that need in its two layouts, each with a specific seating configuration.
Depending on whether you are in Layout 1 or Layout 2, you will get the option of two or three cabins — Business Plus and Economy in Layout 1, while Layout 2 has an additional Premium Economy section. The Business Plus cabins have 42 or 29 flatbed seats, depending on your chosen layout. Iberia fitted the cabin with these comfortable seats before most other aircraft. Their arrangements provide direct access to the aisle, eliminating hassle.
According to the seating charts, if you're looking for a comfortable middle ground between the luxury of Business Plus and Economy Class, Layout 2 offers Premium Economy Class. Here, you will find 21 seats that offer extra space and amenities, making for a luxurious and enjoyable flying experience.
For most travelers, the Economic Class, which Iberia affectionately refers to as the tourist class, is the place to be. Layout 1 seats 278, and Layout 2 seats 242. While it may not be a luxury, it provides a comfortable and economical option for long commutes.
Regardless of your plan, you can expect standard onboard amenities to enhance your trip. In-flight entertainment is present, ensuring you are not bored during your flight. Whether you enjoy movies, TV shows, or music, the diverse selection available on the plane's entertainment system caters to different tastes. WiFi and in-flight power outlets are provided to ensure your devices stay charged and connected to the outside world.
When it's time to eat, Business Plus passengers can expect an elegant culinary experience. The delicious food and beverage selection takes the in-flight dining experience to a whole new level. However, you won't go hungry even if you're sitting in Premium Economy or Economy Class. There are a variety of food options to satisfy your cravings throughout your trip.
Airbus A330 300 Iberia Seat Map — Layout 1

Iberia Airbus A330 Seat Specifications
| Class | Pitch | Width | Row | Seats |
| --- | --- | --- | --- | --- |
| Business Plus | 78″ | 26″ | 1-9 | 36 |
| Economy | 31″ | 18.1″ | 10-42 | 242 |
Business Plus
If you are considering booking seats in the Iberia Airbus A330 Business Class section of Layout 1, there are some things you should know. The cabin features a 1-2-1-seat row layout that gives passengers a superior experience.
The 1CJ and 7CJ seats are as comfortable as the others in the cabin, but there is something to be aware of. These seats are near the sections where flight attendants prepare food and drinks. While it's easy to get close to the action, these positions can also be annoying because they are also close to the toilets. So, weigh your options if you are looking for a more peaceful trip.
If privacy is high on your priority list, seats 8AL on the Airbus A330-300 Iberia may be your right choice. These seats provide a secluded and intimate atmosphere and are the best seats in the cabin. They also offer a beautiful view of the windows, making your trip more enjoyable.
Conversely, seats 9CEGJ in the Airbus A330 Iberia Business Class cabin face out toward the aisle, closer to the Economy cabin. This means you may feel uncomfortable, which can be annoying when looking for a quiet place during a flight.
Economy
The Economy Class cabin has a 2-4-2 row configuration. In this cabin, the Airbus A330 seat map Iberia shows seats 10DEGH are very comfortable as they offer extra legroom. They are placed slightly behind the bulkhead than others in the same line. There is one thing you should note — the tray table is on the armrests, which means the armrests don't move, slightly reducing seat width. Also, remember that luggage should not be dropped on the ground during takeoff and landing.
While seats 24DEGHJL and 25AC are good, they have a slight drawback: reduced comfort. They're also very close to the lavatories, so you may find that annoying during flights.
Consider the 26DEGH and 27ACJL Airbus A330 Iberia seats if you're all about legroom. These are exit-row seats, meaning they provide extra legroom. But like some others, the tray table is on the armrest, which limits movement and reduces seat width. And yes, there is a lack of storage space on the ground during takeoff and landing.
Based on the Iberia Airbus A330 seat map, seats 38DH are in a position where they can be bumped by a service cart or other passengers, especially since they are just out of the way; if you want a more comfortable ride, you should look elsewhere.
Comfort in seats 39DEH can be iffy as they may not be properly aligned. This can hurt your feet a bit. Like some others, the tray table is on an armrest, which doesn't move, which can reduce seat width a bit.
According to the Airbus A330-300 seat map Iberia, the last row of this aircraft contains the 42ACDEHJL seats. While they still make decent seats, they have a few disadvantages like the ones mentioned earlier. They are very close to lavatories and galleys, which can be annoying due to the increased foot traffic.
Iberia Airbus A330-300 Seat Map — Layout 2

Iberia Airbus A330 Seat Specifications
| Class | Pitch | Width | Row | Seats |
| --- | --- | --- | --- | --- |
| Business Plus | 78/78″ | 26″ | 1-8 | 29 |
| Premium Economy | 37″ | 18.1″ | 11-14 | 21 |
| Economy | 31″ | 18.1″ | 21-52 | 242 |
Business Plus
Let's examine the details of the Iberia A330 Business Class seats in Layout 2 of this aircraft, which has a 1-2-1 configuration. Based on the seat map, specific seats, such as 1CEGJ, 7C, and 8L, deserve your attention. While they all allow you a stress-free flight experience, it's a catch. These seats are conveniently located near the lavatories and galley. This closeness is convenient if you want to use the toilet or need quick service from the galleys. But on the flip side, you may get more foot traffic and noise. While these seats are just as comfortable as the others, consider other seating options if you're looking for a quiet, peaceful Iberia Airbus A330 flight.
Premium Economy
With a 2-3-2 configuration, Iberia A330 Premium Economy offers a more comfortable experience than Economy Class. Seat 11A is one of the luxury seats coveted by many passengers because of its generous legroom. Who doesn't love a little stretch when flying, right? However, there are a few things to keep in mind.
Due to the proximity of the exit door, you may notice a slight bump that may affect the comfort of your seat. Being close to lavatories and galleys means extra activities nearby. That is a plus if you are a quick valuer of convenience and service. However, it is worth reconsidering if you want a quiet and peaceful flight. No floor storage is available during takeoff and landing, so plan when packing your luggage.
Seats like 11A and 11CDEHJL in the Iberia Premium Economy A330 also offer that iconic extra legroom, which is great for added comfort during your trip. They share a common trait – they are close to the lavatory and the galley. This means you can get quite a bit of activity in this area. There's no floor storage when takeoff and landing, so plan your inflight essentials accordingly.
Economy
For Economy Class in Layout 2, you get rows in a 2-4-2 seating arrangement. The Airbus A330 Iberia seat map shows seats 21ACJL offer limited legroom. You may find the seats better, especially if you're willing to exercise during the flight. Here's something to remember: the tray table and aircraft entertainment monitor are in the armrest, making them less mobile and reducing the seat width. Besides, there's no floor storage space during ascent and descent.
Seats 21DEGH have something to cheer you up – extra legroom. These seats are an excellent option if you want a little space to be comfortable. However, like the 21ACJL, the tray table and flight entertainment monitor are on the armrest.
The 34DEGH and 35ACJL seats come with a limitation – they have limited comfort due to the lavatory and galley behind them. So, if you want to lean on your back while flying, look elsewhere. The proximity to the lavatory can also be a little annoying or advantageous depending on your perspective. The same applies to the seats 36DEGH and 37ACJL.
Seat 48H is a standard economy class seat worth watching since it juts out to the aisle. This means it could be hit by other travelers or passing workers, so if you like a more hidden location, look elsewhere.
Finally, the position of seats 51CDHJ and 52ACDEHJK can be found on the last row of Iberia A330 seat map, Layout 2. Seat back recline may be restricted for the 52ACDEHJK due to the wall of a bulkhead, and if the seats in front of you are low, it can reduce your personal space. They're also close to the galley and lavatory areas.