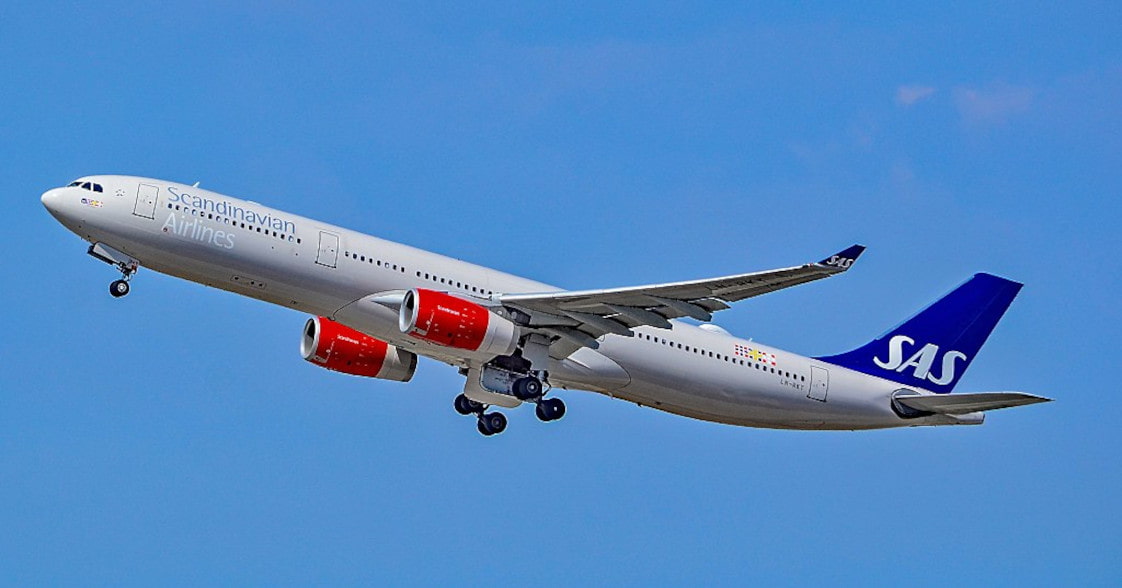 SAS operates its SAS Airbus A330-300 aircraft primarily on long-haul routes, aiming to provide passengers with a comfortable and friendly travel experience. Through a three-tier system, the airline controls catering to different types of travelers, each with specific preferences and needs.
Business Class is the place for those seeking the highest levels of In-flight luxury. This class offers a generous 32 flat beds, ensuring passengers enjoy a comfortable and peaceful journey. This fully flat bed is ideal for travelers who want to arrive at their destination feeling well-rested and ready to go.
With 56 seats, the SAS Plus, also known as the SAS Premium Economy A330, is designed to provide a superior travel experience. Travelers in this category enjoy various other benefits that improve the overall effectiveness of their trip. These benefits include exchanging or refunding overcharged tickets, a 24-hour refund guarantee, and ample supply for two sides, up to 50 lbs per person.
One of the unique features of SAS Plus is that food and beverages are included during the flight. This means that passengers can enjoy a variety of delicious culinary delights at no cost. SAS Plus passengers can access free in-flight WiFi. This feature is an essential asset for those who need to work or communicate with loved ones while flying.
Airbus A330-300 SAS Seating Chart

SAS Airbus A330-300 Seat Specifications
| Class | Pitch | Width | Row | Seats |
| --- | --- | --- | --- | --- |
| Business | 77/77″ | 23-24″ | 1-8 | 32 |
| SAS Plus | 38″ | 18.3″ | 20-27 | 56 |
| Economy | 31-32″ | 17.3″ | 30-57 | 174 |
Business
The seats 8DFH of the SAS Business Class A330 look good. While configured in 1-2-1 seating rows, there are some considerations you want to know about.
The seating chart shows they are close to the aisles where the flight attendants make snacks and drinks and to the bathrooms. While approaching this area might sound appealing, it can also mean extra noise and disturbing activities. If you value ​​peace on the SAS A330-300 Business Class, you may want to consider extra seats. If you enjoy watching the action behind the scenes to stay connected with everything, this could be the place for you.
SAS Plus
Seats 20ABDEFGH on the SAS A330 Premium Economy have a 2-3-2 seating row configuration. First, proximity to lavatories and aisles can be a pain when flying. You may encounter some extra traffic and occasional noise. If there are bassinets nearby, it can compromise your comfort.
Another point worth mentioning is that the tray table is mounted on an armrest, so you can't lift it to create more space. This can reduce the seat's width. Please note that Airbus Industrie A330 300 SAS seats have no floor storage when flying or landing.
Moving on to the 22AH seats, these seats are notable for the lack of windows based on the SAS A330 seat map. While this may not be a significant concern for some passengers, the feature may be less appealing to those who look out the window during the flight.
Seats 30ABCDEFGH offer the potential advantage of additional legroom due to its proximity to the bulkhead. Like the 20th-row seats in the SAS Plus, the tray table is on armrests, so it can't be adjusted. This can reduce seat width, while there is no floor storage for these seats during SAS A330-300 takeoff or landing.
Seats 36ABCDEFGH are near the lavatory. While this location may be perfect for a quick restroom visit, it can get disturbing due to being a route for other passengers needing to use the loo.
Economy
Seats 41ABGH and the rest of the seats in Economy Class are configured in 2-4-2 seating rows. 41ABGH offer the distinct advantage of extra legroom thanks to being in the exit row. This can significantly increase your comfort while flying. However, it's important to consider that proximity to the lavatory may be inconvenient. Travelers congregate in these areas, creating potential traffic and noise. So, while you will have more legroom, you may still have to deal with some extra noise.
Seats 42CDEF share the same proximity problem since it is near the lavatory. Passengers in these seats should be prepared for more foot traffic and the occasional movement, which can affect their overall comfort.
Seats 52F have no specific features but are vulnerable to sudden bumps by other passengers. Located in a high-traffic Airbus A330-300 SAS area, you may notice fellow passengers tucking into your seat or bumping into it as they pass.
Seat 56B is positioned near the galley. While this location may have advantages such as quick access to refreshments and service, it also means that flight attendants' activities in this area can make you experience more noise during the journey.
Seats 56DEFGH and 57AB are assigned to the last row of the aircraft. These seats usually have a few recliners, which is something to keep in mind if you value the ability to recline your back while flying. The main concern here is the location near the lavatories and galleys. Being in the back of the plane means you'll encounter more passengers and potential disturbance from the passengers' activities in these areas. If you prefer a quieter Airbus Industrie A330-300 SAS flight, look for other seating options.