Introduction to Boeing 777 Turkish Airlines
Turkish Airlines, one of the leading airlines in Turkey, boasts a formidable fleet that includes two remarkable models of Boeing aircraft: the Boeing 777 300ER Turkish Airlines and the 777 Freighter. As of 2022, the company proudly possesses a total of 33 Boeing 777-300 passenger planes. This strategic selection of aircraft was driven by their exceptional fuel efficiency and low maintenance costs, both of which align with the airline's commitment to sustainability and cost-effectiveness.
The Turkish Airlines Boeing 777 series has consistently proven its worth in the aviation industry, and Turkish Airlines recognized the immense advantages it offers. Among the remarkable features of these aircraft is an enhanced wingspan of approximately 60.9 meters, which empowers the planes to soar at higher altitudes. This extended wingspan enables the aircraft to maintain a higher cruise speed and execute successful take-offs even when fully loaded from high-altitude airfields. Moreover, these capabilities allow the planes to excel in challenging conditions, such as soaring temperatures, without compromising performance.
The passenger variant, the Turkish Airline Boeing 777 30ER, provides a spacious and comfortable travel experience for the airline's valued customers.
Furthermore, the Turkish Airlines 777 series aligns with Turkish Airlines' commitment to environmental sustainability. The fuel efficiency of these aircraft helps reduce the overall carbon footprint, contributing to the airline's efforts to mitigate the environmental impact of air travel. By embracing these modern and eco-friendly aircraft, Turkish Airlines sets a strong example within the aviation industry and reinforces its dedication to sustainable practices.
Boeing 777-300ER Turkish Airlines Overview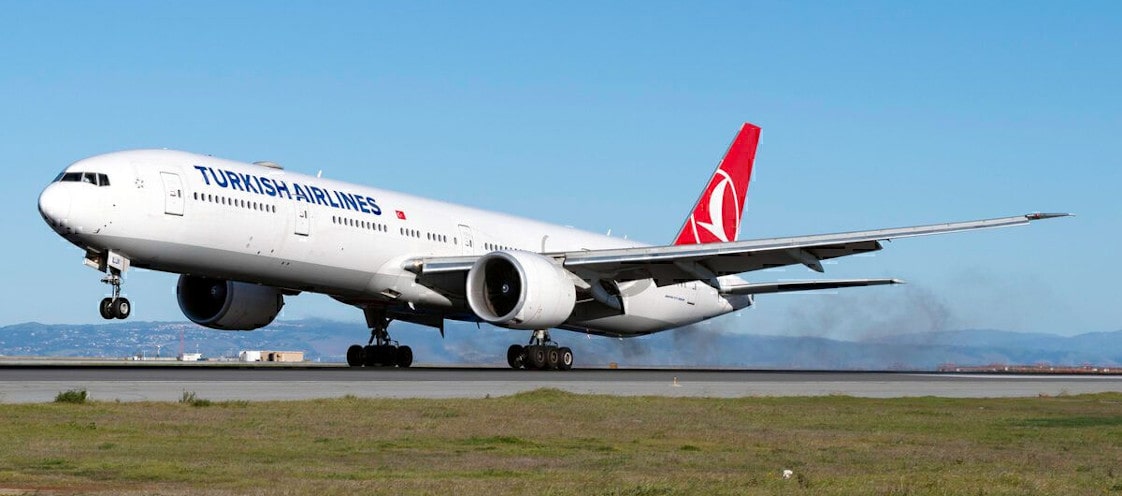 The Turkish Airline 777 300ER aircraft sets a new standard in air travel with its impressive features and exceptional comfort. With a two-class configuration, the aircraft offers 49 luxurious Business Class flat-bed seats and 300 spacious standard Economy seats.
The aircraft features an advanced in-flight entertainment system, offering a wide range of options to keep passengers entertained. The seats prioritize comfort with extra legroom and generous seat pitches of 78 inches in Business Class and 31 inches in Economy Class. The cabins are designed to be 2.3 inches wider, creating a spacious and relaxing environment for passengers.
The Guinness World Record holder, the Boeing 777-300ER, is powered by twin-jet engines that pack an impressive punch. It can accelerate from 0 to 96 km/h in just 6 seconds, thanks to its remarkable 175,000 horsepower.
Passengers on the Boeing 777-300ER can enjoy a spacious cabin, a wide range of seating options, and ample legroom, guaranteeing a comfortable flight experience. The Turkish Airlines 777 Business Class seats are designed to convert into beds, providing optimal comfort for long-haul journeys. The cabin pressure system has been improved, leaving passengers feeling refreshed and invigorated after their trip.
Safety and cleanliness are paramount, and the 777-300er Turkish Airlines is equipped with HEPA (High-Efficiency Particulate Air) filters. These filters effectively remove 99.97% of particles with a diameter of up to 0.3 microns, ensuring clean and safe air inside the cabin.
Passengers can enjoy a wide selection of entertainment options with personal TVs featuring Audio and Video on Demand. Business and Economy Class seats offer access to a variety of content, including 30 movies, 40 short films, and games. Each seat is also equipped with a 110V AC power port for charging electronic devices.
Turkish Airlines provides WIFI connectivity on this aircraft, allowing passengers to stay connected throughout their journey.
To enhance the overall travel experience, Turkish Airlines offers complimentary meals, alcoholic beverages, and soft drinks to passengers on board the Boeing 777-300ER. The airline's commitment to hospitality ensures that passengers are well taken care of during their flight.

Seating details
| | | | |
| --- | --- | --- | --- |
| Class | Pitch | Width | Seats |
| Business Class | 78″ | 22″ | 49 |
| Economy Class | 31-32″ | 18″ | 300 |
Seatmap key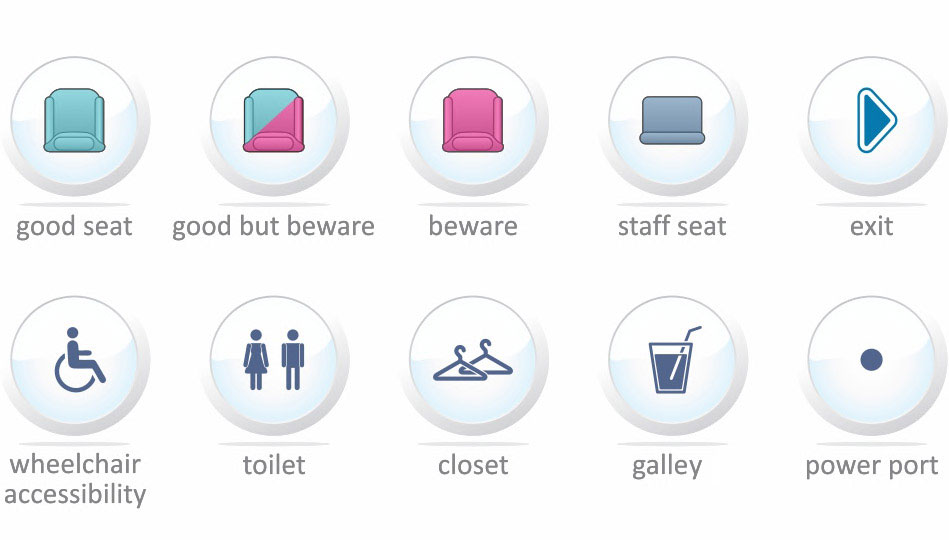 Turkish Airlines Business Class 777
The Business Class Turkish Airlines 777 section offers 49 flat-bed seats that provide ample space and comfort with an impressive 78 inches in pitch and 22 inches wide.
The Turkish Airlines Boeing 777 300ER Business Class seat has sparked some controversy. With seats spread across two sections, separated by a galley, opinions vary on the 2-3-2 seating configuration, which some consider to be less competitive for a business-class product. It is widely acknowledged that middle seats are not desirable, and window seats lack direct aisle access.
However, despite these drawbacks, there are advantages to be found in these seats. One notable feature is the absence of foot compartments, allowing for more freedom and comfort. In the lie-flat position, these seats prove to be quite cozy for relaxation and sleep.
Furthermore, if you are traveling with a companion and manage to secure two seats together on the side, you'll have ample space to stretch out and engage in conversation.
While there are valid criticisms of the Turkish Airline Boeing 777-300ER Business Class seats, the absence of foot compartments and the comfort they offer when reclined make them appealing to certain passengers, especially those traveling with companions.
The seats in the Turkish Airlines Business Class 777-300ER cabin offer a range of functionalities, with a control panel consisting of eight buttons that allow passengers to adjust their seating position and even save preferred settings for future use. On the side of the seat, a passenger service unit and a universal power outlet provide convenience and accessibility. Furthermore, each business class seat is equipped with personal storage space underneath the built-in ottoman, suitable for items such as purses or shoes, and additional storage is available between the monitors.
To enhance the sleeping experience, passengers are provided with bedding, including a pillow and duvet, and flight attendants are available to prepare the bed upon request. The Boeing 777 also features a moving flight map display and two onboard cameras—one facing downwards and another positioned forward—to offer unique perspectives during the flight. As for in-flight entertainment, noise-canceling headphones from Denon are provided, ensuring a high-quality audio experience for passengers.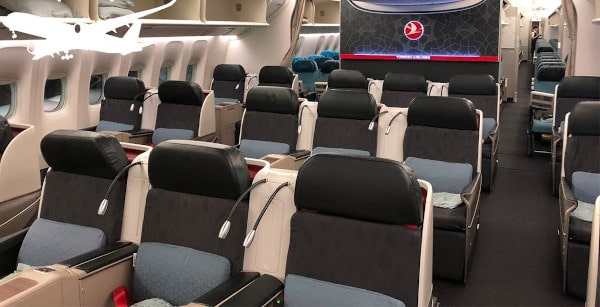 In the cabin of the aircraft, the first row is dedicated to standard Turkish Airlines 777 300ER Business Class bulkhead seats. However, located in front of these seats is an exit, which offers passengers the added advantage of extra legroom. It's important to note that while this exit provides increased leg space, there are also galley and lavatory facilities in close proximity.
Passengers seated in these Boeing 777-300ER Turkish Airlines Business Class bulkhead seats benefit from the convenience of being at the front of the cabin, allowing for swift boarding and disembarkation. Moreover, the additional legroom afforded by the exit enhances the overall comfort of the journey, enabling passengers to stretch their legs and relax during the flight.
It's worth considering that due to the presence of galley and lavatory facilities nearby, there may be some moderate levels of activity in the area. However, the proximity to these amenities can be advantageous, as it ensures easy access to refreshments and facilities throughout the flight.
Seats 4 AK in the Turkish Airlines Boeing 777-300ER Business Class, classified as standard seating, are positioned near a galley area without windows. Despite the absence of windows, these seats still offer a comfortable and regular seating experience. However, it's important to note that the proximity to the galley might result in occasional activity and movement in the area.
Seats 4 BDEFGJ in this row are not the most favorable as well due to the galley positioned behind them.
Being in close proximity to lavatories and the galley, the last row of Business Class — 7th row — is not considered one of the most preferred seating options.
The second and third rows in the Turkish Airlines 777-300ER Business Class can be regarded as the optimal seating choices, as they are located at the front of the aircraft, ensuring a secluded cabin environment with fewer passengers and reduced crowding.
Economy
The Turkish Airlines Boeing 777-300ER Economy Class section consists of 300 standard seats, offering a pitch of 31-32 inches for comfortable legroom and a width of 18 inches for a pleasant seating experience. The seating configuration is arranged in a 3-3-3 pattern, with three seats on each side of the aisle. This layout ensures a balanced and efficient use of space, allowing passengers to enjoy their journey with adequate seating comfort.
The entire 11th-row experiences limited legroom due to the presence of a bulkhead. Passengers seated in this row may face challenges with the tray table and may find it less convenient during their flight. It's important to note that there is no floor storage available during take-offs and landings in this row.
Seats 14 AK do not have windows; thus passengers seated in these seats will not have a view outside the aircraft.
Passengers seated in the 16th row on the Turkish Airlines Boeing 777-300ER seat map may experience restrictions in adjusting the seat's recline position for added comfort during the flight due to the presence of an exit located behind them.
Seats 24 BCDEGHJ on the Boeing 777 Turkish Airlines seat map provide additional legroom as they are situated in the row ahead of the exit row. However, it's important to note that the presence of the tray in the armrest reduces the seat width. Additionally, there is no floor storage available during take-offs and landings. Furthermore, seats 24 AK lack windows, adding to the limitations of the overall seating experience in that particular row.
Seats 38 DEG are located near the galley. While being close to the galley has its advantages, such as easy access to food and beverage services, it's important to consider that there might be some disturbances due to the crew's movement and work in that area.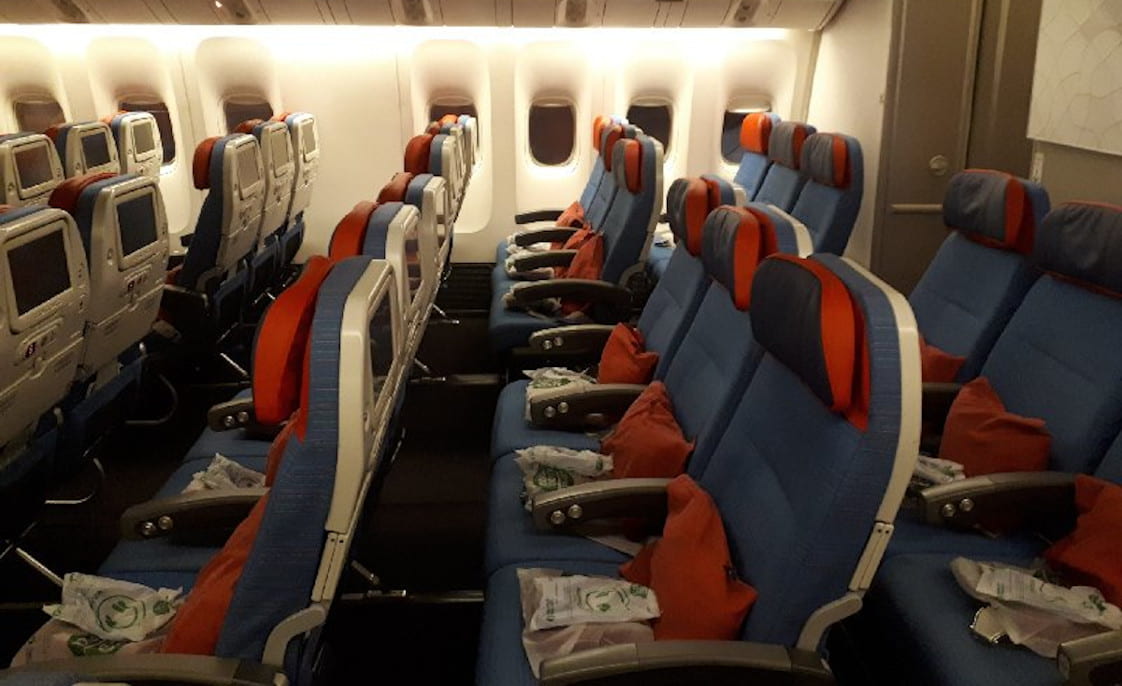 The 40th row on the Turkish Airlines 777-300ER is considered less favorable, as seats 40 BCHJ are in close proximity to the galley, despite offering extra legroom due to the exit row ahead. However, it's important to note that the presence of the tray in the armrest makes it immovable and reduces the width of the seat. Furthermore, passengers in this row should be aware that there is no floor storage available. On top of that, seats 40 AK lack windows.
Seats 42 DFG are highly recommended due to the additional space they offer.
Seats 50 CH may experience some inconvenience as they are prone to being bumped into by other passengers. While this can be an occasional annoyance, it's important to note that the frequency and impact of such interactions can vary depending on the specific flight and passenger behavior.
Seats 52 BJ are in close proximity to the lavatory. While this location can offer convenience in terms of easy access to restroom facilities, it's important to consider that there may be increased foot traffic and occasional noise from passengers using the lavatory. However, Turkish Airlines strives to maintain a comfortable and pleasant flying experience for all passengers, ensuring that the overall journey remains enjoyable.
The 52nd row, being the last row on the Turkish Airlines 777 seat map, is often regarded as the worst seating option due to the combination of cramped conditions and the proximity to the lavatories.