United Airbus A319 Overview
The Airbus A319 United, a model of narrow-body aircraft widely used by airlines worldwide for short- to medium-haul flights, is manufactured by Airbus. United Airlines, one of the most well-known airlines in the United States, uses this aircraft model on numerous domestic and regional routes.
The United Airlines Airbus A319 is ideal for short-haul flights where speed and efficiency are crucial because it has a seating capacity of 126 to 128 passengers. In addition, the aircraft is divided into three classes, First Class, Economy Plus, and Economy Class, to accommodate passengers' various requirements and financial constraints.
Reading the Airbus A319 seating United lets passengers know where to sit to access the best perks, including personalized service, a dedicated cabin crew, and premium food and beverage options. For instance, priority boarding and complimentary snacks and drinks are available to Economy Plus passengers, while complimentary snacks and drinks are available to Economy Class passengers on select flights.
The United A319 interior features overhead storage bins for carry-on luggage, and the seating map shows sections where passengers can put their belongings during flights. Furthermore, to keep passengers occupied, the aircraft provides a personal in-flight entertainment system with a selection of movies, television shows, and music. As a result, the United Airlines Airbus A319 offers passengers on short- to medium-haul flights a comfortable flying experience.
United Airlines Airbus A319: Layout 1

United Airbus A319 First Class
The Airbus A319 United First Class cabin seats are arranged in a 2-2 configuration across two rows, allowing for a maximum of eight passengers. However, due to the bulkhead position, the seats in the first row have limited legroom, and no floor storage is available during takeoff and landing. In addition, the windows on seats 1A and 1F are out of alignment.
Despite having a cutout in the bulkhead, seats 1A and 1B also have limited legroom. Additionally, the window in the 1A seat is out of alignment, and there is no floor storage accessible during takeoff and landing.
Due to their proximity to the galley and the position, seats 1EF may also have limited legroom. No floor storage is available during takeoff and landing, and the window in seat 1F is out of alignment. Apart from these factors, the seats in this cabin guarantee the best experience United has to offer on this flight.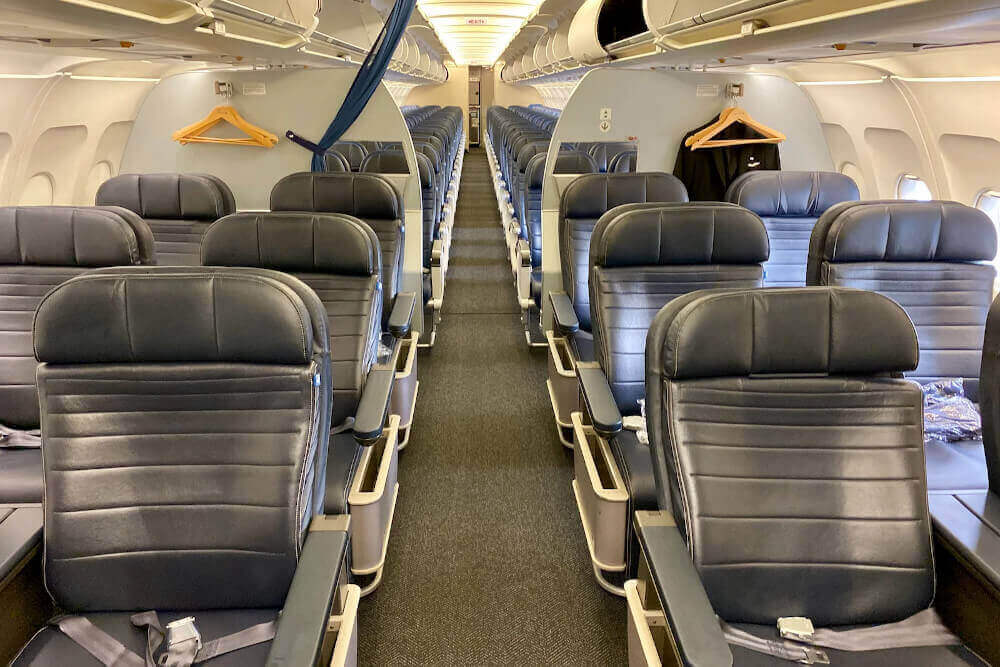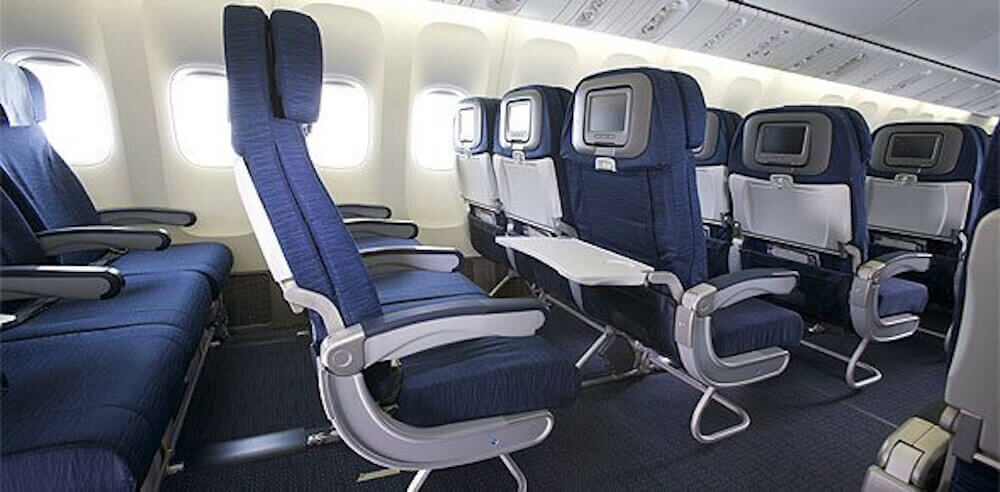 For those who don't fly First Class, Economy Plus is the cabin that offers a slightly more comfortable flight experience than Economy Class. Forty-two seats are in a 3-3 configuration in this part of the plane.
Due to their proximity to the bulkhead, seats 7ABCDEF in Economy Plus Airbus A319 United seating have additional legroom. However, placing the tray tables on the armrests makes the armrest immovable and slightly narrows the seat width.
Further down, seats 20ABCDEF are standard Economy Plus seats that cannot recline, while seats 21 AF may provide additional legroom. With that in mind, seats 21A and 21F are the most desirable in this cabin.
The Economy cabin is a popular choice if you're looking for a low-cost way to reach your destination. Although it may not have the abundant amenities of other classes, it is a reliable and familiar mode of transportation for most people. In addition, passengers have plenty of room to stretch out and unwind with 78 seats in a 3-3 seat arrangement.
Seats 34CD are typical Economy seats with adequate legroom and comfortable United Airbus A319 seating space. Although their proximity to galleys and restrooms may be a minor drawback, it is unlikely to cause significant disruption during the flight.
The location of 35ABCDEF in the plane's rear may provide a quieter environment than the front. However, the fact that these seats can't recline makes it hard for passengers to get comfortable on the flight. Additionally, due to the constant movement of other passengers and crew members, being in such a high-traffic area of the aircraft may cause discomfort.
Airbus A319 United Airlines: Layout 2

Airbus A319 First Class United
The United A319 First Class is an excellent cabin for passengers who want a luxurious and comfortable flight. The 12 recliner seats in this cabin, arranged in a 2-2 arrangement, provide passengers with high comfort and convenience.
If you intend to travel in the A319 United First cabin, look for other options besides 1ABEF. Even though they are First Class seats with easy access to the aisle, they have limited legroom because they are close to the bulkhead, and the cutout doesn't help much. This may make it difficult for passengers to stretch their legs during the flight. In addition, the seat's misaligned window may prevent passengers from getting the best view of the sky and clouds. Finally, their lack of floor storage during takeoff and landing is another thing to consider.
The Economy Plus cabin is an excellent option for passengers who want to fly in a more spacious and comfortable environment, according to the United A319 seat map. Thirty-six standard seats in this cabin provide additional legroom and other amenities not found in the Economy Class cabin.
If you're looking for the most comfortable seat in the Economy Plus cabin, seats 7ABCDEF are the ones for you. They are far enough from the bulkhead to provide extra room for their occupants to stretch and wiggle their legs.
The standard Economy Plus seats 15ABCDEF and 21AF are in the exit row. They may be your best bet if you're looking for a standard Economy Plus seat with more legroom. However, it's important to note that although these seats have a lot of space and comfort, they can't recline based on the seat plan.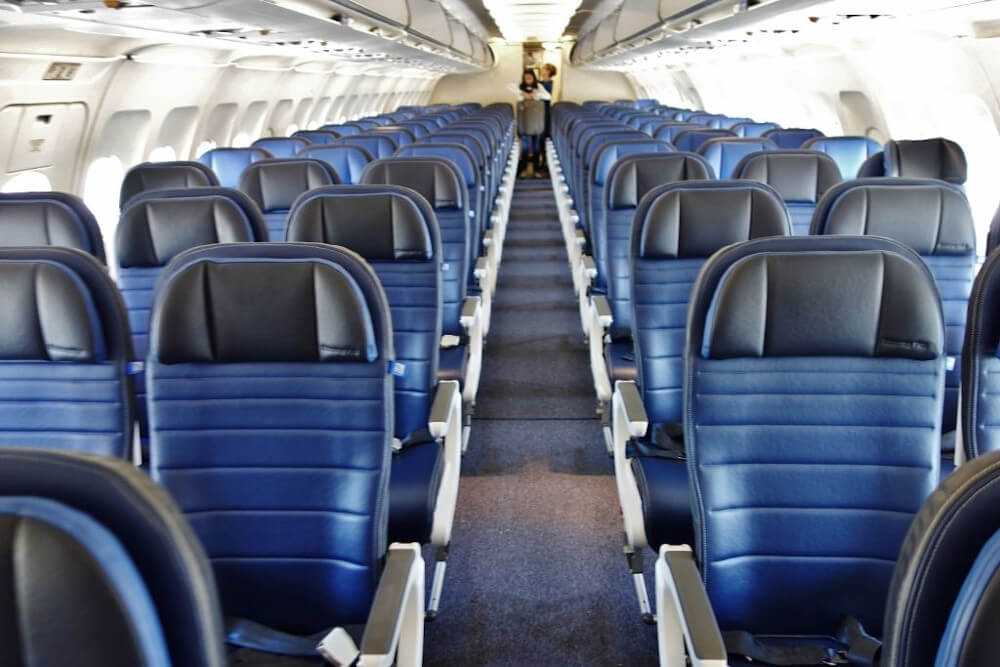 When flying in United Airlines A319 Economy Class, passengers can anticipate finding 78 standard seats arranged in a 3-3 configuration. It shows three seats in each of the six rows.
You will be in a standard Economy Class seat if you choose 34C or 34D. Even though these seats make flying more comfortable, passengers may find being close to the restrooms distracting. On the other hand, according to the United Airlines A319 seat map, the standard seat 35ABCDEF is in the last row of the aircraft cabin. Due to the wall directly behind each seat, passengers in this row may be unable to recline their seats fully. They may also be irritated by the proximity to the bathroom and galley areas. For example, flight attendants prepare and serve meals in the galley, and passengers use the restroom in the lavatory. So, it can be challenging to fall asleep or unwind due to the noise and constant movement of people in these areas.