The United 767-400ER is a magnificent airplane with many facilities and services to ensure a relaxing and enjoyable flight. This airplane has two configurations — the 39/201 and the 34/24/173. They both have roomy cabins with an inviting atmosphere and smartly planned layouts allowing for a substantial passenger capacity without sacrificing personal space. The major difference is in their seating arrangement and capacity, and the latter has a Premium Plus cabin while the former does not.
Both configurations are upgraded versions of the famous United 767-400, and their configurations on the seating map accommodate different tastes. You can choose the ideal seat to suit your needs, whether for complete leisure or a productive workspace. Because of their ergonomic design, the seats provide maximum comfort throughout your journey.
This update to the 767 400 United goes above and beyond regarding in-flight entertainment. A personal entertainment system with an extensive range of films, TV shows, music, and games is available at each seat. You may fully immerse yourself in your preferred entertainment on a colorful, high-definition display the entire flight.
Another aspect where the 767-400 United new version shines is connectivity. With onboard WiFi, you can stay in touch with the earth below while you browse the web, check your emails, or connect with loved ones on social media. Even at 35,000 feet, you remain connected thanks to this smooth communication.
The eating experience on board this plane is impressive. As you enjoy a variety of gourmet dishes skillfully created by experienced chefs, get ready to take your taste buds on a trip of flavors. Even the pickiest diners will find something on the menu to savor, from exquisite main dishes to beautiful desserts.
This upgraded version of the United 767 400 offers access to premium cabin classes with improved amenities and services for consumers looking for luxury. Take advantage of priority boarding, roomy seats, and VIP lounges to relax before your journey. Clean, well-kept restrooms are easily located throughout the chalet for when nature calls. Thanks to these facilities, your comfort and hygiene requirements are met throughout the trip.
767-400ER United Layout 1

United Polaris Business Class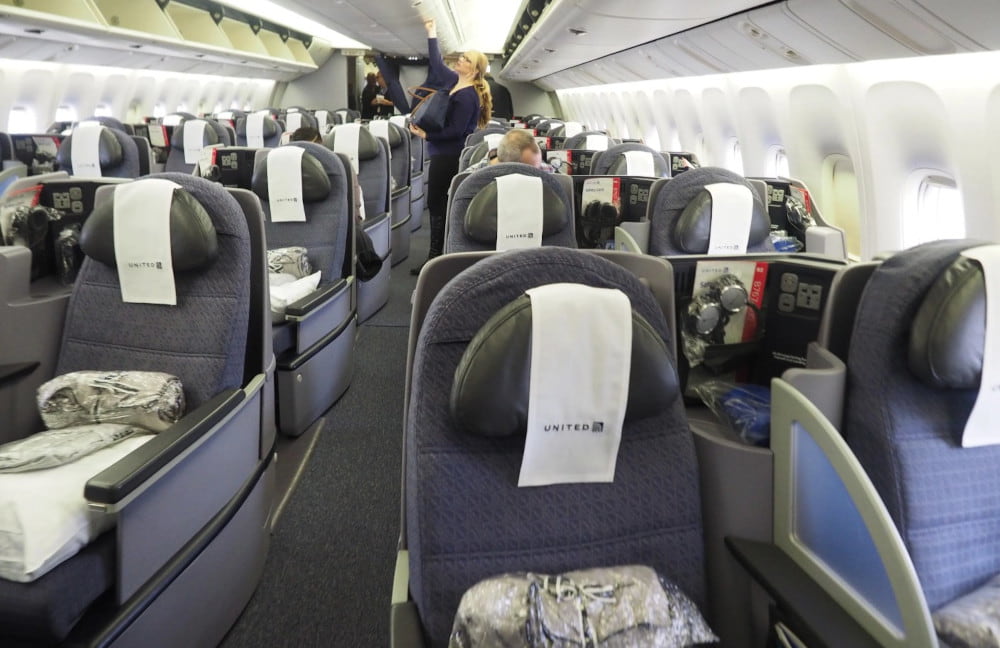 This version of the United 767 400 Business Class cabin has 39 seats. The seat numbers in this cabin, which run from 1ABDKL through 8ABDKL, offer a relaxing and luxurious flying experience on United Polaris Business Class flights. Exit rows are placed at the front and back of the cabin for the comfort of passengers.
The 2-1-2 seat configuration in United 767-400ER Business Class provides a comprehensive and well-designed seating arrangement. There is plenty of room for passengers to sleep because of the usual seat pitch, which is 6'3″ between seats. With a seat width of 20.6″, there is plenty of room for the user. However, those in the middle seat on the first row may experience slight inconvenience due to the galley in front of them, especially when food is being prepared.
There is also a bulkhead in front of the first pairs of seats on the left and right-hand side of the cabin, which may restrict passenger legroom. Moveable aisle armrests are available for United 767-400ER First Class passengers in seats one through eight, providing more flexibility. The usual recline for the seats in this class is 180 degrees, allowing passengers to select their ideal seating position. However, this class does not include fixed bassinets.
United Economy Plus
Next, you have the United Economy Plus cabin with 70 seats. The Boeing 767-400ER United Economy plus seat numbers are 16A through 24L and 28A through 28L, and each seat shares a power outlet with the one next to it. Row 28 is precisely where the exit rows are located in this class. The seating arrangement in United Economy Plus is 2-3-2.
There is a galley and lavatory in front of seats 16A through 16L, which may hamper the flight experience for those sitting there. With a standard 35″ seat pitch, the improved Boeing 767-400 United Economy Plus passengers get more legroom than those in the regular Economy cabin. This class's 18.5″ wide seats make for a comfortable sitting experience. Rows of movable aisle armrests are also included.
Rows 17 to 24 include movable aisle armrests that let users customize and alter their surroundings. The standard recline for United Economy Plus seats is 6″. There are fixed bassinets in seats 16DEF and 28DEF.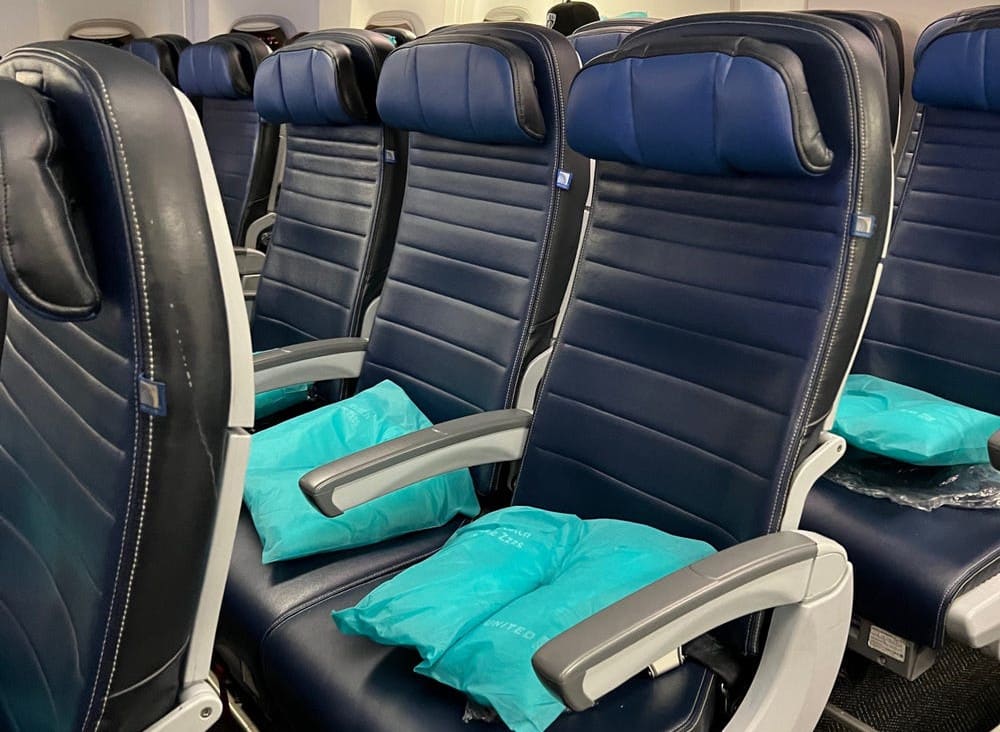 United Economy
The remaining 131 seats are in this version of the United Boeing 767-400 Economy Class, ranging from 25A to 27L and 29A to 44L. In this class, the exit rows are toward the back of the cabin. This somewhat confusing numbering system is because three rows of Economy seats are between the 24th and 28th rows of the Economy Plus seats. This section has a 2-3-2 seating arrangement, identical to the United Economy Plus cabin.
There is adequate legroom for travelers thanks to the 31″ standard seat pitch in United Economy. The seat width ranges from 45.7 to 46.9 inches. Rows 24 to 27 and 29 to 43 or 25 to 27 and 29 to 44 have movable aisle armrests available. The standard recline for United Economy seats is 5″. In this class, fixed bassinets are not available. However, 42AB and 43AB have extra legroom, making them the best for tall passengers. The only drawback is a closet and galley behind the 43rd row.
United Boeing 767-400ER Layout 2

United Polaris Business Class
The luxury Boeing 767-400ER United First Class cabin on board has 34 seats. This area, United Polaris Business Class, offers travelers a first-rate and opulent flying experience. This cabin's seat numbers, which run from 1A to 12D, give passengers a selection of places to sit. The front of the aircraft, past row 12, is where the Business Class cabin may be found. The 767-400ER United Business Class seats are arranged in a 1-1-1 configuration to maximize privacy and comfort.
The large 77″ seat pitch on United 767-400 Business Class in this upgraded version gives passengers plenty of room for their legs. However, those in seats 1DF may have to put up with the galley in front of them. On the flip side, all the seats in the cabin can recline, allowing passengers to pick the most comfortable seating position.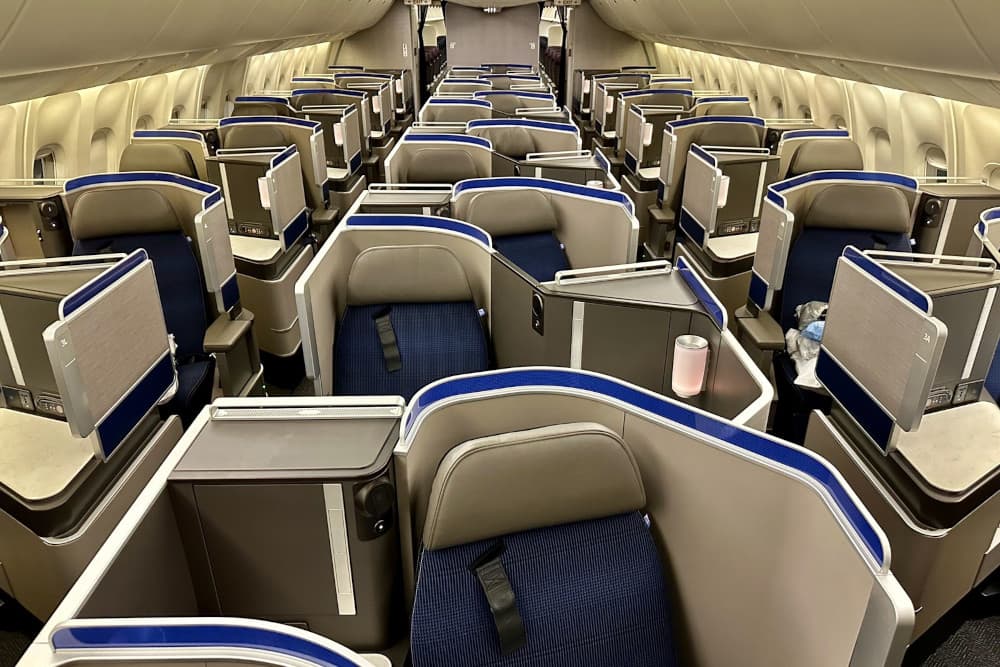 The seats range from 20.36″ to 22.18″ and are roomy and comfy. Additionally, for the convenience of the passengers, direct aisle access is available from all even-numbered seats in this class. The seats in the 12th row are in front of a galley and two lavatories, and this is particularly an issue for 12D, which is even closer than other seats in the row. This makes 12D the worst in the cabin.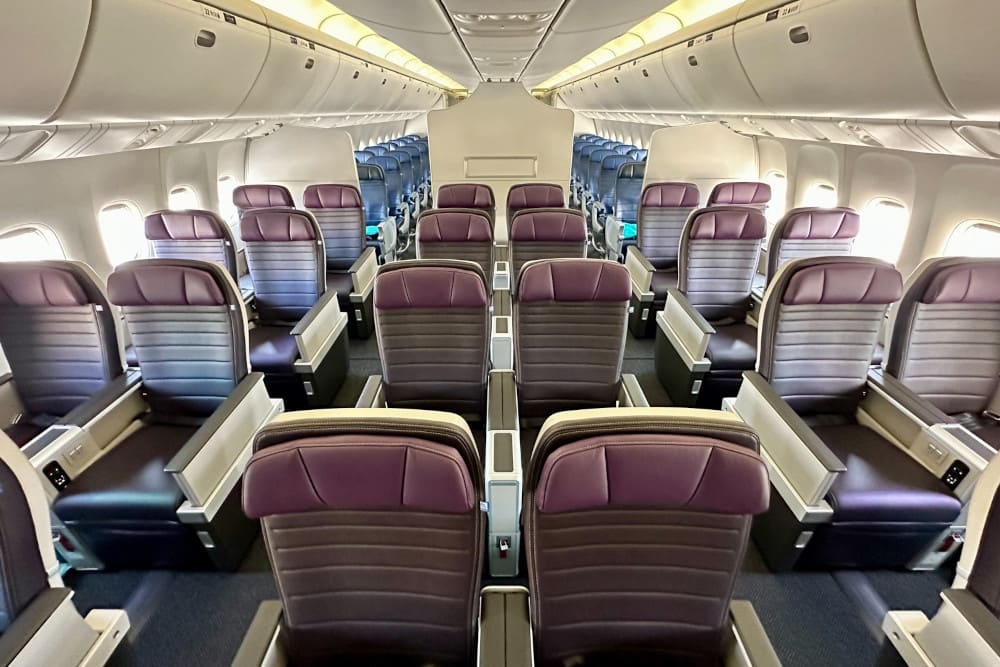 The Boeing 767-300ER's United Premium Plus offers passengers a relaxing and improved travel experience. United Premium Plus has 24 front-facing seats available, with seats ranging from 20A to 23L. Passengers will have a nice and roomy seating arrangement thanks to the 2-2-2 seat design.
With a seat pitch of 38″, Boeing 767-400ER United Premium Plus passengers will have more legroom than those traveling in regular Economy. With a seat width of 19″, passengers can sit comfortably during the flight. Passengers can easily access all aisle seats in this class. The 6″ of recline on the seats enables users to settle comfortably.
There is a galley and lavatories in front of the 20th row, and they can affect passenger comfort. Also, seats 20D and 20F have fixed bassinets, which, when added to the previous point, makes them the worst in the cabin. On the positive part, each seat in the cabin has a power outlet, even if 23A through L suffer from limited recline because of the bulkhead behind them.
United Economy Plus
The Boeing 767-300ER's United Economy Plus is the extra-legroom Economy Class that offers passengers more comfort. There are 48 seats available in this class, which are in front of row 38. In rows 42 to 45, seats in United Economy Plus have the following seat numbers: 30A to L, 31DEF, 38AL to 40L, and 41D to L.
The seating chart, which has a 2-3-2 structure, enables passengers to journey in luxury with loved ones or companions. A seat pitch of 34″ is available to United Economy Plus passengers, providing more legroom than in the regular Economy Class. Also, all the seats have moveable armrests except the 30th and 38th-row seats.
With a seat width of 18.5″, passengers can sit the entire way comfortably. For the convenience of the passengers, moving aisle armrests are available. The 3″ recline on the seats enables users to select an ideal reclining position.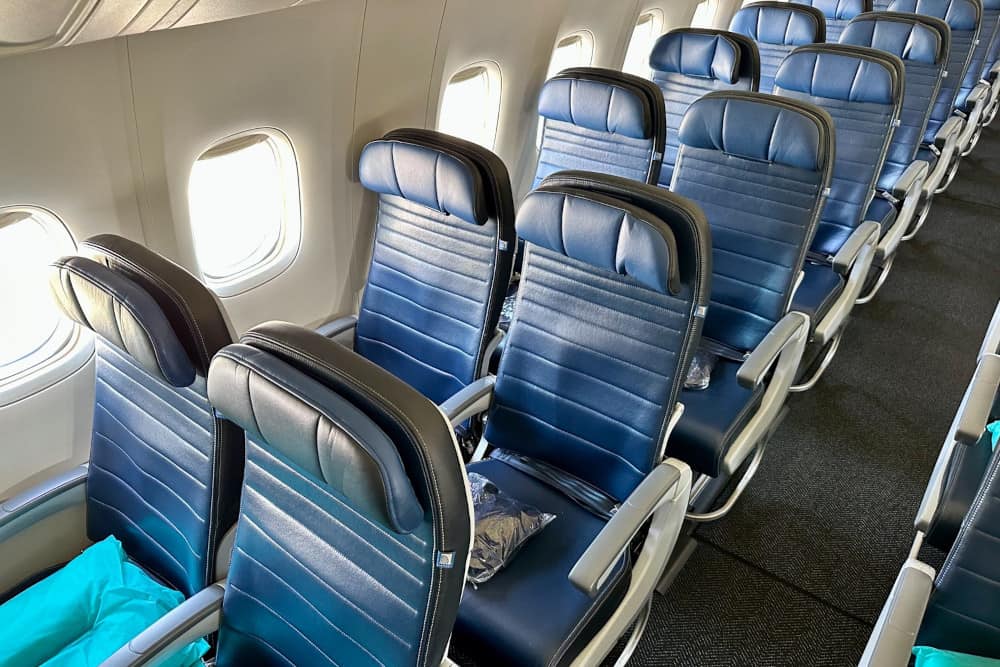 Seats 38A through L are behind the lavatories, and 38DEF have an accessible toilet in front. Therefore, passengers sitting in them may have to deal with unpleasant whiffs and noise when passengers flush. However, the great part is that they are behind an exit row, which means their passengers will enjoy extra legroom.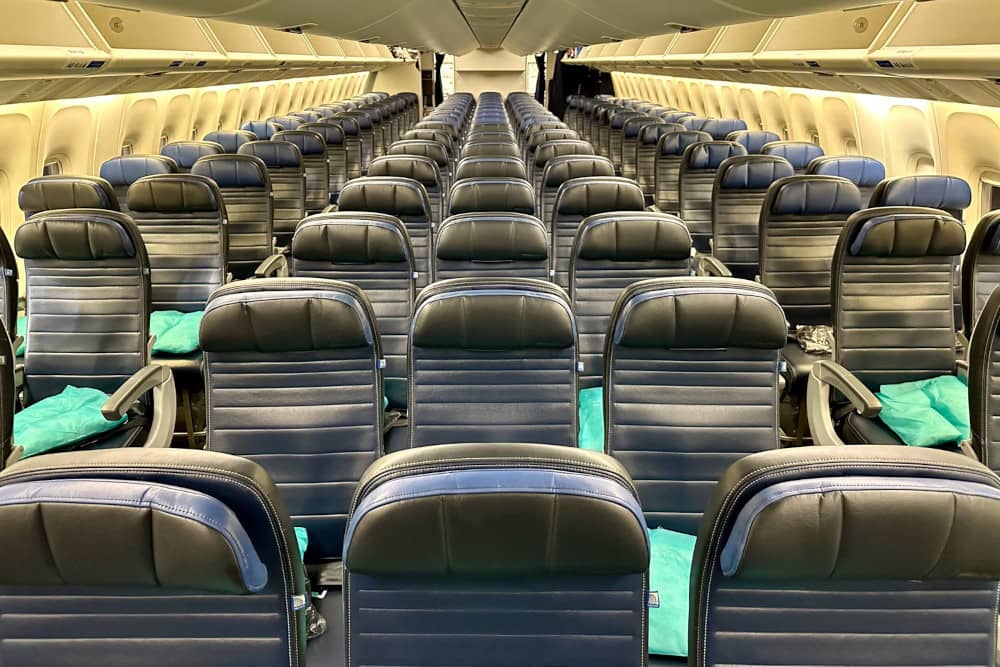 United Economy
The United 767-400ER standard Economy Class, the United Economy, provides passengers with a convenient and comfortable flight. There are 125 seats available in this class after row 53, and they are arranged in a 2-3-2 setting. In rows 42 to 45 and 46A to 54L of United Economy, the seat numbers range from 31ABKL to 37L, 41AB and ABKL. Passengers can ride comfortably with their fellow passenger's thanks to the 2-3-2 seat design.
The seat pitch for United Economy passengers is a good 31″, giving them enough legroom for the flight. With a seat width that spans from 18″ to 18.5″, passengers can sit the entire journey comfortably. Except for the seats in rows 30 and 38, all aisle seats provide easy access for passengers to move about the cabin. Also, 52AB and 53AB have extra legroom. The only drawback is a closet and galley behind the 53rd row. This makes seats 52A and 52B the best in the cabin.