About United Embraer RJ 175
EMB-175s are 76-passenger regional jets produced by Brazilian aerospace manufacturer Embraer. They are newer planes and they have a first-class cabin in addition to the economy. These planes feel slightly more spacious than typical regional jets, and the overhead bins are larger. Still, they are still regional jets, which means there may be times when you have to board or deplane by stairs instead of a jetway.

Seating details
| Class | Pitch | Width | Row | Seats |
| --- | --- | --- | --- | --- |
| First | 37″ | 20″ | 1-4 | 12 |
| Economy Plus | 34″ | 18″ | 7-10 | 16 |
| Economy | 31″ | 18″ | 11-24 | 48 |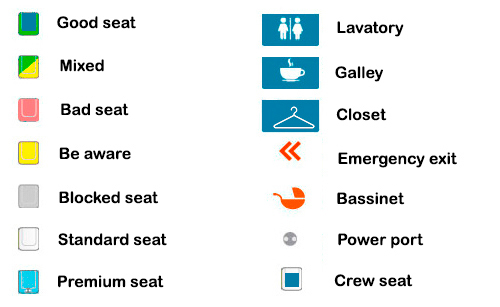 Among the amenities in the aircraft, is the large overhead compartments over seats C&D. They can accommodate full-sized carry-on. However, above the A&B seats are smaller side bins. United Airlines Embraer 175 aircraft has internet service for its passengers' personal mobile devices for domestic US flights. Once the aircraft reaches a cruising altitude of 10 000 feet, then the service is available to its passengers. This service doesn't allow you to stream video but is sufficient enough for email and simple browsing. A fee is incurred when you utilize this service powered by Gogo. Embraer 175 United Airlines flights are also decked with the United "Personal Device Entertainment" feature that allows you to stream digital content including music, movies, podcasts, TV shows, and more for free on any of your personal portable devices. In addition, the Embraer 175 United First class features AC power ports that allow you to charge your portable devices while en route to your destination. This added feature is available to passengers in the economy cabin but only on about 15% of the newer aircraft versions.
Inside Embraer 175 United: Best Seats
There are 76 seats on this jet: 12 first class, 16 economy plus, and 48 economy seats. The Embraer 175 United seat map shows that there are no middle seats on the aircraft. The plane either has a 1-2 configuration, as in the First class, or a 2-2 configuration in the rest of the aircraft.
The United Embraer 175 First class cabin has wide, luxurious seats that recline. They have 37 inches of seat pitch which means there is enough legroom for tall passengers. Solo travelers will be happy to know that there is a single row that gives them privacy and convenience of being both a window and an aisle seat. Embraer 175 United flights under 2.5 hours offer its First-class patrons snacks while light meals are offered when the flights are 2.5 hours or longer. Alcoholic beverages are also provided to passengers without charge in addition to non-alcoholic drinks.
United Airlines Embraer ERJ-175 has 16 passengers who can enjoy a seat pitch of 34 inches and according to previous passengers, some of the best seats on the aircraft. Economy Plus is the standard seat with an extra 3 inches in legroom. It should not be confused with a separate class of service as the only difference between Economy and Economy Plus is the legroom. These seats are located closer to the front of the Embraer ERJ-175 United aircraft, right behind the First class. Your flight route will determine the charges for the Economy Plus seats and they may be purchased beforehand.
The Economy class of the United Express Embraer 175 has a seat pitch of 30 inches. This means that there is limited legroom for tall patrons but ample room for average-height passengers. The bulk of the seats in the Embraer ERJ 175 United is in the back in Economy class. These passengers can enjoy complimentary non-alcoholic drinks but are required to buy alcoholic beverages. Food offerings are available in the Snack Shop and Bistro on Board on most flights.