Virgin Atlantic A350: General Information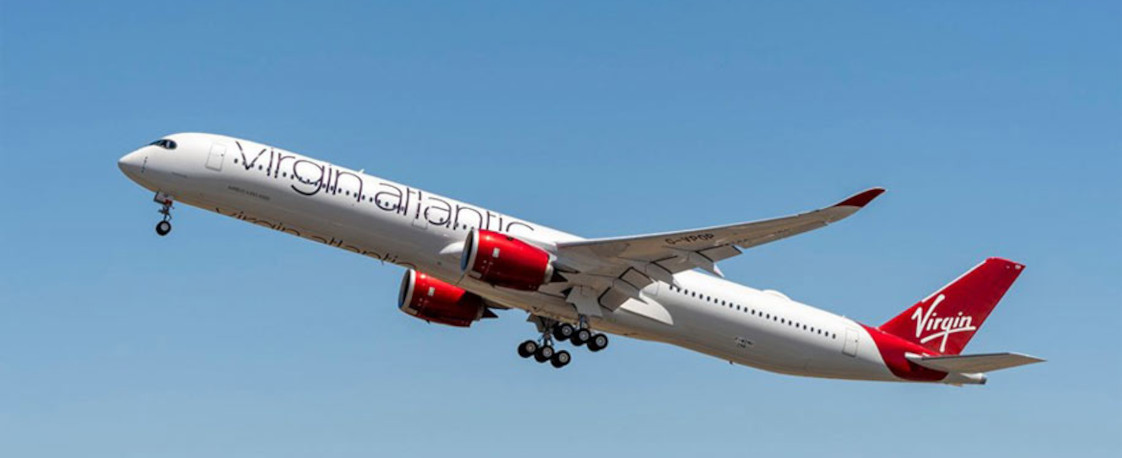 The A350 Airbus 1000 Virgin Atlantic stands as the airline's flagship, offering a range of distinct features that elevate the passenger experience. Among these features are Upper Class open suites, complete with partial sliding doors for enhanced privacy. Every Upper Class seat is meticulously positioned to provide passengers with captivating views through the aircraft's windows. The introduction of "The Loft", a sophisticated in-flight lounge exclusive to Upper Class, adds an extra layer of luxury.
Premium Class seats offer a recliner-style design for passenger comfort, while Economy Class boasts a spacious configuration. Economy Delight seats, numbering 38, provide an additional 3 inches of legroom, along with Premium check-in and priority boarding options available for an extra fee.
All seats on the A350 Airbus 1000 Virgin Atlantic seat map, regardless of class, are equipped with state-of-the-art touchscreen inflight entertainment monitors, USB power ports, and seamless access to Wi-Fi. Passengers can also enjoy an environment with higher humidity levels and more rapid air circulation, reducing fatigue during their journey.
Entertainment-wise, travellers can access a wide selection of music, movies, television shows, and children's programming through the touchscreen monitors. AC power sockets are thoughtfully placed at every Upper Class and Premium Class seat, with USB power ports available in all classes.
Through its own Wi-Fi site, the Virgin Atlantic Airbus A350-1000 delivers access to the internet. Specific details regarding these plans are available when connecting to the service.
In terms of dining and refreshments, flyers an expect a diverse selection of beverages and cuisine throughout the flight, catering to various tastes and preferences across all cabin classes. For those with specific dietary requirements or traveling with children, meal pre-orders are accommodated with advance notice (48 hours for Kosher meals). Additionally, select routes and cabin classes offer the unique option to pre-order the main meal, providing an even more personalized dining experience.
Virgin Atlantic A350-1000 Seating

Seating details
| Class | Pitch | Width | Row | Seats |
| --- | --- | --- | --- | --- |
| Upper Class | 44/82″ | 20″ | 1-11 | 44 |
| Premium | 38″ | 18.5″ | 21-27 | 56 |
| Economy | 31-34″ | 17.4″ | 45-70 | 235 |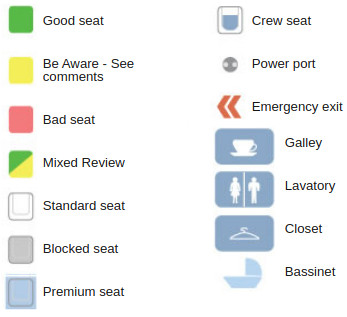 Upper Class
In the Virgin Atlantic A350 Upper Class cabin, passengers are treated to spacious accommodations designed for ultimate comfort. The pitch/bed length provides a generous 44 inches, which extends to a full 82 inches when converted into a bed. Additionally, the width offers a comfortable 20 inches.
The Virgin A350 Upper Class layout consists of 44 open suites thoughtfully arranged in a 1-2-1 configuration. Notably, the suites located in the center of the cabin are oriented away from each other, offering a unique and intimate seating arrangement for passengers. Each seat features partial sliding doors, providing people with a degree of semi-privacy.
Suites 1ADGK are strategically located at the bulkhead, offering an angled orientation toward the aisle. This positioning results in a larger footwell for added comfort. Passengers traveling together can lower a partition between these suites for a shared experience. However, it's worth noting that their proximity to the galley and lavatory area may lead to some disturbances.
On the other hand, suites 11ADGK occupy the final row of the A350 Airbus 1000 Virgin Atlantic Upper Class and provide a spacious loft area behind. Within this loft, passengers have access to a lounge area and a closet. Adjacent to these suites are the galleys and lavatories, making them convenient but potentially subject to some cabin activity.
Premium
The Virgin Atlantic A350 Premium Economy cabin is designed to provide passengers with an exceptionally comfortable and spacious travel experience, boasting the following specifications:
Within this Virgin Atlantic Premium Economy A350 cabin, you'll find a total of 56 recliner seats arranged in a 2-4-2 configuration. While the overall quality of seating in this cabin is outstanding, there are some subtle differences to keep in mind.
In particular, seats 22ACDEFGHK are noteworthy for the additional legroom they offer, courtesy of their location at the bulkhead. This means passengers seated in these seats can stretch their legs comfortably throughout the flight, enhancing their overall travel experience. However, one needs to be aware that access to floor storage for personal things may sometimes be limited for safety reasons in the Virgin Atlantic Premium Economy A350. Additionally, travellers in these seats should be prepared for the potential of some small difficulties given their closeness to the galley and lavatory area. It's also worth noting that bassinets may be installed on the bulkhead in front of these seats, which can be essential for passengers traveling with babies, as it could affect the view and overall ambiance of the seats.
Economy
In the Economy Class section of the aircraft, passengers can expect a seating arrangement with a pitch ranging from 31 to 34 inches and a width of 17.4 inches. With a configuration of 235 standard seats organized in a 3-3-3 layout, this cabin is designed to accommodate a sizable number of travelers.
The Economy cabin of the Virgin Atlantic A350-1000 is separated into two unique areas, with a separation created by the exit row and restroom facilities.
The initial row of this section, known as seats 45ABCDFGHJK, offers passengers an attractive feature — extra legroom. These seats are located near the bulkhead, giving you plenty of room to spread your legs. However, it's important to note that the tray table and monitor for in-flight entertainment are fixed in an immovable armrest, slightly limiting seat flexibility. Furthermore, the floor storage for personal belongings is restricted. The closeness of the galley and lavatory to these seats may cause considerable discomfort for passengers. Additionally, it's worth mentioning that bassinets may be installed on the bulkhead for travelers with infants.
Moving towards the back of this section of the Virgin A350, seats 52ABCDFGHJK offer less recline compared to others. Their location near the lavatory area and exit row might make them less comfortable choices.
The second section commences at row 53. Seats 53BCDFGHJ, in particular, provide passengers with the most legroom on the entire aircraft due to the absence of seats directly in front of them. Nevertheless, the tray tables and monitors share the same immovable armrest design, and the proximity to the lavatory area may be a minor inconvenience for some passengers.
Seats 53BCHJ are recognized as Virgin Exit Row seats, offering additional legroom and the privilege of selecting them for an extra fee.
Rows 54, 55, and 56, in conjunction with seats 57DFG and 58DFG, are classified as Economy Delight seats on the Virgin Atlantic A350 seat map. These seats are equipped with extra legroom, Premium check-in, and priority boarding options, all available for an additional fee. Among these seats, 54AK stands out as a top choice, as it does not have seats directly in front, providing passengers with a more spacious and comfortable experience.
However, it's important to be cautious when considering the last two rows of the plane, rows 70 and 71. These seats are situated in close proximity to the lavatories and galleys, which may lead to some disturbances during the flight. Additionally, seats 70ABCHJK and 71DFG on the Virgin Atlantic Airbus A350 seating chart have limited recline capabilities due to the bulkhead wall directly behind them. Furthermore, if the passengers in front choose to recline their seats, it can further diminish the personal space in these seats, making them less desirable options.