Airbus A330-200 Delta Overview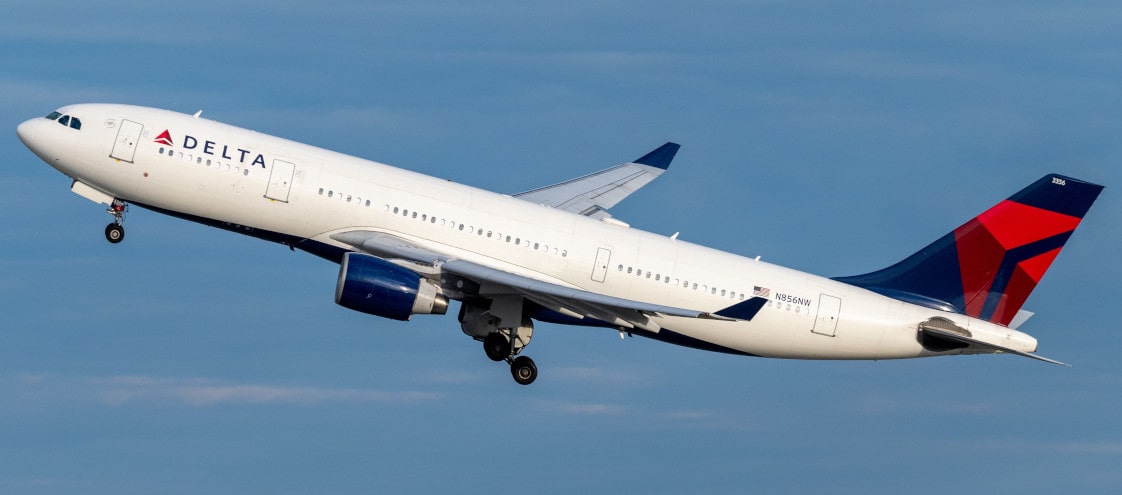 The Delta A330-200 (332) is a wide-body twin-engine commercial airliner developed by Airbus. It is a member of the highly successful A330 family, which includes the Airbus A330 300 Delta and the larger A340. The A330-200 is designed to cater to medium to long-haul routes and offers a balance between passenger capacity, range, and fuel efficiency.
Its versatility, efficiency, and range capabilities have made it popular for both regional and intercontinental operations. The aircraft has contributed significantly to Airbus's market presence in the wide-body segment, competing against Delta 767 and 787 models.
The Airbus A330-200 (332) is a modern aircraft designed for international travel, accommodating up to 234 passengers. It offers a range of seating options, including 34 flat-bed Delta One seats, 32 Delta Comfort+ seats, and 168 Economy seats. With its next-generation features, this aircraft ensures a comfortable and enjoyable journey for passengers on long-haul flights.
Passengers on the Airbus A330-200 Delta can enjoy the convenience of AVOD (Audio and Video OnDemand) across all classes. The entertainment system offers a wide range of options, including access to several HBO movies, over 18 satellite networks, dozens of games, and more. To enhance the experience, you can bring your own single-prong headphones or purchase them onboard for $2.
In Airbus A330-200 Delta One, passengers have the added convenience of regular AC power available at every seat, while rows 10-19 also have AC power ports. Furthermore, Delta One, Delta Comfort+, and selected seats provide a USB port in the in-seat entertainment system, allowing you to charge multiple electronic devices during the flight.
Delta Airlines offers Gogo internet service, providing connectivity for laptops and mobile devices once the aircraft reaches a cruising altitude of 10,000 feet.
Food service on this aircraft depends on the route, flight duration, and time of day. Complimentary light snacks are available in all classes, while premium meal service is provided in Delta One for most flights exceeding 900 miles. Passengers in Economy on non-domestic U.S. flights and select domestic routes within the U.S. also receive complimentary meals. Additionally, on U.S. domestic flights exceeding 900 miles, passengers in Economy can choose from a selection of sandwiches, wraps, snack boxes, and other items available for purchase.
Non-alcoholic beverages are complimentary for all passengers, while passengers in First Class, Delta Comfort+, and Economy on non-domestic U.S. flights also receive complimentary alcoholic beverages. On domestic U.S. flights, alcoholic beverages can be purchased in Economy Class.
Delta Airbus A330-200 Layout

Seating details
| Class | Pitch | Width | Row | Seats |
| --- | --- | --- | --- | --- |
| Delta One | 80″ | 21″ | 1-9 | 34 |
| Delta Comfort+ | 35″ | 18″ | 10-13 | 32 |
| Economy | 31-32″ | 18″ | 14-35 | 168 |
Delta One
The Delta A330-200 Delta One offers a spacious and comfortable experience with its flat-bed seating. Each seat provides ample legroom with a pitch of 80 inches, ensuring a relaxing journey. The seats are also wide, measuring 21 inches in width, allowing passengers to settle in comfortably. In Delta One, passengers can enjoy the luxury of 34 flat-bed seats, providing a premium travel experience.
In Delta One A330-200, the class is divided into two sections for enhanced passenger comfort and convenience The seat configuration is arranged in a 1-2-1 layout. This means that each row consists of individual seats, with one seat on each side of the aircraft near the windows and two seats positioned in the center. The seats on the edges are angled towards the windows, offering passengers a panoramic view during their journey. On the other hand, the two seats in the center are angled towards each other, allowing for easier conversation and interaction between passengers traveling together. This seating arrangement provides both privacy and the opportunity for socializing, catering to the preferences of various travelers.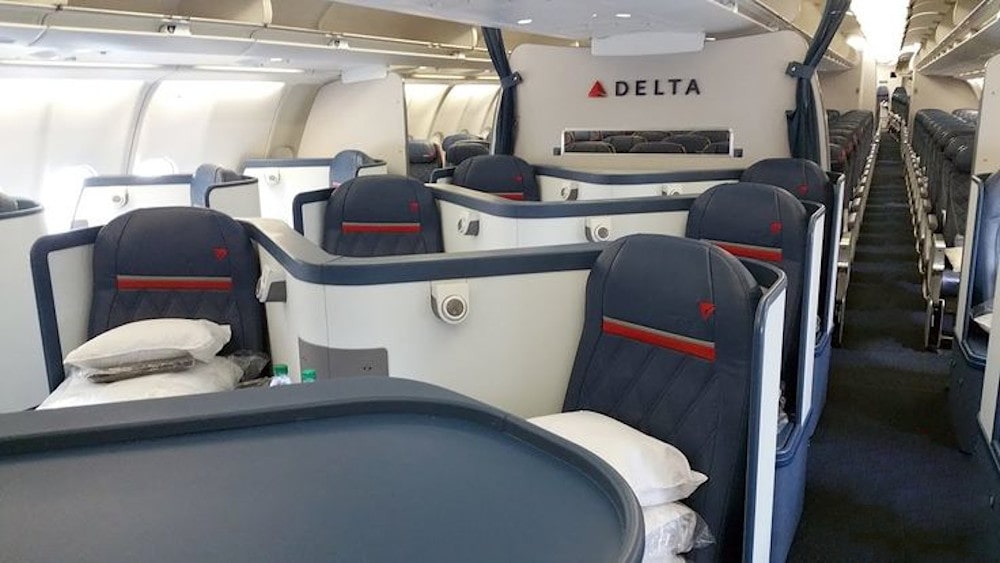 In the first section of A330 200 Delta One, seats 6 A, C, G, and J are located at the rear. These seats are standard seats, offering the same level of comfort and amenities as the rest of the Delta One class. However, it's worth noting that there is a galley located behind these seats. While this proximity to the galley may have some impact on the overall ambiance and potential noise levels, the specific details of the galley and any potential effects on the passenger experience would vary depending on the aircraft's configuration and the specific layout chosen by Delta Airlines.
Seats 7 ACGJ are completely identical, but have a galley in front of them and are located in front of the second section.
Delta Comfort+
Delta Comfort+ features 32 standard seats with a pitch of 35 inches, providing passengers with extra legroom compared to Economy Class. The seats have a width of 18 inches, ensuring a comfortable seating experience. Delta Comfort+, Delta A330-200 Premium Select, offers an enhanced level of comfort for travelers seeking more space and added amenities during their journey.
In Delta Comfort+, the seat configuration is arranged in a 2-4-2 layout on the A330-200 seat map Delta. The first row in the cabin, which consists of seats 10 ABCDFGHJ, offers the advantage of extra legroom. Passengers seated in these seats can enjoy a more spacious seating area.However, it should be noted that the tray table is positioned in the armrest, making it immobile and significantly narrowing the seat width. Despite this, the extra legroom provided in these seats adds a level of comfort for passengers during their journey.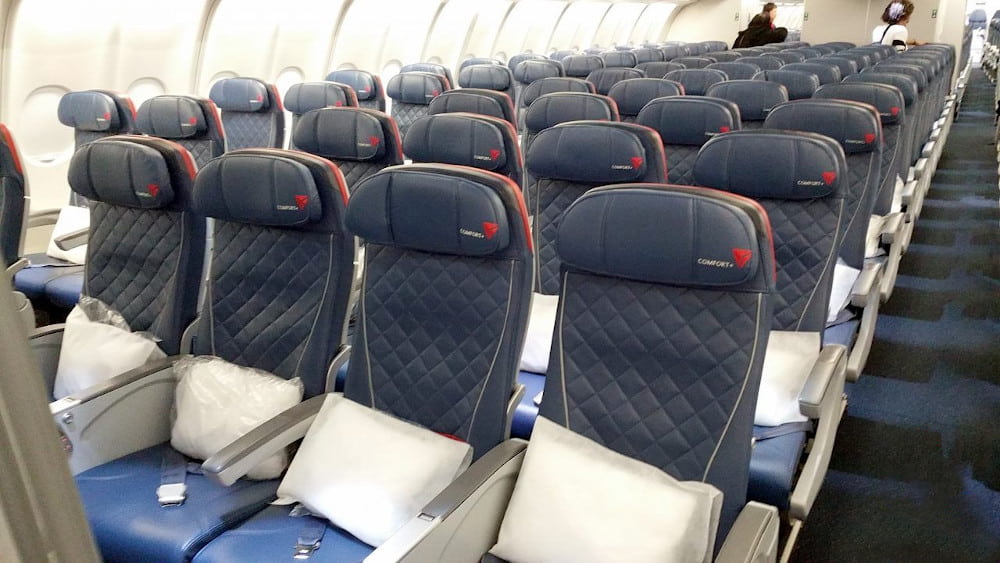 Economy
In Economy Class, passengers can expect a pitch of 31-32 inches, providing a reasonable amount of legroom for a comfortable travel experience. The seats have a width of 18 inches, allowing passengers to find a suitable seating position. With a total of 168 standard seats, Economy Class provides an affordable option for travelers while still offering a satisfactory level of comfort.
In A330-200 Delta Economy Class, the seat configuration is primarily 2-4-2, providing passengers with a balanced layout. However, towards the rear of the cabin, there are several rows that feature a 2-3-2 configuration. Additionally, Economy Class is divided into two sections, ensuring better organization and passenger flow throughout the cabin.
In the first section of Economy Class, a majority of the seats are designated as Preferred Seats on the Delta A330-200 seat map, reserved for Delta Medallion members. These seats offer additional benefits and can be selected by Medallion members at the time of booking or later. For non-Medallion passengers, these seats become available for selection during the check-in process.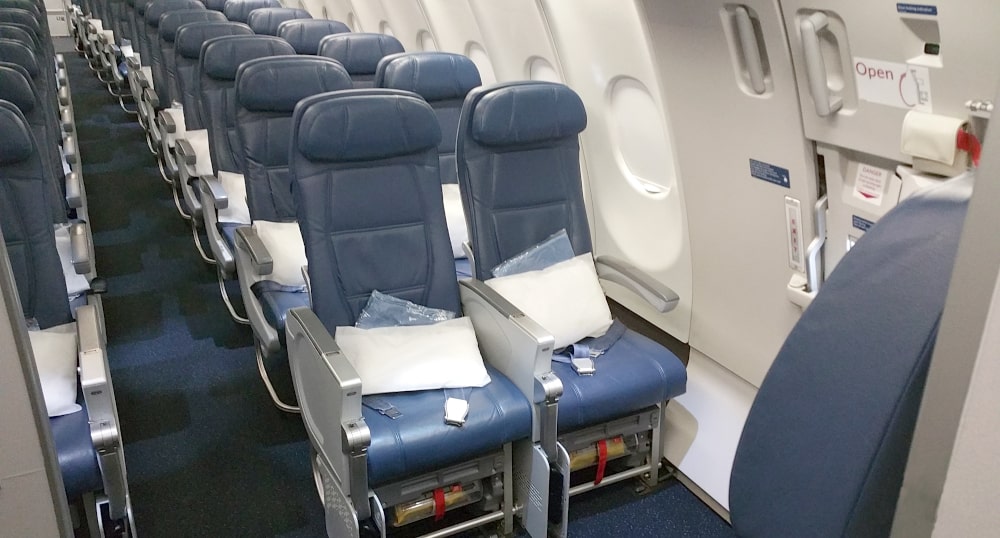 It's important to note that seats 21 ABCDFGHJ have a limited recline. This restriction is due to the proximity of lavatories located behind these seats. While passengers in these seats may experience a slight limitation in reclining their seats, they still provide a standard level of comfort for the duration of the flight.
In the second section of Airbus A330-200 seating Delta, the majority of seats offer standard comfort and are considered regular or standard seats. However, there are a few exceptions to note.
Seats 22 A, B, H, and J in this section are designated as Preferred Seats, providing extra space and comfort for passengers. It's worth mentioning that these seats have lavatories located in front of them, which may result in some passenger activity in the surrounding area.
On the other hand, seats 22 C, D, F, and G are not classified as Preferred Seats. While these seats still offer a standard level of comfort, they may not provide any additional space or amenities compared to the other regular seats in the section. Seat 30 G may be prone to occasional bumping by other passengers due to its location. Passengers passing by or navigating through the aisle might inadvertently brush against this seat.
Seats 34 BCDFH are situated close to the galley. While these seats offer standard comfort, passengers seated in this area may experience some potential noise or activity associated with galley operations.
Seats 35 ABHJ are positioned towards the rear of the Delta A330-200. While these seats still provide a standard level of comfort, they may have a limited recline due to the proximity of the aircraft's structure or lavatories located behind them. Passengers seated in these seats might find that the reclining capability is somewhat restricted.