Hotels near San Antonio Airport
Hotels Near San Antonio Airport
Overnight Layovers
We're all familiar with long waits at the airport — sometimes you just want to curl up in a quiet corner and sleep for a few hours. But often it's just uncomfortable.
The San Antonio airport operates numerous flights within the United States and some international destinations, so it is often busy even at night. Although the terminals are open 24 hours a day, passengers wishing to spend the night inside the airport must remain in the public area once the security checkpoint closes. Blankets or sleeping bags are recommended, as the place is usually cold, and headphones or earplugs.
Where to rest: In the public area most seats have armrests, but there are some more comfortable benches in the baggage claim areas. On the other hand, seats without armrests can be found in the Terminal A boarding area. Another option is to use the VIP lounge (for a fee), where you can have access to more comfort, although it is closed at night. As for hotels, there are many options in the surrounding area, and many of them operate free shuttle services.
Hotels
There are no hotels within the airport facilities. But you can find hotels near San Antonio airport within walking distance, many of which have complimentary shuttle buses for the transfer of their guests. You can even make reservations through the counters located in the baggage claim area of the terminals.
San Antonio International Airport is in the north of the city, which has traffic of about eight million passengers a year and connects the Texan city with most of the major cities in the country. It also has some international routes, specifically to cities in Mexico.
In this area, it is possible to find hotels of all categories. However, the area is more appropriate for travelers with vehicles, as public transportation in San Antonio is not so good.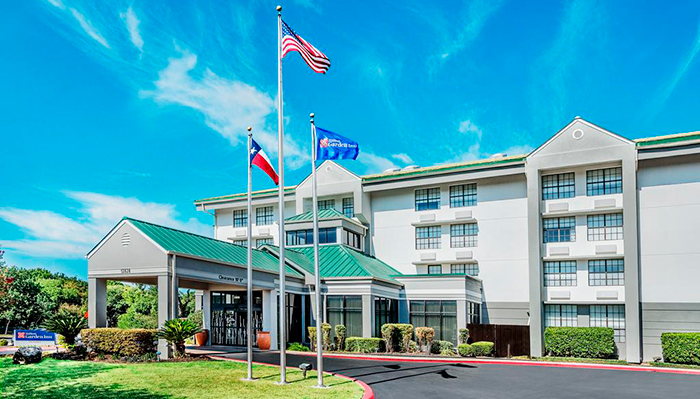 Hilton Garden Inn San Antonio Airport
Distance — 1,7 km
3 stars
Booking rating — 8,8
Price — US$ 115 — 165 per night
Free parking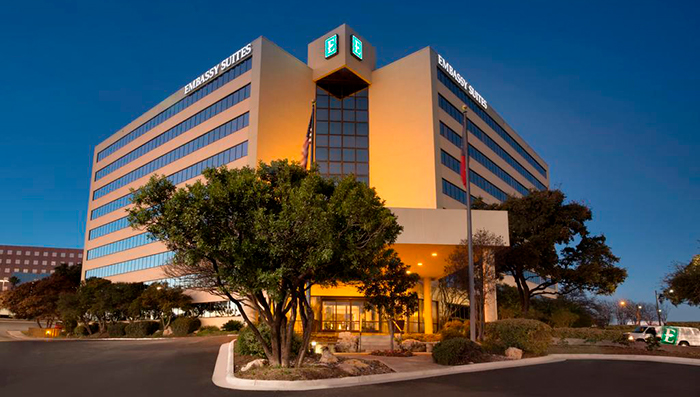 Embassy Suites San Antonio Airport
Distance — 1,4 km
3 stars
Booking rating — 8,6
Price — US$ 149 — 329 per night
Free parking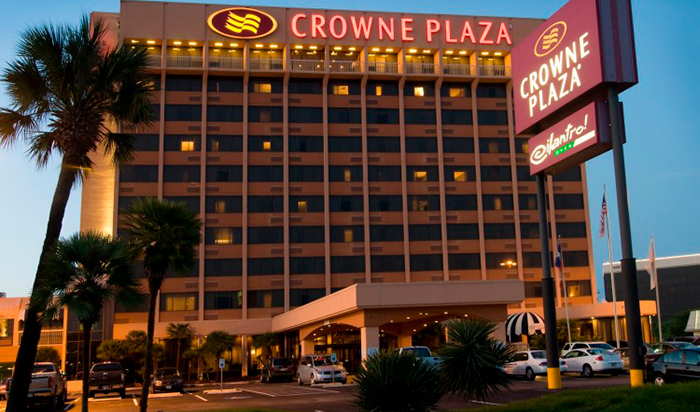 Crowne Plaza San Antonio Airport
Distance — 2,3 km
4 stars
Booking rating — 8,3
Price — US$ 122 — 249 per night
Free parking
Hotels in San Antonio
You can also view the best offers in San Antonio, TX. Convenient search by price, rating, services, and location of the hotel.